It's the 12th of May, Mother's day we should celebrate the women who brought us to life. The women who dedicated their lives to us. The women are bold, strong, lovable, and protective. This goes without saying, Mother is one of the most difficult and commendable tasks out there. We know, it's not a one-day to show gratitude to those who invested their lives in us and made many sacrifices to keep us secure, and happy. They do so much for us, that we can't describe it in words. The last thing that we can do is to honor them on this special day with something so wonderful that they cherish forever, maybe with occasion fine jewelry.
How To Celebrate Mother's Day?
Your mother is your role model, your mentor, your fashion icon and so much more. She is the one who will be at your side always, no matter what. So, it's our responsibility to do something for them when it's their special day. It's not limited to doing something for your mother only, you can also celebrate a mother figure, like grandmothers, or others that are pretty much moms.
Everybody has their own way of expressing emotions and gratitude. This year celebrates it in a new way with Grand Diamond's exclusive fine jewelry collections featuring bracelets, earrings, studs, and rainbow jewelry.  They have selected a range of pieces that fits every woman's taste.
Choose from our collections and get them their favorite pieces.
Cool Mom Says Yes To Our Gemstone Collection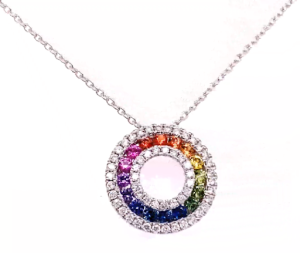 Look at this beautiful rainbow diamond pendant embellished with colorful gemstones in the center perfectly layered with tiny round cut diamonds from either side. Pair it with any light outfit, it is sure to light that up by being the eye-pleasing diamond occasion fine jewelry. Also, if you are bored of this white or yellow gold, probably these gemstones will give you a unique and sophisticated feel.
Be The Class With This Illusion Set Hanging Diamond Earrings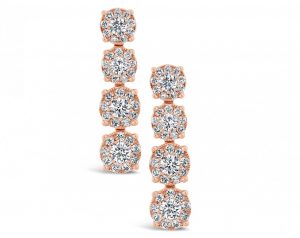 This gorgeous piece reflects elegance and glamour from all angles. The hanging diamond earrings feature round cut diamonds in the halo set with a beautiful illusion set. Get the additional appearance of glimmer and shine in the rose gold metal with the combination of multiple round cut diamonds in the set. It can be paired with any floor-length gown or any other shimmery outfit.
For The Defined Mother's Day Look, Get Pear Halo Illusion Set Pendant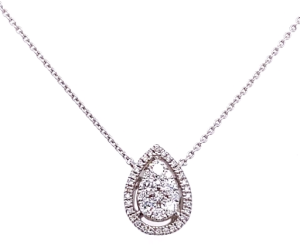 Define elegance with this stunning white gold pendant featuring a pear-shaped diamond in the center in a halo set embellished with tiny round-cut diamonds. If you are looking out to get a piece that gives her the motherhood feel along with a classic look, then it is the right one to go for. More likely, the diamonds will reflect light from every angle and make it a shining beauty.
For The Sophisticated Classy Mother's
(Mesmerizing Four Prongs Round Cut Halo Diamond Earrings)
If you wish to get your mom something that she can pair up with anything and everything and will become her favorite regular wear, then grab this piece right away. It features a brilliant round cut diamond in the center in a halo scallop set along with a butterfly closure to ensure safety. You can get it in her favorite metal like rose gold, yellow gold, or white gold. Impress her in the most unexpected way, buy diamond earrings online and pack it in a beautiful box. Keep it on the bedside and see her glowing smile in the morning when she wakes up with such an impressive start. Let her adore the beauty and the efforts you put it in.
Occasion Fine Jewelry That'll Make The Best Surprise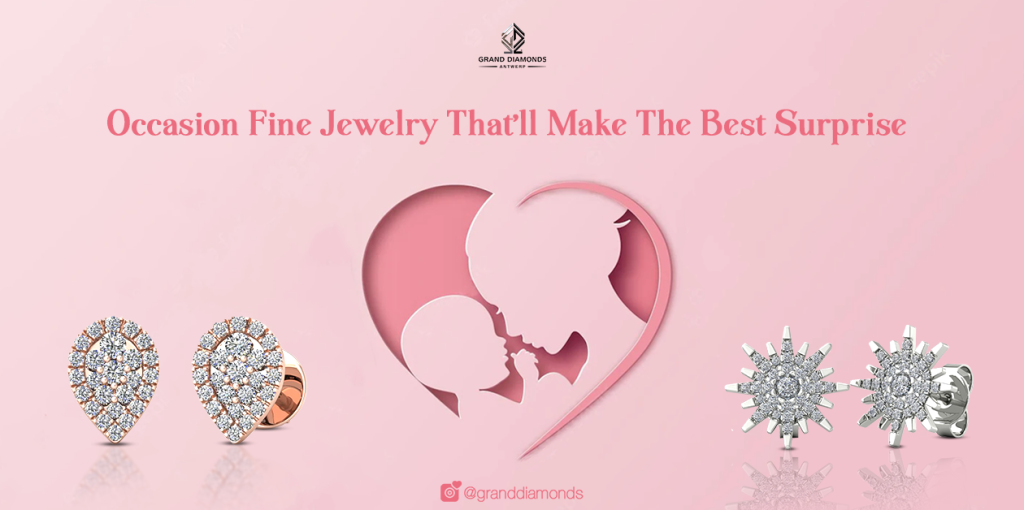 Grand Diamonds are bringing you impeccable pieces of occasion fine jewelry that will become your mom's favorite pieces to wear daily. Do you know what the best part is? You can customize it your way, like the way your mother likes. You can choose the metal of your choice along with the diamond shape you wish to have.
Rest, our dedicated customer support is there to help you 24*7 and get your hands on the favorite pieces that will get the best reaction from your mothers. So, chill and buy diamond jewelry online. Don't forget to avail the exclusive mother's day offers.
Read Our Latest Blogs
Visit Our Website