Have you ever wondered, "Where does rose gold come from?" Read on the blog below to learn about rose gold engagement diamond rings. We'll also mention some of our favorite rose gold rings that will amaze everybody around you.
Rose gold engagement diamond ring Antwerp is a distinctive and beautiful alternative to the otherwise traditional metal rings like white or yellow gold. It makes the perfect choice for those who wish to have a unique and eye-pleasingly brilliant piece.
Diamond engagement rings Antwerp and wedding bands have been hot potatoes for some time now, especially highlighted by many renowned celebrities and popular influencers. Understandably, rose gold rings are finding speedy routes to the wishlists more than traditional rings, as women worldwide are fascinated by fashion and good looks.
Defining Rose Gold
Let's begin with the initials. Rose gold is a blend or fusion featuring gold, copper, and silver alloy. Do you know what gives the pink hue to the metal? It's copper. The more copper it has, the pinker hue it gets.
Let us clear the major misconception about rose gold that it is not actual gold because it features a combination of metals. While the reality is that rose gold is real, it's just that it's not 100% gold.
History Of Rose Gold Metal
It was first discovered during the 19th century and first used by czar jeweler Carl Faberge when he was performing the task of creating ornate Easter eggs. It was then presented as gifts for Russian tsars Alexander III and Nicholas II's families. During that time, rose gold was known to be Russian gold because of its history. However, this distinctive metal featuring a pink hue didn't get much importance till 1924. It became news when Cartier used rose gold metal in his iconic trinity diamond ring. Hence, rose gold is not a newcomer to the jewelry era.
Do Rose Gold Rings Cost More?
It is the question asked by almost everybody and is the biggest misconception that rose gold is more expensive than yellow or white gold. But the truth is something else. Just like any other engagement ring, a rose gold engagement ring may vary in price. Essentially, it depends on the carat size and weight of the gold content present in your ring. It may also get affected by gemstones, diamonds, and other detailing such as settings, complexity, or pattern of its design. Rose gold is made in precisely the same way as yellow and white gold; therefore, the color of the metal is not going to affect much at your overall price much.
Apart From Diamonds, Which Gemstones Suits The Rose Gold Metal?
If we keep aside the glamorous and sparkly diamonds, we have many other colored gemstones that look dope with rose gold diamond rings. Others may include morganite, pink sapphires, and many others.
The dashing pink hue of the precious metal complements the feminine shade of pink nicely. Also, if you are looking for something out of the box, a combination of gemstones and diamonds will be a Bang-On.
Do Rose Gold Rings Makes A Perfect Choice?
Of course, A big fat YES! Rose gold has gained more and more popularity over the years. With enormous patterns and styles to choose from, it has guaranteed to deliver a piece of your dreams. The blushing pink tint is sure to capture the heart of your loved ones. Also, if you wish to get a more relieving, subtle, and elegant metal, this is the perfect choice for you. Buy diamond rings and Let your partner cherish this beauty for a lifetime.
Symbolism Of Love – Rose Gold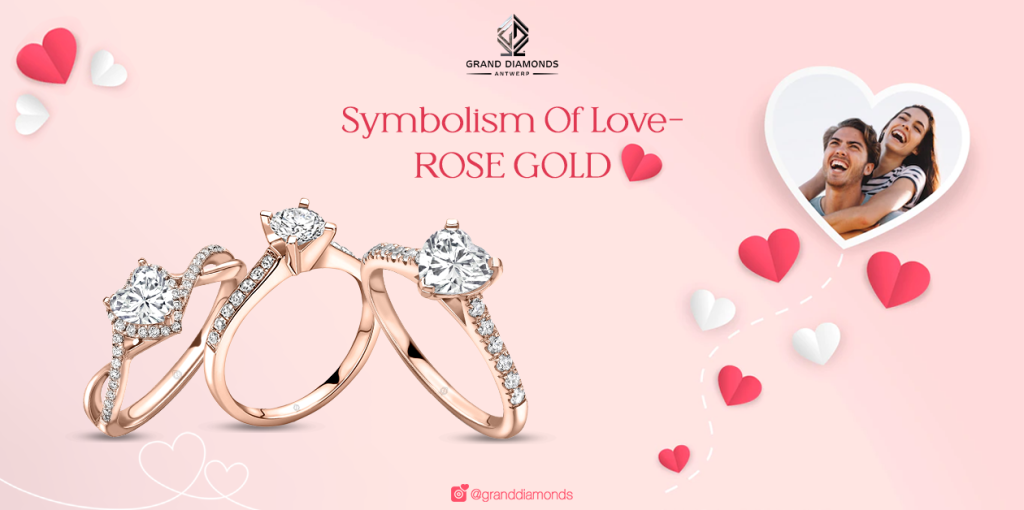 Rose gold metal is considered the most delicate and romantic and reflects a deeper meaning. It features an unlikely color, unlike traditional jewelry metals. Due to its hue, it is viewed as the symbol of long-lasting love and romance. It features a sense of elegance and classy style, and a hint of fashion. The pinkish tint denotes femininity, though it is not intended for women only.
Grand Diamonds presents you with its mesmerizing collections of rose gold jewelry featuring beautiful rings, bracelets, pendants, earrings, and studs. Browse engagement rings online and get hands-on with your favorite pieces.
Read Our Latest Blogs
Visit Our Website