There's a certain allure and elegance that diamond stud earrings bring to any outfit or occasion. These timeless pieces have adorned the ears of countless fashion icons, celebrities, and everyday individuals alike, adding a touch of glamor and sophistication. Diamond stud earrings are more than just jewelry; they are symbols of beauty, luxury, and enduring love. In this blog, we'll explore the captivating world of diamond stud earrings and delve into some exquisite options that will make you feel like a star on any occasion.
Symbolism of Diamond Stud Earrings
Diamonds have always held a special place in human history, representing strength, purity, and everlasting love. When set into a pair of stud earrings, diamonds take on a new significance. The close proximity to the wearer's face highlights their brilliance and sparkle, drawing attention to the eyes and illuminating the face. Just as a star shines brightly in the night sky, diamond stud earrings exude a radiant and magnetic charm that can't be ignored.
Exquisite White Gold Illusion Set Stud Earrings with Princess & Marquise Diamonds
Imagine a pair of earrings that is not only a true work of art but also a testament to modern design ingenuity. The exquisite white gold illusion set stud earrings fit this description perfectly. Crafted with precision, these earrings feature an illusion setting that ingeniously creates the optical illusion of a larger center diamond. Encircled by smaller princess and marquise-cut diamonds, the centerpiece diamond dazzles with a brilliance that seems to expand beyond its size. This innovative design not only enhances the overall sparkle but also adds a unique and modern twist to the classic stud earring style.
The white gold setting further amplifies the radiance of the diamonds, creating a harmonious blend of luxury and contemporary flair. The versatility of these earrings knows no bounds – whether you're gracing a formal gala or adding a touch of elegance to your everyday attire, these studs effortlessly elevate any look.
Captivating Yellow Gold Illusion Set Stud Earrings with Princess & Marquise Diamonds
For those who seek a warm and inviting glow, the yellow gold illusion set stud earrings are a dream come true. Embracing the timeless combination of yellow gold and diamonds, these earrings evoke a sense of sophistication that transcends eras. The illusion setting takes center stage once again, this time adorned with a captivating arrangement of princess and marquise-cut diamonds. As light dances off the facets of these exquisite gems, a mesmerizing display of brilliance and radiance ensues.
The juxtaposition of traditional elegance and contemporary design elements is the hallmark of these yellow gold stunners. The choice of yellow gold enhances the earrings' warmth and charm, creating a piece that seamlessly transitions from day to night.
Radiant Rose Gold "You Are the Sun" Diamond Earrings
Step into a world of love and positivity with the enchanting rose gold "You Are the Sun" diamond earrings. The design, inspired by the sun's life-giving rays, encapsulates the sentiment of radiance and warmth. A brilliant center diamond takes center stage, encircled by smaller diamonds that emulate the sun's effervescent energy. The choice of rose gold further enhances the earrings' allure, infusing a romantic and whimsical touch.
These earrings aren't just pieces of jewelry; they are declarations of affection and admiration. The rose gold "You Are the Sun" diamond earrings make for an exquisite gift, conveying deep emotions and heartfelt appreciation. Alternatively, indulge in the luxury of self-expression and adorn yourself with a reminder that you are as radiant and cherished as the sun itself.
Opulent Yellow Gold Double Halo Diamond Earring Studs
For those with an affinity for opulence, the yellow gold double halo diamond earring studs are a true masterpiece. These earrings are designed to captivate and mesmerize, combining the luxurious allure of yellow gold with the grandeur of a double halo setting. The result is a breathtaking display of brilliance and magnificence that is nothing short of awe-inspiring.
The double halo design elevates the center diamond to new heights, amplifying its sparkle and commanding attention from every angle. This arrangement creates a sense of depth and dimension, ensuring that the earrings are a true spectacle to behold. The intricate detailing of the double halo setting, combined with the enduring beauty of yellow gold, results in an accessory that is the epitome of elegance and grandeur. These earrings are perfect for those momentous occasions where you want to make an unforgettable impression and leave a lasting mark of sophistication.
Elegant Four Prongs Pave Set Halo Diamond Earrings
Discover the embodiment of understated elegance and classic beauty in the elegant four-prong pave set halo diamond earrings. These earrings strike the perfect balance between delicate charm and striking brilliance. The four-prong setting, a timeless choice, secures the center diamond while allowing maximum light exposure for exceptional sparkle.
The delicate halo of diamonds surrounding the center stone further enhances its brilliance, creating a captivating visual impact that is both sophisticated and mesmerizing. The intricate detailing of the pave set adds an extra layer of luxury, making these earrings a versatile addition to any jewelry collection. Their timeless design ensures that they seamlessly transition from casual gatherings to formal affairs, adding a touch of refined beauty to every ensemble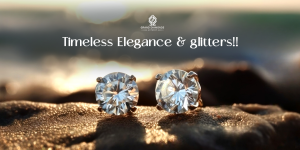 Timeless Elegance & glitters
Grand Diamonds understands that stud earrings are more than just accessories; they're a reflection of your personality, style, and inner radiance. Whether you're attending a formal event or adding a touch of glamor to your everyday attire, the right pair of diamond stud earrings can transform any occasion into a special one. From the timeless designs of white and yellow gold illusion set studs to the romantic allure of rose gold and the luxurious appeal of double halo earrings, there's a perfect pair for every taste and preference. Explore the world of diamond stud earrings with Grand Diamonds and buy diamond earrings online. Let your inner star shine brighter than ever before. Whether you choose the classic elegance of pave-set halos or the bold statement of a double halo design, you're sure to feel like a star with these exquisite diamond stud earrings.