Diamond earrings for women have long been considered a symbol of elegance and refinement.
Diamond earrings have always held a special place in the world of fashion and luxury, and in 2023, they continue to reign as the ultimate symbol of elegance and sophistication. These exquisite accessories have the power to elevate any outfit, adding a touch of timeless beauty and brilliance to the wearer's ensemble. Whether you prefer classic designs or contemporary innovations, diamond earrings are a staple in every jewelry collection.
The allure of diamond earrings for women lies in their unmatched brilliance. The diamonds' exceptional sparkle and fire make them a captivating and eye-catching accessory. Whether it's a pair of simple solitaire studs or a more elaborate design featuring intricate settings and diamond arrangements, these earrings effortlessly enhance the wearer's natural beauty and style.
Diamond earrings offer a versatility that is unmatched by any other accessory. They seamlessly transition from day to night, effortlessly complementing both casual and formal attire. Whether you're attending a business meeting, a social event, or a romantic dinner, diamond earrings add a touch of sophistication and glamor to every occasion
Why Diamond Earrings Make the Best Accessory:
Unmatched Brilliance: The allure of diamond earrings lies in their unparalleled brilliance. Diamonds are renowned for their exceptional sparkle, making them the perfect accessory to elevate any outfit. Whether you choose a pair with a simple solitaire or a more elaborate design, the radiance of diamonds will effortlessly enhance your natural beauty.
Versatile Elegance: Diamond earrings are incredibly versatile, complementing both casual and formal attire. They effortlessly transition from day to night, adding a touch of sophistication to every occasion. Whether you're attending a corporate event or enjoying a romantic dinner, diamond earrings will never go out of style.
Timeless Investment: Diamonds are a symbol of enduring value. Investing in a pair of diamond earrings is not only a testament to your personal style but also a wise financial decision. Diamonds retain their value over time and can be passed down as cherished heirlooms. They are a timeless investment that can be enjoyed for generations to come.
Enhancing Facial Features: Diamond earrings have the power to enhance your facial features and draw attention to your best assets. Whether you have a round, square, or heart-shaped face, there's a perfect pair of diamond earrings that can accentuate your natural beauty. They frame your face, highlight your eyes, and add a subtle glow to your overall appearance.
Boost of Confidence: Wearing diamond earrings instantly boosts your confidence. Their exquisite beauty and the knowledge of their worth exude an aura of elegance and sophistication. With diamond earrings adorning your ears, you'll feel empowered and ready to conquer the world.
Now, let's explore the top five diamond earrings that are making waves in 2023:
White Gold Princess Cut Invisible Set Diamond Earrings:
The white gold princess cut invisible set diamond earrings are a contemporary masterpiece. Crafted with precision, these earrings feature a seamless row of princess-cut diamonds set in a white gold frame, creating a stunning invisible setting. This unique design gives the illusion of a continuous diamond surface, showcasing the brilliance of the stones. The princess cut, known for its sharp angles and clean lines, adds a modern touch to these timeless earrings.
Yellow Gold Milgrain Hoop Diamond Earrings:
For those seeking a blend of vintage charm and modern appeal, the yellow gold milgrain hoop diamond earrings are a perfect choice. These hoops feature intricate milgrain detailing along with a delicate row of sparkling diamonds. The warm glow of yellow gold complements the diamonds, creating a captivating contrast. The milgrain design adds a touch of nostalgia, making these earrings a true statement piece.
Rose Gold Halo Illusion Set Diamond Earrings with Upstones:
The rose gold halo illusion set diamond earrings with upstones are a romantic and feminine option. The soft hue of rose gold beautifully complements the shimmering diamonds. The illusion setting creates the illusion of a larger center stone, while the surrounding upstones enhance the overall sparkle. These earrings exude a delicate elegance that is both captivating and enchanting.
White Gold Diamond Pear-Shaped Halo Illusion Hanging Earrings:
The white gold diamond pear-shaped halo illusion hanging earrings offer a combination of sophistication and glamor. The pear-shaped diamonds, surrounded by a halo of smaller stones, create a stunning focal point. The illusion setting adds an ethereal touch, making the diamonds appear even more brilliant. These earrings are perfect for those seeking a statement piece that will turn heads at any event.
Yellow Gold "Mini Bar" Diamond Earrings:
If you prefer a minimalist yet stylish look, the yellow gold "Mini Bar" diamond earrings are an excellent choice. These earrings feature a sleek bar design adorned with a row of dazzling diamonds. The yellow gold setting adds warmth and versatility to these understated earrings. They are perfect for everyday wear or for adding a touch of elegance to a casual outfit.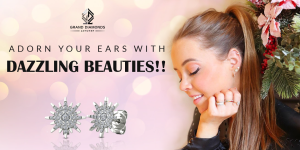 Adorn Your Ears With Dazzling Beauties!
Grand Diamonds stands out as the ultimate destination for diamond earring enthusiasts, proudly showcasing a collection that reigns supreme as the complete trendsetter in 2023. With an unwavering commitment to excellence and an eye for contemporary fashion, Grand Diamonds has curated a selection of diamond earrings that exude elegance, sophistication, and unparalleled style.
Our collection boasts a remarkable variety of designs, ranging from classic studs to daring chandelier earrings, each meticulously crafted to perfection. Drawing inspiration from the latest fashion trends, Grand Diamonds has managed to capture the essence of modernity while maintaining the timeless allure of diamonds.
What sets Grand Diamonds apart is our unwavering dedication to quality and craftsmanship. Every diamond used in our earrings undergoes a rigorous selection process, ensuring exceptional brilliance, clarity, and fire. Each piece is expertly set in the finest metals, resulting in stunning creations that effortlessly elevate any ensemble.