Sparkling, versatile, and oh-so-charming, accessories have long been a woman's secret weapon to conquer the fashion world. And among these delightful adornments, there's one category that effortlessly steals the show—those little wonders known as stud earrings.
 It's like a magical spell cast upon your ears, accentuating their natural beauty and bewitching the world around you.
So, ladies, embrace the power of these enchanting companions and let your style shine like a star. Whether you're attending a glamorous gala or conquering the daily hustle, remember that accessories hold the key to your fashion kingdom. And when it comes to reigning supreme, stud earrings are here to help you rule with grace, charm, and a pinch of sparkle.
STUD EARRINGS TYPE – METAL VERSION :
Stud earrings are a timeless accessory that can instantly elevate any look, and they come in a variety of metals to suit every style and preference. When it comes to actually picking the perfect pair of stud earrings, the material plays a crucial role. Let's take a closer and dazzling look at some of the most popular and amazing metals used for stud earrings.
GOLD STUD EARRINGS :
Gold stud earrings exude elegance and luxury. Crafted from solid gold, these studs can feature a dazzling diamond or simply showcase the beauty of the gold itself. Gold stud earrings come in various purity levels, ranging from 10K to 18K, with the higher karat options representing the highest quality. 
Additionally, you can choose from different gold tones, such as rose gold, yellow gold, or white gold, to perfectly complement your personal style.
For an elegant touch, pair your gold stud earrings with a classic little black dress, allowing the gleaming gold to accentuate your neckline.
SILVER STUD EARRINGS :
For a classic and affordable option, sterling silver diamond stud earrings are an excellent choice. Sterling silver has a timeless appeal and can effortlessly enhance any outfit. These studs are also versatile but also suitable for people with sensitive skin, as they won't cause you any skin allergies. Sterling silver studs are truly a go-to option for individuals of all ages, combining affordability and elegance in one.
Whether you prefer the timeless charm of gold, the affordability of sterling silver, there is a stud earring material that will perfectly capture your style and personality. From casual everyday wear to special occasions, stud earrings made from these materials are sure to catch all the eyes and add a touch of elegance to any ensemble.
If you're going for a more casual yet stylish look, combine your silver stud earrings with a crisp white floral blouse and a pair of distressed jeans for a touch of effortless glamour. Also, Mixing and matching gold and silver studs can create a captivating contrast that adds an intriguing twist to any outfit. 
HALO EARRINGS : 
If you think that halo design is crafted to be set on fingers, then you are highly mistaken. Introducing the exquisite Halo Diamond Earrings, a stunning piece of jewelry that will make you dazzle from afar. These earrings feature a magnificent halo of sparkling diamonds that encircle a central diamond, creating an elegant and timeless look. Whether it's a dinner party, a wedding, or a night out, these earrings will elevate your style and make a statement.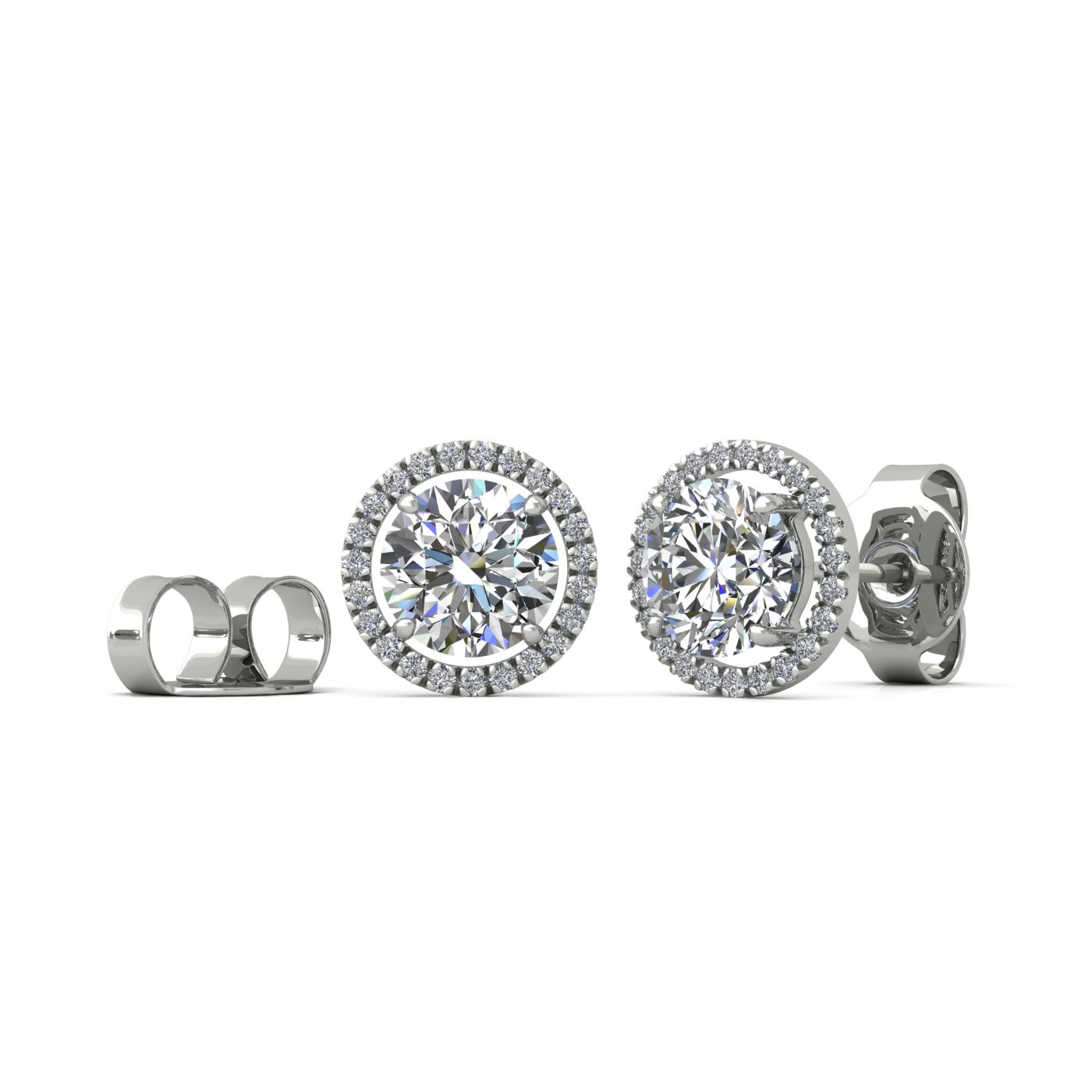 Moreover, they make a perfect gift for your mother figure, symbolizing your love and appreciation for her. Let her shine bright with these Halo Diamond Earrings, a truly exceptional and cherished addition to any jewelry collection.
BEZEL SET EARRINGS : 
Security is not only a crucial aspect in our relationships but also in our jewelry choices, which is why bezel set diamond earrings have become increasingly popular. These stunning earrings are designed to captivate attention and offer peace of mind, even during adventurous endeavors. With a bezel setting, the diamonds are securely encased, eliminating the need for constant adjustments or worries about the stones becoming loose.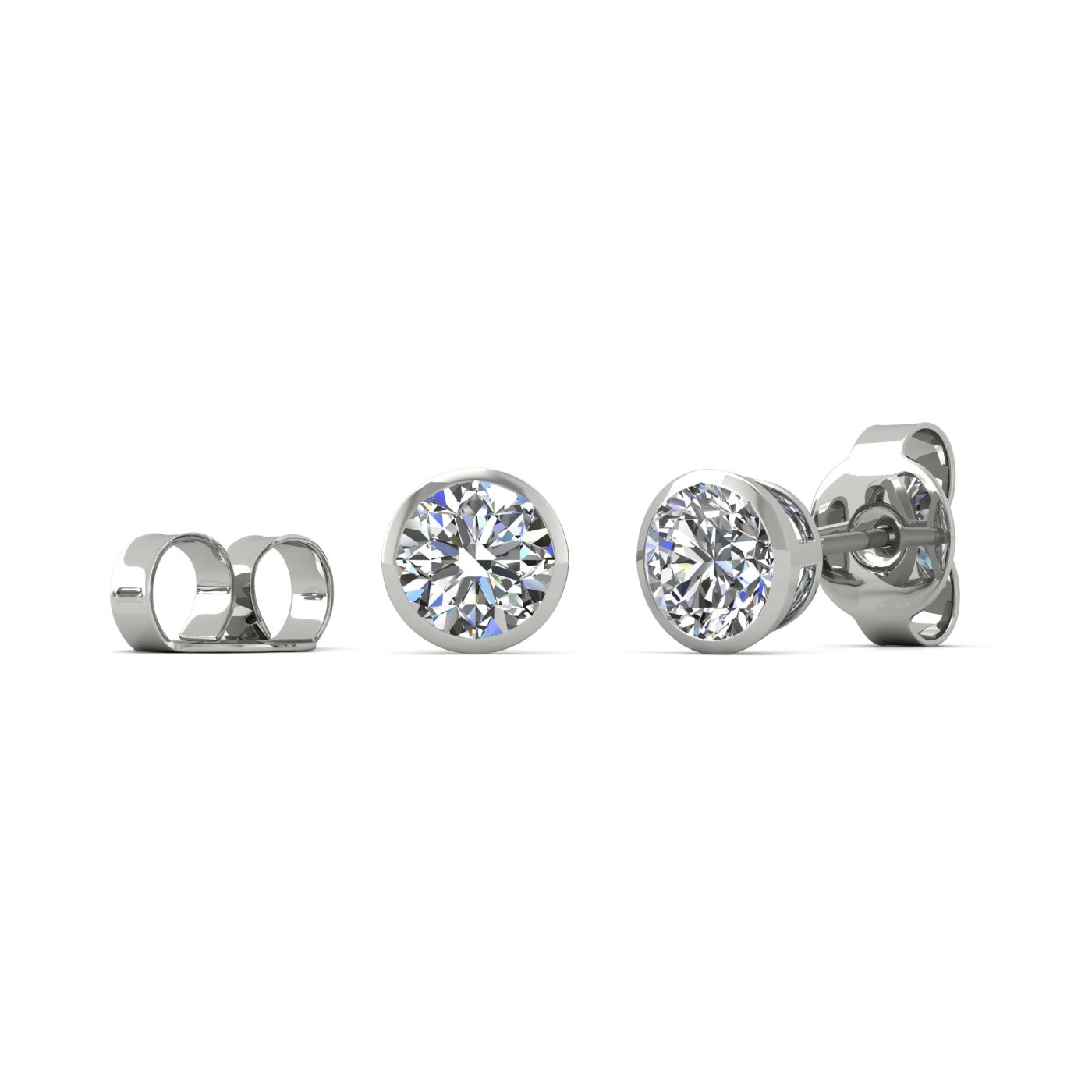 So, whether you're exploring new horizons or simply going about your daily routine, you can confidently enjoy the beauty of these earrings without constantly checking or touching your ears.
PRONG SET EARRINGS : 
When it comes to showcasing the brilliance of diamonds, prongs are the epitome of elegance and security. Crafted with precision, each prong delicately cradles the diamond, allowing its radiant beauty to shine through while ensuring its stability. 
Explore the stunning world of prong stylish diamond earrings, where meticulous craftsmanship meets timeless beauty.
Eight Prongs
Expertly crafted with eight delicate prongs, the design exudes a sense of opulence and grandeur. The additional prongs provide extra security for the diamond, ensuring peace of mind while you revel in their radiant sparkle.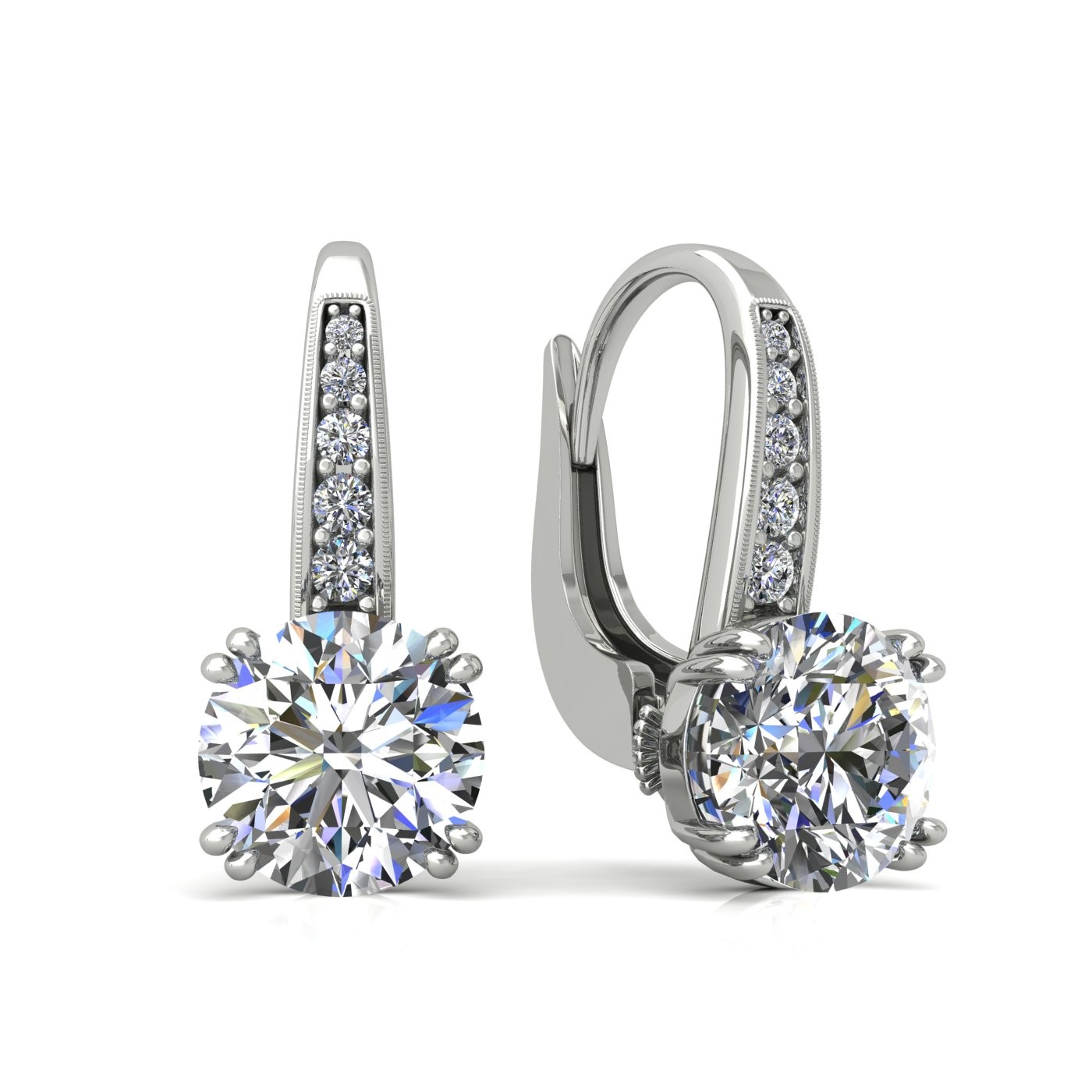 Perfect for all special occasions or as an elegant statement piece, these earrings effortlessly enhance any ensemble, from a classic black dress to a modern tailored suit.
Four Prongs Cushion Shape Diamond Earrings
Discover the perfect blend of classic and contemporary with Four Prong Cushion Shape Diamond Earrings. Featuring a timeless cushion-cut diamond held securely by four graceful prongs, this design exudes Bling. The clean lines of the prongs accentuate the diamond's shape, while the simplicity of the setting allows the stone's shine to take center stage.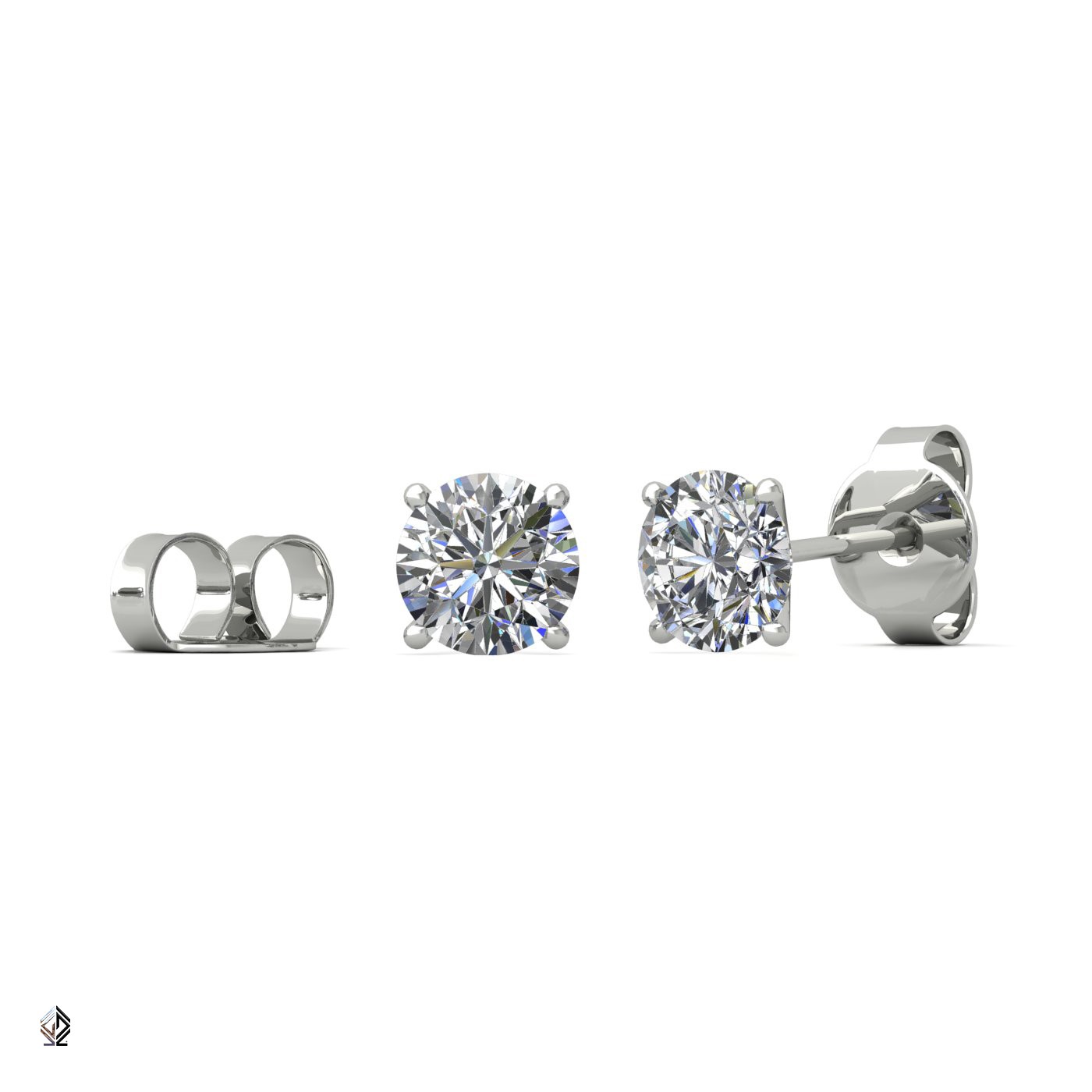 These earrings are versatile, effortlessly complementing both casual and formal attire. Whether it's a hectic day at the office or a summer evening pool party, these earrings are a timeless choice.
Pave Set Halo Diamond Earrings
Indulge in the captivating beauty of our Pave Set Halo Diamond Stud Earrings. These exquisite earrings feature a dazzling halo of smaller diamonds, delicately set with pave technique, surrounding a brilliant center stone. The prongs seamlessly integrate with the halo, creating a harmonious blend of elegance and allure. The halo enhances the center diamond's brilliance, giving it an ethereal glow. 
These earrings make a striking statement on their own and pair beautifully with both Gowns. Let their enchanting sparkle take your style to new heights.
In the End 
Incorporate these stylish diamond stud earrings for women into your jewelry collection, and experience the perfect harmony of elegance and security. Let their timeless beauty adorn your ears, adding a touch of brilliance to every occasion.
Remember, these earrings are more than just adornments; they are reflections of who you actually are, The Diva Of All Eras, so feel free to experiment and let your creativity shine through. Embrace the radiance of these earrings to make a statement that truly captivates and showcases your unique fashion sense.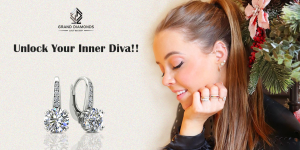 Unlock Your Inner Diva!!
Unlock your inner diva and enhance your elegance with stunning stud earrings for women from Grand DIAMONDS! Our exquisite collection offers a wide range of designs, crafted to perfection with sparkling diamonds. Whether you are attending special day or simply want to feel glamorous every day, our earrings are a must-have. Experience the luxurious allure and timeless beauty of Grand DIAMONDS' stud earrings for women and let your inner diva shine brighter than ever before. Shop now and embrace your true radiance!