Get ready to shine and stay stylish under the summer sun with the season's hottest jewelry trends! As the temperature rises, it's time to ditch the heavy layers and embrace the light, breezy fashion choices. Summer is about embracing vibrant colors, playful designs, and statement pieces reflecting your inner sunshine. Whether lounging by the pool, attending a beach party, or enjoying a picnic in the park, your jewelry can elevate your summer style to new heights.
From delicate anklets that adorn your sun-kissed ankles to bohemian-inspired layered necklaces that capture the essence of carefree days, we've covered you with six sensational tips for summer jewelry trends. So, add some sparkle, shimmer, and a dash of whimsy to your warm-weather ensembles.
Let's dive into the world of summer jewelry and make a splash with your fabulous fashion choices
This summer, it's time to unleash the full spectrum of colors and embrace vibrant and colorful jewelry as the top pick for your seasonal style. Rainbow jewelry is the epitome of brightness, vibrancy, boldness, and fun, making it perfect for summer.
Known for their mesmerizing array of colors, sapphires are a popular choice for adding a touch of elegance and vibrancy to your summer ensembles. These precious gemstones come in various shades, including stunning blues, vibrant yellows, and radiant pinks, creating a stunning rainbow effect when crafted into bracelets and bangles.
Whether you opt for a delicate sapphire tennis bracelet or a stack of vibrant sapphire bangles, these pieces will effortlessly elevate your summer style. They add a pop of color to your wrist, complementing your sun-kissed skin and exuding a playful and joyous vibe. The brilliance of sapphire bracelets and bangles lies in their ability to reflect and refract light, creating a dazzling display of colors that will leave everyone in awe.
So, this summer, don't hold back when embracing vibrant and colorful jewelry. Let the rainbow shine on your wrist with stunning sapphire bracelets and bangles, and let your style reflect the vibrancy and joy of the season.
Diamonds for every season:
Diamonds are the ultimate showstoppers when adding a touch of elegance and glamor to any summer occasion. These timeless gems complement and complete every look, whether you're ready to rock a summer brunch or attend a sophisticated cocktail party by the beach.
With their understated yet dazzling presence, diamond studs are a must-have accessory for any fashion-savvy individual. They effortlessly elevate your style and add a touch of sparkle to your ears, making them perfect for casual and formal summer outings. Pair them with a breezy sundress or a chic jumpsuit, and you'll exude refined sophistication.
Diamond pendants are the way to go for those seeking a statement piece. Whether dressing up for a special event or enjoying a romantic dinner by the beach, a diamond pendant will make a lasting impression.
Diamond bracelets and rings are also exquisite choices for accessorizing your summer outfits. A diamond bracelet adorning your wrist adds a subtle yet glamorous touch, enhancing your overall look effortlessly. Opt for a sleek and dainty design for daytime affairs, while a bolder and more intricate style can make a striking statement for evening events.
So, don't be afraid to buy diamond jewelry online this summer. Let them be the star of your summer wardrobe, effortlessly complementing and completing every look.
Fine jewelry is the ultimate showstopper that adds the perfect finishing touch when it comes to completing your look. Fine jewelry is your secret weapon whether you're getting ready for a summer brunch or a glamorous cocktail party by the beach. Its exquisite craftsmanship and timeless elegance can elevate any ensemble to new heights.
The missing piece completes the puzzle, tying together your entire look with grace and elegance.
No matter the occasion, buying diamond jewelry online always makes a statement. It exudes confidence, style, and a sense of luxury that can't be replicated. So, when you want to make heads turn and leave a lasting impression, trust in the power of fine jewelry. Let it be the showstopper that steals the spotlight and sets you apart from the crowd. Get ready to shine with every step and revel in the beauty that fine jewelry brings to every look
No matter the occasion, rose gold jewelry is the ultimate accessory that effortlessly complements and completes every look. Whether you're gearing up for a trendy summer brunch or a glamorous cocktail party by the beach, fine jewelry in rose gold is guaranteed to make you a showstopper.
The soft and warm tones of rose gold add a touch of elegance and femininity to any ensemble. Its versatility allows it to blend seamlessly with both casual and formal attire.
What makes rose gold truly special is its ability to suit every skin tone. It complements fair complexions with a subtle glow and adds a radiant warmth to darker skin tones.
So, this summer, let rose gold be your go-to choice for accessorizing. Whether you're opting for a laid-back beachy vibe or aiming for red carpet glamor, rose gold jewelry will always be the finishing touch that elevates your look to perfection.
Diamond pendants are the quintessential summer season accessory, adding a touch of elegance and sparkle to your ensemble. These timeless pieces effortlessly elevate any outfit, whether dressed for a summer soirée or enjoying a casual day out. When styling diamond pendants, consider layering them with other necklaces of varying lengths to create a trendy and personalized look. To ensure their brilliance, clean diamond pendants regularly using a soft brush and mild soap, or take them to a professional jeweler for a thorough cleaning. Store them separately in a soft pouch or lined jewelry box to prevent scratches.
Diamond stud earrings are the quintessential summer season accessory, adding a touch of timeless elegance to any look. Their versatility and simplicity make them perfect for casual and formal occasions. To style them, pair diamond studs with flowy sundresses, off-the-shoulder tops, or even beachy ensembles for a chic and effortless vibe.
When taking care of diamond stud earrings, keeping them clean and secure is essential. Use a soft brush and mild soapy water to clean the diamonds, ensuring they maintain their sparkle gently. Store them in a separate compartment or jewelry box to prevent scratching or tangling with other pieces. It's also recommended to have them inspected and professionally cleaned by a jeweler periodically to ensure they remain in top condition.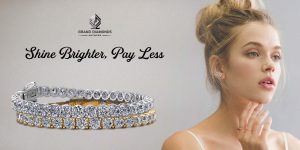 Shine Brighter, Pay Less
Don't miss the ongoing Grand Summer Sale, the perfect opportunity to elevate your summer jewelry wardrobe! At Grand Diamonds, we are offering up to 35% off on all our stunning jewelry pieces. It's time to indulge in exquisite diamond jewelry at unbelievable prices.
Our collection features a wide range of diamond jewelry perfect for every occasion. We have the perfect piece to enhance your style, whether you're attending a beach wedding, sipping cocktails by the pool, or enjoying a summer soirée. From sparkling diamond rings that symbolize eternal love to elegant necklaces that add a touch of sophistication, our jewelry is crafted to perfection. This summer sale of diamond jewelry is a lifetime opportunity.
Take advantage of this incredible sale to add a touch of luxury to your summer ensembles. Elevate your look, make a statement, and shine bright with our exceptional diamond jewelry. Hurry and grab these irresistible deals before they're gone. It's time to treat yourself and embrace the season in style with Grand Diamonds.