Everything about holidays is joyful, warm, and rejoicing. It's the time of year when families take time out from their busy work and home lives to savor delectable gingerbread and chocolates, listen to soulful music, open gifts, and experience joy and gratitude. These are also perfect days for proposing to your special someone since they're the days when you look back on the year you've spent together and the year ahead of you, ready to blossom your life with more and more love. This may explain why people want to buy diamond engagement rings and so many engagement announcements!!
If you, too, are planning a unique proposal, then, we have got some cool ideas for you. 
Check out these dazzling engagement rings for your unique holiday proposal.
A single-center diamond or gemstone is set in a traditional, simple setting in solitaire engagement rings. The solitaire ring is one of the basic engagement rings available. However, it is charming and timeless. Suppose you are unsure who to trust and which design will be perfect when you visit jewelers to buy diamond engagement ring. Begin by selecting the ideal solitaire ring setting, then add a loose diamond or gemstone to complete the look.
SOLITAIRE ROUND CUT DIAMOND ENGAGEMENT RING
This beautiful solitaire round cut diamond engagement ring Antwerp is set on a rose gold shank with a white gold prong center. A classy fit for those that like some extra sparkle.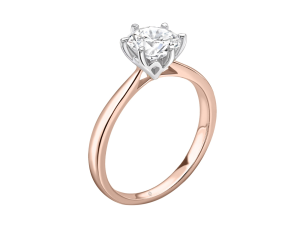 SOLITAIRE ROUND CUT DIAMOND ENGAGEMENT RING WITH WHISPER-THIN BAND
 This elegant design features a brilliant round diamond in the middle in a floral prong setting. The rose gold shank is sure to add more brilliance and grace to the look. This Ring is comfortable to wear and will go perfect with all your outfits; you can style it all the time and for any event.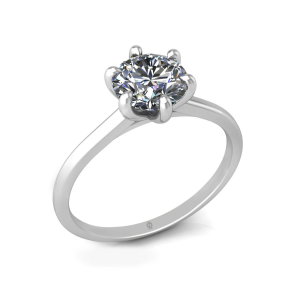 A bit of quick advice:-  Before discussing diamond ring purchase:- You should buy diamond rings online from well-known brands; after you have thoroughly gone through the reviews, have a specific word with their experts and not forget to check their social sites. All these speak volumes for the brand. This is the same thing you should keep in mind when purchasing Antwerp diamonds online. 
MARQUISE CUT DIAMOND ENGAGEMENT RING WITH SIDE STONES PAVE SET
This dainty version of the marquise cut diamond engagement ring has a white gold shank with 10 pave-set side diamonds—ideal for someone who loves traditional designs.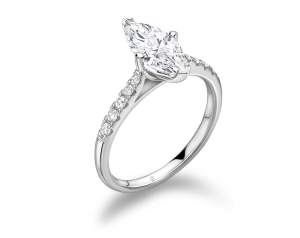 WHITE GOLD ROUND CUT 4 PRONGS DIAMOND ENGAGEMENT RING WITH SIDE STONES PAVE SET
A sparkling cluster of diamonds rests on the shoulders of the softly tapered band in this exquisite Ring. Four prongs hold the center stone in place. Making it a perfect fit for every woman on the planet.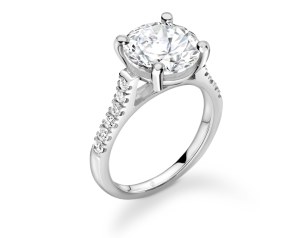 Channel Set Engagament Rings
WHITE GOLD ROUND CUT DIAMOND RING WITH SIDE STONES CHANNEL SET
A simple breathtaking row of 16 channel-set round diamonds is set in a dramatic rose gold mounting in this round-shaped diamond engagement ring with a 4 white gold prong center. It's designed to maximize the amount of light that hits the diamonds from all sides, and it's an excellent choice for individuals who prefer a unique and colorful design.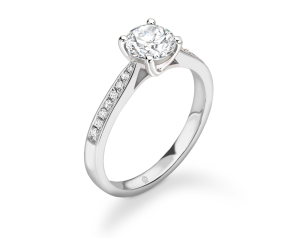 WHITE GOLD ROUND CUT 4 PRONG TWIST DIAMOND ENGAGEMENT RING WITH SIDE STONES
This exquisite version has a round-cut diamond in the center, a four-prong twist, and 24-channel set side diamonds. This Ring is ideal for individuals who enjoy a traditional style with a twist. You can buy engagement ring online if you are running out of time.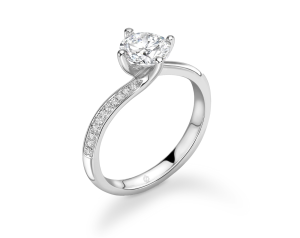 One of the Important things to remember when planning to buy a diamond engagement ring is to Plan the proposal ahead to avoid making rash decisions about the engagement ring.
Even though the holidays are still a long way off, it is better to be prepared now than be sorry later. You can begin planning for the one-of-a-kind proposal by looking at the venues, visiting the site, maintaining contact with the venue owner, deciding on the setup and flowers, and contacting her family. Above all, keep an eye on the engagement ring. At last, from all the preparation, all you want to surprise her with something special and unique(just like the love you two have for each other)
Read more about diamond cuts before visiting online jewelry stores to buy a diamond engagement ring. As there will be guests present with you during your unique proposals, you both can buy diamond jewelry for your loved ones. It can be a token of love and gratitude for them without pricking your pocket.

Holidays are the best days to pop up the question to your lady love. Imagine how magical it would be to experience gratitude, love, and joy together with the families. Also, these are just a glimpse of what Grand diamonds got in their bag full of sparkling jewelry. That's right!! You can buy diamond rings, stunning earrings to sparkling diamond bracelets in one place. We are sure that getting the diamond ring/jewelry of your dreams will make the occasion even more memorable for you and your partner.
You can also check out our website for an exquisite jewelry collection.
Read Our Latest Blogs
Visit Our Website