We've officially entered Pride Month, the month of #loveislove, the month in which we honor LGBTQ couples and their identities. We acknowledge their achievements as well as their struggles in maintaining their equality with the rest of the world. Pride Month is also a great time to pop the question to your special someone. Every love story is unique, and a one-of-a-kind proposal adds millions of sparkles to its specialty. But when it comes to proposing, the only thing that overwhelms us is the thought of where you can buy diamond engagement rings. Something as personal as an engagement ring necessitates further consideration, which is where we jump in.
So let's explore the best engagement rings for same-sex couples!!
HAVE A LOOK AT OUR RAINBOW COLLECTION FOR YOUR PRIDE MONTH PROPOSAL
The iconic rainbow pride flag and Pride Month are inextricably linked, and it's impossible to think of Pride Month without picturing the iconic rainbow flag. So, why not celebrate 2022 Pride Month by styling some of our stunning Rainbow jewelry?
Dazzling Rainbow Ring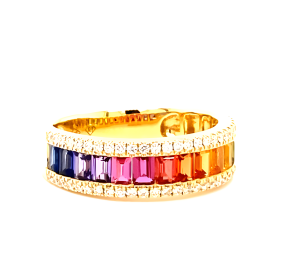 We believe you can also propose to her/him with a Rainbow Ring. It's the symbol of acceptance, love, and togetherness. Even though life has different colors to offer, you both are ready to fight all the odds together. The mature rainbow-colored sapphire and diamond ring is a true eye-catcher; two rows of diamonds beautifully outline the center sapphire row, adding extra sparkle to the rainbow colors. Find out more about how to buy a diamond engagement ring to avoid big blunders on your special day.
Dazzling Rainbow Pendant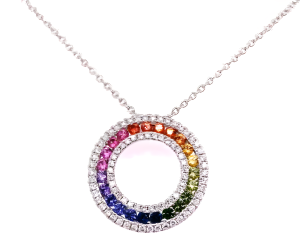 Are you planning to attend lots and lots of Parties this month? Why not style your summer floral dresses with a dazzling rainbow pendant. The maxi multirow eternity circle pendant is a powerful emblem of life and connection. The two rows of diamonds outline the stunning rainbow-colored diamond-cut sapphire pendant, invisibly hung on a delicate 18k gold chain. Perfect for hot summer romantic dates.
Sparkling Rainbow Bracelets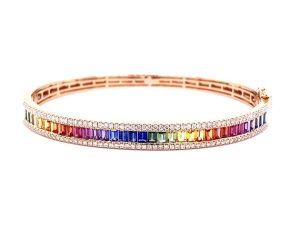 Pride month is about celebrating Uniqueness, and we cannot find anything as Unique as our Rose Gold Diamond & Sapphire Multirow Bangle. Our multirow rainbow-colored sapphire and diamond bracelet is a beautiful eye-catcher, with two rows of diamonds nicely outlining the core sapphire row, adding more glitter to the rainbow colors and your personality.
Same-Sex couple Engagement Rings for She
WHITE GOLD ROUND-CUT TRILOGY DIAMOND ENGAGEMENT RING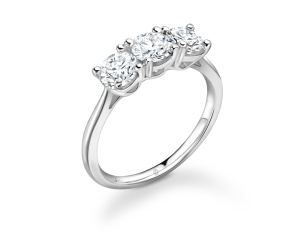 The three diamonds in the rings symbolize you and your partner and eternal love pouring between you. In this classic trilogy or three-stone diamond ring, the round-shaped diamonds on each side of the round center diamond are elegantly set in a dramatic, essentially sized mounting. This Diamond ring Antwerp is for the one who is a lavish type.
WHITE GOLD HEART CUT HALO DIAMOND ENGAGEMENT RING WITH SIDE STONES IN SPLIT SHANK PAVE SET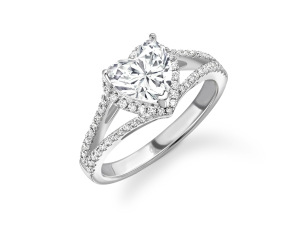 Is there anything more adorable than a heart-shaped engagement ring? Our heart shape ring will be the best fit if you are planning to propose to her during Pride Month. The Ring symbolizes your unique love and always fills you with strength and more love whenever you glance at it. Set in a dramatic mounting, this beautiful version of the heart-cut halo set diamond engagement ring sparkles from every angle, making it perfect for someone who likes to keep things all perfect.
A quick piece of advice:- Buy diamond rings, according to her interests and likings.
Also, before you buy a diamond engagement ring, ensure that you and your partner are on the same page, as it will keep you safe from unnecessary misunderstandings.
Same-sex couple Engagement Rings for Him.
From where can you buy a diamond engagement ring online that matches their personality? Here presenting you a few Wedding Bands for him.
YELLOW GOLD MATTE WEDDING BAND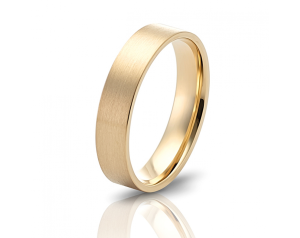 Propose your Gentlemen with this gorgeous gold matte wedding band. Why is this ideal for same-sex couples?
This Engagement Rings Online symbolizes the time you've spent together and the beautiful adventure you are about to embark on together.
WHITE GOLD SHINY WEDDING BAND COMFORT FIT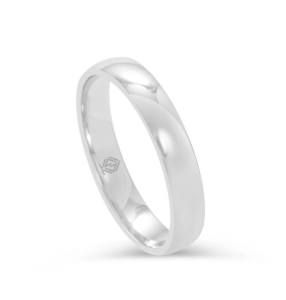 If your guy loves simplicity and classiness, this Ring from our collection is the best you can propose. This Ring for same-sex couples offers longevity and comfort, representing eternal love for your special someone. If you still are unsure of which Engagement ring you should buy for him, then you can also Buy Diamonds Antwerp, and when they have some designs or styles in mind, you can use these diamonds to engrave in your Engagement ring.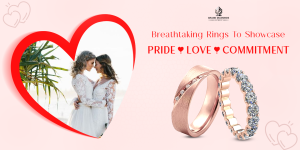 If you have found someone you have only dreamed of and can't imagine your life without them, then it's your sign not to delay the proposal anymore. Above was just a quick glimpse of our collection; there is a lot you can still discover on the Grand Diamonds website. From Diamond Rings to Diamond studs, you will find every brilliant piece under one roof. Check out our website for more information. All the best for the proposal!!
Read Our Latest Blogs
Visit Our Website