We have benefited much from the Internet, which provides us with free music and movies, quick access to information, and simple communication. The ability to shop while wearing only your underpants is possibly the most underrated. Before the Internet, when we all lived like animals in the wild, purchasing something required getting dressed. However, you can now buy almost whatever you want whenever, wherever, and in whatever clothing you desire. That also applies to the significant, frightening, pricey, and crucial purchase you are about to make: Diamond Wedding Rings. 
There are many things that come to our minds when we buy diamond wedding rings online. The very first question is : 
Is It Even Advisable To Buy Diamond Wedding Rings Online?
Yep! And many people are engaging in it. Nowadays, 10% of wedding rings are bought online. In comparison to clothing, which is bought online in roughly 60% of cases, that is not much. However, it's feasible that the number will increase as more conventional brick-and-mortar jewelers close their doors. In 2018, 852 of them did so.
And we're not just discussing inexpensive items. The same website where you purchase your video games and pet food also sells diamond jewelry with free shipping. 
Can You Buy Perfect Wedding Bands Online?
With a few restrictions, the answer is yes. The most crucial thing to remember while looking for a ring online, whether it's a classic diamond ring or one with a different gemstone, is to proceed with caution. To be completely honest, if a website's deals or special offers seem too nice to be true, they probably are. Make sure you're working with a trustworthy jeweler who offers a selection of possibilities or allows you to customize it your way. 
Guide To Ensure Safe Purchase While You Buy Diamond Wedding Rings Online 
Ensure Safe International Shipping 
Reputable online jewelry will cover the cost of delivery for you and ensure the box during transit. Since the cargo was insured, in the extremely improbable scenario that the delivery box is tampered with and your diamond is stolen, you won't suffer any loss. Additionally, check to see whether a signature is required; you wouldn't want your package to be taken off your porch.
Hassle-Free Return & Refund Policy 
Your diamond ring can be returned for a variety of reasons. You might not like it because the design doesn't match the image you saw when making the purchase, or it might not fit you well. You ought to be able to return your product for any cause. Additionally, the online merchant must reimburse you in full.
Diamond Certification 
A trustworthy internet merchant will offer a complimentary certification and grading report for your diamond. The certificate serves as proof that the diamond and its characteristics have been evaluated by an accredited gemological laboratory. The diamond is examined by a gemologist, who then offers a grading report that details its features.
Once you get the certificate, you can have the stone validated by taking it to a third-party appraiser. You can return it to the internet seller if the attributes don't match, which will not only provide you peace of mind.
Compare With The Current Market Price 
Make sure the price of the engagement ring is reasonable before purchasing it online. It would be beneficial if you conducted extensive research to determine the diamond pricing on different websites with the same specifications. Additionally, you can visit conventional shops to look at diamonds with the same qualities that you are looking for online. Visit the jewelry shops that are the closest to you. It will offer you a good concept of how your diamond might seem once it is yours.
Read The Customer Reviews 
For the website reviews, a quick online search will work. Look up the online jeweler's reviews before making a purchase. If there are many good evaluations, the seller is probably trustworthy and offers top-notch services.
A trustworthy internet resource and jewelry company will also provide responsive customer service. When you contact them and inquire about the diamond you intend to purchase, it is beneficial. Only purchase diamond rings online if you feel confident in the vendor and feel free to ask as many questions as you like.
Read The Terms & Conditions Carefully 
Read any T&Cs on the website or the contract the jeweler sends you before making your purchase, especially if it's a made-to-order ring. It's long, boring, and riddled with jargon. Make sure you are familiar with the various design phases and when adjustments can still be made. Find out if you can receive a refund if you're purchasing from a set collection.
When purchasing from Grand Diamonds, you have many options for returning an item and receiving a refund (as long as it wasn't manufactured to order), however, when purchasing from elsewhere, this usually depends on the shop. 
Use Credit Card
If at all possible, use a credit card to purchase a diamond wedding band online. If not, use a debit card secured by a well-known credit card provider. Never send cash, a bank transfer, or a money wire service since you won't have a way to get your money back if something goes wrong later.
Make sure the website you're using to pay has a secure payment option as well. To do this, look for the closed padlock icon in the corner of your browser window, confirm that the website address starts with "HTTPS://" (the "s" stands for "secure"), and click the security icon to see if the retailer has an encryption certificate.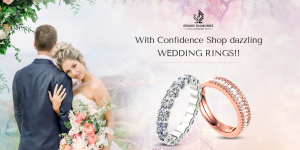 With Confidence Shop Dazzling Wedding Rings!!
Browse and explore the collections wisely before you buy diamond wedding rings online. Grand Diamonds are offering you a huge assortment that you can choose from and pick a piece that defines your personality rightly. Do keep in mind the above-mentioned points to have a secure purchase. Make a pick from the classic bands, eternity bands, half eternity bands, stackables, and much more 
Pick a diamond shape of your choice and show the dazzling beauty to the world.
Read Our Latest Blogs
Visit Our Website