One of the important elements to enhancing your fashion statement is to accessorize with perfect occasion fine jewelry. Women have long adorned themselves with jewelry to accentuate their beauty. Occasion Fine Jewelry is intended to draw attention to your features as well as give your personality more appeal. It enhances your social standing and makes you more noticeable than the other people in the room. The types of jewelry and the preferences of women have undergone significant evolution from eggshells to seashells to seashells to jewels and diamonds.
Women find it quite difficult to select the ideal jewelry for any occasion because there are so many options available. Is that it, though? There are many things to notice as well as what to wear and what not to wear. We have your back, so there is no need for you to worry anymore. Here are some guidelines to help you pick the right jewelry for any occasion. To get all the answers for occasion fine jewelry, keep reading.
For Subtle and Elegant Statements 
On some occasions, fine jewelry is understated but nevertheless manages to make a statement. You may occasionally want to appear both refined and understated. The ideal option is to select a delicate jewelry piece if you are preparing for a formal environment or a modest function. The second step is to determine what your clothing leaves room for. Does it have a spot where your necklace can be worn? Do you prefer long sleeves or do you feel the need to wear a bracelet? Don't forget to take care of your nails and hair as well. A subtle component looks good with a solid hue. Additionally, if you're thinking about donning a pattern, go for uncomplicated jewelry made of colorless stones. Buy diamond pendants that'll add seven stars to your regular looks. Bring out those glistening chandelier earrings or hefty statement necklaces to rule the day if you're headed to a party or a nighttime event.
Occasion Fine Jewelry To Match Formal Events 
Do you believe we're discussing office gatherings? We are not, though. Events or occasions that are formal include weddings, anniversaries, or galas. You must therefore wear a fancy yet classy style. Necklaces should not be worn with strapless dresses if you choose to wear them. Give your beautiful chandelier earrings a chance to shine instead. Wear a crew neck or turtleneck shirt with a hanging statement necklace or something subtle. Buy diamond earrings from grand diamonds that are sure to glam up your attire. When worn with thick bangles or cuff bracelets, halter neck tops look fantastic. To attract attention, combine pendant necklaces with V-neck shirts.
Consider wearing a watch with a small dial to match your clothing in addition to the jewelry. Want to dress in a fancy outfit? Consider using thick bracelets to enhance your stunning appearance.
Occasion Fine Jewelry For Casual Outing Look
There is no denying that not every work is appropriate for every situation. Furthermore, jewelry is not required to be worn in casual attire. But if it makes you look amazing, then what's the harm? It's worth the work. To command attention, dress in a t-shirt, jeans, and diamond studs. Who among us wouldn't want to appear wealthy? Consider wearing a straightforward sundress. Make your inner fashionista come out by stacking on some gold bangles. It's time to start wearing your jewelry if you've accumulated enough of it but don't typically. Buy diamond bracelets that suit your personality from us. 
Rock The Party With Occasion Fine Jewelry 
What makes parties for birthdays, farewells, and clubbing the best? You become what you dress however you want. Don't consider its size, thickness, sparkle, or dullness. Simply display confidence while wearing it to grab people's attention. You only need one or two items of jewelry to up your fashion statement. A thick bracelet or a beaded necklace can draw attention to your clothes and make you look cool.
Professional Occasion Fine Jewelry 
You must maintain your clothes tasteful while you are in formal settings like business meetings or office parties. Avoid wearing anything that will distract other workers by being too flashy or sparkling. In an office setting, jewelry made of metal and tiny gemstones look captivating. It adds flair to your business clothing in addition to being neat and professional. Avoid wearing bulky bracelets when wearing bracelets. It will look fantastic with a watch with a thin strap or a straightforward bracelet.
Everyday Wear
Everyday jewelry consists of all the items that are fashionable yet adaptable and go with nearly everything you wear. Such items will always be opulent, but they also quietly enrich every personality in a way that is unmatched.
Therefore, it comprises wedding bands, single-chain necklaces, stylish bracelets, simple stud earrings, or heirloom jewelry handed down through the generations. They enhance all skin tones and bring out the delicate yet striking features of the face.
Wear a pair of massive hoops earrings, many-layered necklaces, and stacked rings or bracelets with your casual jeans and t-shirt. Try experimenting with various chain lengths and styles.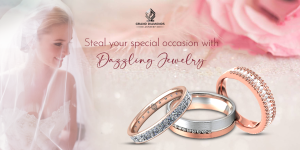 Steal Your Special Occasion With Dazzling Jewelry 
The occasion is less important than your choice of clothing, believe it or not. In more formal and traditional settings, people tend to prefer ladies to wear classic jewelry, but you are free to explore. You can mix and match to find what works best for you. A classic tennis bracelet for a formal dinner can be made more eye-catching by adding striking earrings with semi-precious stones. It makes sense that there aren't many things to remember or regulations to follow, but rules are supposed to be broken, right? So, try new things and let your inner fashionista shine.
Grand Diamonds are offering you incredible collections of occasion fine jewelry coming in diamond earrings, diamond studs, diamond bracelets, diamond pendants, and diamond rings. Not only that, we have incredible engagement rings and wedding bands that'll help you make forever promises. We have a cool assortment of jewelry influencers so that you can pick your favorites. 
Read Our Latest Blogs
Visit Our Website