Isn't a cake and magnificent, beautiful diamond rings what a person requires to celebrate every special moment of their life? Diamonds are rare and lovely, and they made a good gift! Without a doubt, a diamond is, in fact, a valuable memory. Marriage and the wedding proposal are major events. Investing in a diamond engagement ring beautifies that memorable celebration. Diamonds are the authentic representation of love, loyalty, and "longevity," all qualities that marriage unquestionably requires.
Overall, this gem has a certain unbelievably magical charm. It appears to have captured people's hearts over time. They seem to be more than just the best companions for girls, too. Many treasures that tiny stone and can't wait to wear them on a special night out.
 There are many reasons to buy diamond Rings. If you can really afford it, go ahead and get one, you will not regret it. Our diamond consultants are standing by and gladly help you to find your perfect piece.
In this blog, you can read about how to make your purchase of diamond rings fruitful to surprise loved ones with a gift they will cherish forever. 
Begin with taking advice from your close ones:
Everyone has their opinion about things, and they might have it for purchasing a Diamond ring, especially the people closest to your partner, including your mother, sister, and friends. The more second thoughts, suggestions, and recommendations you can get before making the decisive buy, the better. Having said that, try to keep this from overwhelming or confusing you because everyone has an opinion. You are ultimately the one who knows the best what you want. Trust your instinct and keep all the information you have learned along the journey in the back of your mind. But remember that the ring is a reminder and celebration of the moments that you and your partner share; it should represent the relationship and not take center stage. Even if the Diamond ring is a self-gift, it should reflect your personality's uniqueness.
Not the same myths again:
The truth is that the best shape for a diamond depends on the specific diamond and the size and shape you choose according to your personal preferences. You do not need to "must have" a certain number of carats or cuts. Select your favorite diamond, stick with it and set it up confidently in your Diamond ring!
You know you messed up the purchase when you reached home with a diamond ring with no diamond certificate. Many people have ways of telling a good diamond from a terrible one, but most aren't effective. Finding a reputable jeweler and ensuring they include a certificate with your diamond are the best ways to ensure that you receive an excellent quality diamond at a fair price.
Advice for couples looking for  diamond rings
If you have a surprise planned for your anniversary or your partner's birthday, there is no need to delay the shopping trip. If you want a personalized or bespoke diamond ring, give this work at least five to six months. Remember that even simple engraving on the diamond ring can take up to a month! So that you can have the ideal rings ready for that particular day, start window shopping early.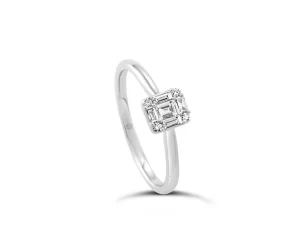 EMERALD SHAPED ILLUSION SET ENGAGEMENT RING 
Commemorate Your Special Moments With This Marvelous Creation!
Make Certain The Size Is Correct:
By going shopping together, you can ensure a proper fit rather than assuming your loved one's ring size. Your final fitting should be performed when you are in a composed mood and have an average body temperature because our fingers go through phases of contracting and swelling resulting from heat, cold, water retention, or weight gain. Avoid morning fits. 
Some Diamond Ring Maintenance Tips.
 Do you need help with how maintaining your diamond ring? At all costs, refrain from touching the central stone. "Diamonds and other precious stones attract dirt, body oil, and other contaminants." Try not to touch your diamond if you wish to enjoy its sparkles for years to come. As you touch it, oil from your fingers travels to the diamond and can give it a lifeless appearance.
Try gripping the band on each side of the stone when putting on or taking off your ring rather than the stone itself.

Put your diamond ring inside a cushioned box. Rough containers can scratch diamonds, and even any diamond jewelry put along with other jewelry, can cause wear and tear to the stone. Keep each Jewelry separately in its own container to help protect it over time.
Have a specialist inspect your diamond ring

twice a year. Your prongs may become loosened or bent as a result of normal wear. Ensure the prongs firmly grip your diamond to prevent any stones from unintentionally coming out. Almost many jewelers will perform this inspection at no cost to you, even if you did not purchase your ring from them, still before you make a purchase inquire about these things.

Four times a year, clean your ring. Your diamond might become encrusted with dirt, grease, and residue. If you clean it infrequently, your ring will eventually look dull instead of beautiful. The tiniest coating has the power to change the diamond's ability to reflect light. You should clean your diamond ring

many times a year to maintain your diamond sparkle. Remember not to be harsh on it.
Examine diamonds under various lighting conditions:
A diamond appears considerably different depending on the type of lighting used—daylight, fluorescent light, spot lighting, etc. Numerous jewelers employ white spotlighting, which highlights a diamond's brightness and fire and makes the majority of diamonds appear dazzling. The majority of daily circumstances, however, do not have such dramatic lighting. Make sure to test your diamond in typical lighting scenarios, such as in bright or dark outdoor lighting. Fluorescent lighting increases a diamond's brightness, but standard lighting increases a diamond's fire.
 This point implies only when shopping for a diamond ring from physical stores. When shopping for diamond rings online, it is essential to trust reputable names and stores that have no issue answering your queries.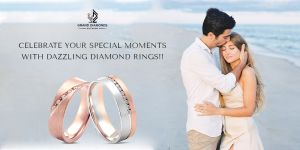 Celebrate your special moments with dazzling Diamond Rings !!
 You can find beautiful, rare, and responsibly crafted diamond rings at Grand Diamonds. Our dazzling diamond rings hold a magical promise of eternal love and represent the timeless bond between loved ones. You can also Design diamond rings online, discover an exquisite collection of diamond engagement rings, from statement rings to delicate solitaire diamond rings, and find a design worthy of wearing forever. With perfect guidance from our professional jewelry experts, we'll help you make a perfect choice. So, it's time to keep away all your fears and get your loved ones a dream diamond ring. You can go to Grand Diamonds to get a Diamond ring online that is made to last a lifetime.