So, it's finally happening!! You and your bae decide to go down the ultimate path of togetherness, and your engagement ring will be the stepping stone.
No proposal is complete without an engagement ring that's as irresistible and beautiful as she is. It's time to go into the ultimate research mode. But don't worry- we have got your back here.
In 2023, engagement ring styles are taking a bold new turn, incorporating unique shapes, intricate details, and innovative materials. From vintage-inspired designs to classic aesthetics, there's a ring to suit every taste, budget, and personality.
This article explores the top women's engagement ring trends in 2023 and helps you find the perfect one to symbolize your love and affection.
Minimalist Engagement Rings:
Minimalist and simple engagement rings are here to stay. These designs never go out of style because of their evergreen old-world charm and authenticity. In a world of pizzazz and bling, minimalist engagement rings are the understated rebels of 2023. These sleek and chic bands scream louder with their silence, celebrating love's essence over excessive extravagance. Like perfectly curated memes, they capture attention with clean lines and subtle elegance. It's not just a trend; it's a declaration that relationships are about the heart, not the karats. Minimalist rings prove that less is more, turning the spotlight onto the promise of forever rather than the sparkle of diamonds.
So, why are they still trending? Because love shines brightest when it's stripped down to its beautiful basics.
Here are some trendsetting simple and minimalistic engagement rings for 2023:
WHITE GOLD 4 PRONGS SOLITAIRE EMERALD CUT DIAMOND ENGAGEMENT RING WITH WHISPER-THIN BAND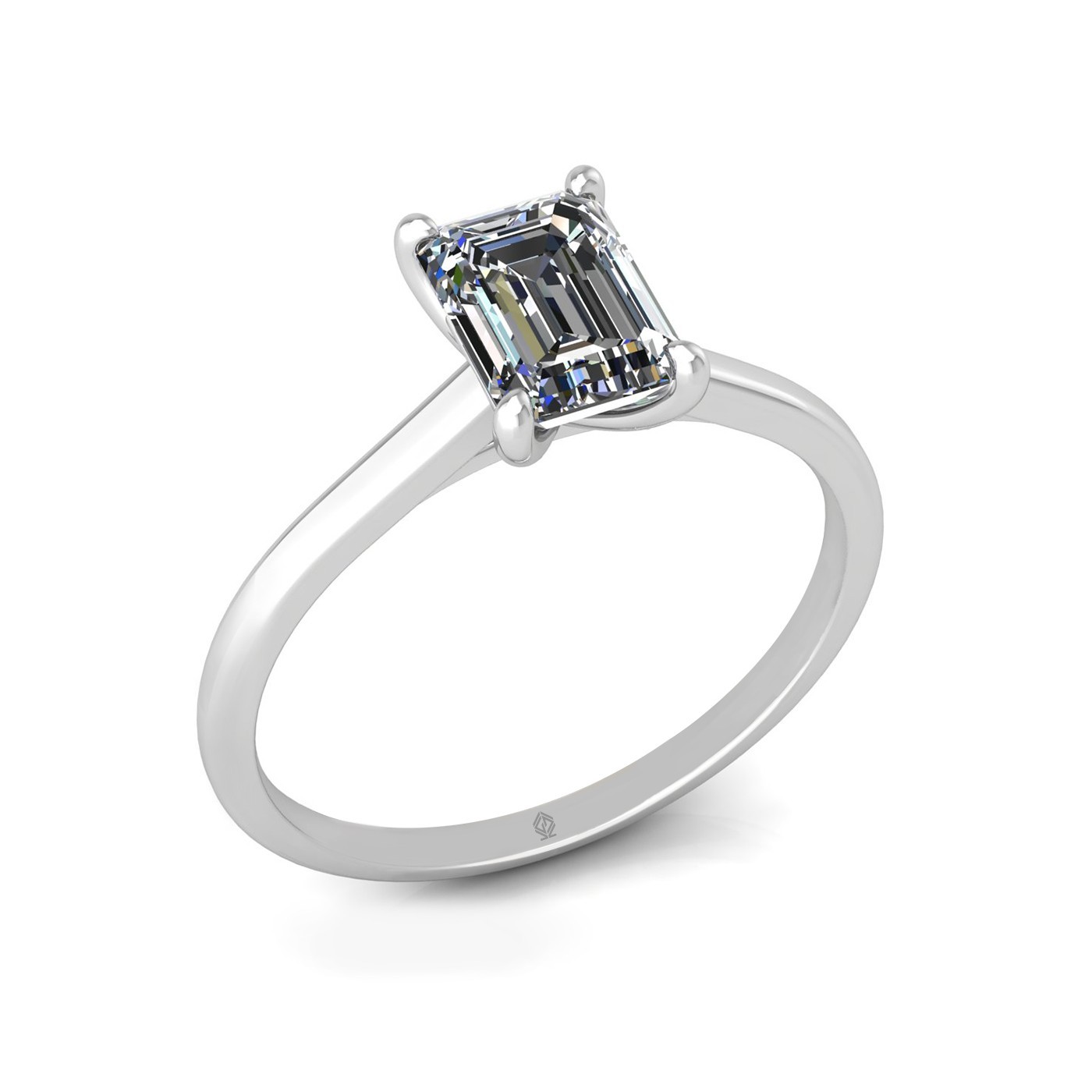 First, we have the white gold four prongs solitaire emerald cut diamond engagement ring with a whisper-thin band. This sleek and elegant ring is perfect for the modern bride who wants to make a statement without going overboard. The emerald-cut diamond takes center stage with its unique shape and clean lines. And the whisper-thin band adds a touch of delicacy to the overall design. It's a ring that says, "I'm sophisticated and stylish, but I don't need all the fuss."
YELLOW GOLD 4 PRONGS SOLITAIRE OVAL CUT DIAMOND ENGAGEMENT RING WITH WHISPER-THIN BAND
Next, we have the yellow gold four prongs solitaire oval cut diamond engagement ring with a whisper-thin band. This ring is all about classic elegance with a twist. The oval cut diamond adds a touch of femininity to the design, while the yellow gold band brings warmth and richness to the overall look. It's a ring saying, "I appreciate tradition, but I also like to put my own spin on things."
ROSE GOLD 3 PRONGS SOLITAIRE PEAR CUT DIAMOND ENGAGEMENT RING WITH WHISPER-THIN BAND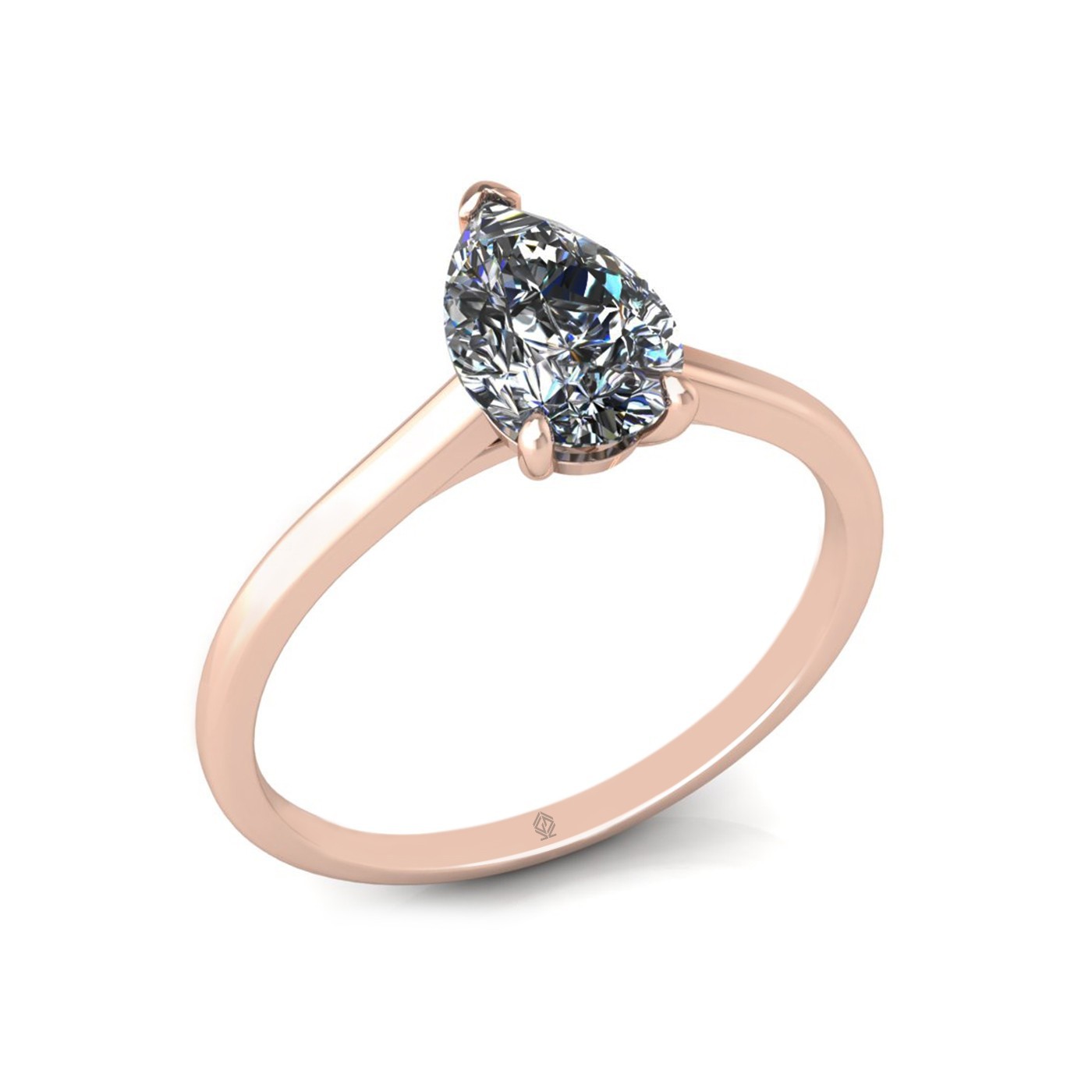 Last but certainly not least, we have the rose gold three prongs solitaire pear cut diamond engagement ring with a whisper-thin band. This ring is for the romantic who wants to add a touch of whimsy to her finger. The pear-cut diamond is unique and eye-catching, while the rose gold band adds a hint of vintage charm. It's a ring saying, "I believe in fairy tales and happily ever afters."
So there you have three trendsetting engagement rings that prove that sometimes less really is more. With their simple and minimalist designs, these rings let the diamonds do all the talking. Whether you prefer white gold, yellow gold, or rose gold, there's a ring for every style and personality. All that's left to do is find your perfect match and say "yes" forever.
Vintage Engagement rings
Next, we have vintage engagement rings with a charm that transcends time. The allure of their designs and intricacy has attracted couples worldwide for so many years. Here, we have assembled some vintage engagement rings that have been making headlines for quite some time now.
18K WHITE GOLD VINTAGE HALO OVAL CUT DIAMOND RING WITH PLAIN SHANKS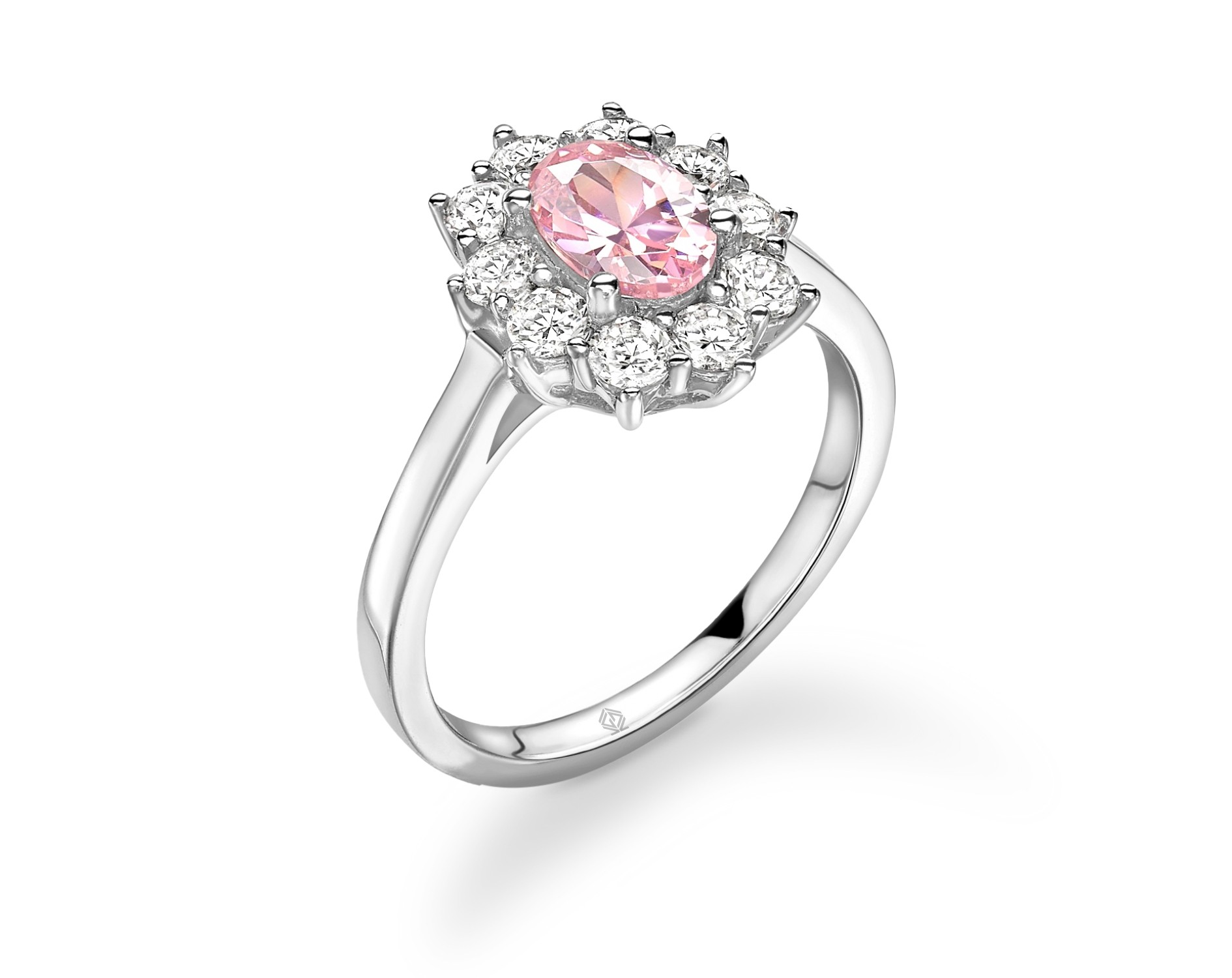 Let's start with the 18K White Gold Vintage Halo Oval Cut Diamond Ring with Plain Shanks. This beauty screams elegance and sophistication, with its oval cut diamond sitting pretty in the center, surrounded by a halo of smaller diamonds. The plain shanks add a touch of simplicity to the overall design, making it perfect for those who prefer a more understated look. Trust me, wearing this ring will make you feel like a true vintage queen.
ROSE GOLD VINTAGE MILGRAIN HALO ROUND CUT DIAMOND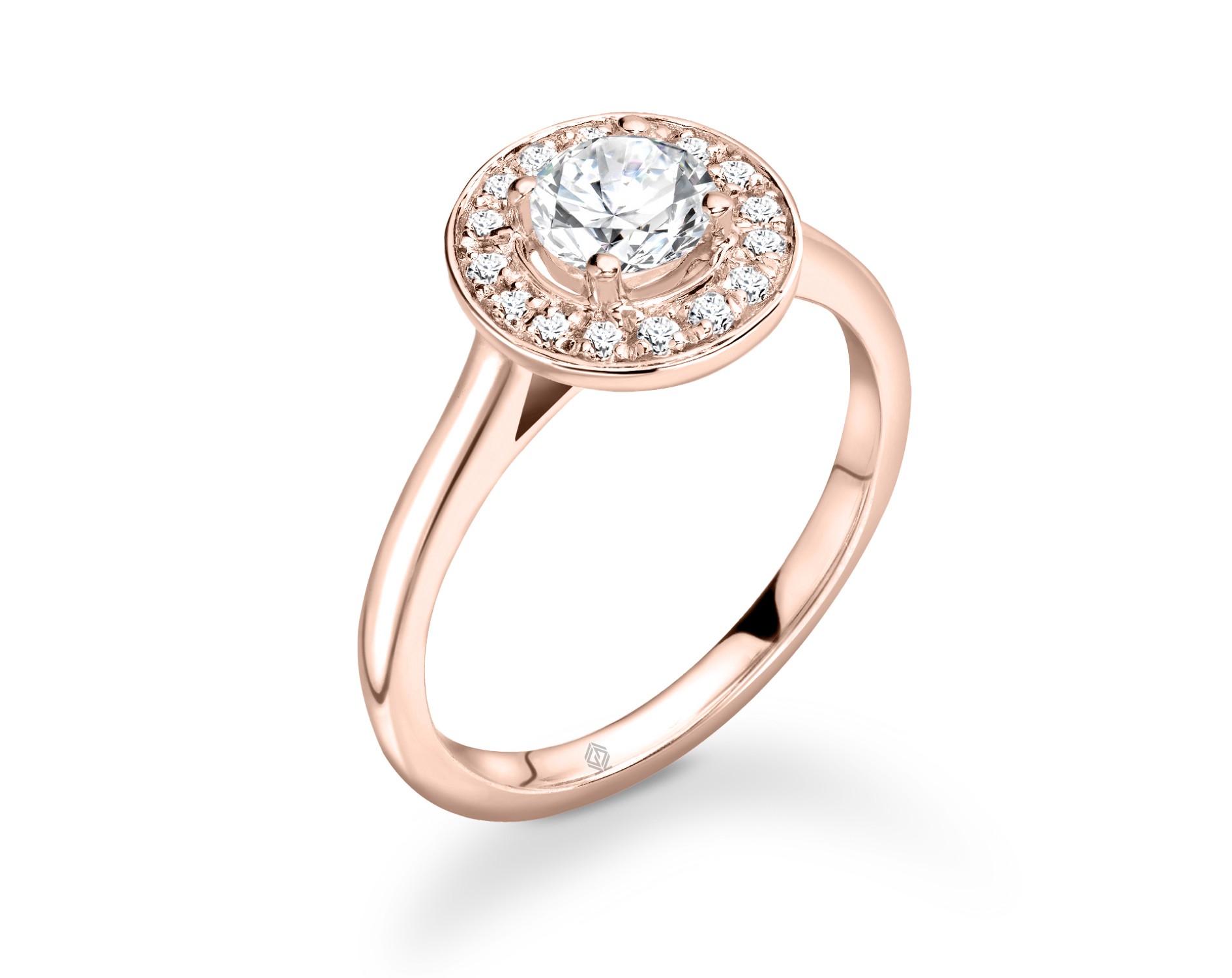 Now, let's move on to the Rose Gold Vintage Milgrain Halo Round Cut Diamond Ring. This ring is all about that romantic and whimsical vibe. The rose gold metal gives it a soft and feminine touch, while the milgrain detailing adds a vintage charm that is hard to resist. The round cut diamond in the center is like a sparkling dream, and the halo of diamonds around it enhances its brilliance even further. This ring is for those who want to make a statement and show off their love for vintage things.
In 2023, these vintage rings are trendsetters because they offer a unique combination of classic elegance and modern flair.
They are not just pieces of jewelry but works of art that tell a story. Wearing one of these rings is like stepping into a time machine and experiencing the glamor of the past while staying firmly rooted in the present. So, whether you choose the 18K White Gold Vintage Halo Oval Cut Diamond Ring with Plain Shanks or the Rose Gold Vintage Milgrain Halo Round Cut Diamond Ring, you can be sure that you will be setting trends and turning heads wherever you go.
Get ready to embrace your inner vintage goddess!
Designing Diamond Engagement Rings Online
—Is it worth a shot?
There are times when Ready-to-ship diamond rings fail to wow. It's understandable. For such situations, some reputable jewelers have introduced the option to design your diamond rings online. That's something. It means you just have to make a few clicks and have it—your dream diamond engagement ring.
You just have to make sure that the jeweler you are opting for has a good reputation for user experience and delivery. A jeweler that can turn your imagination into reality.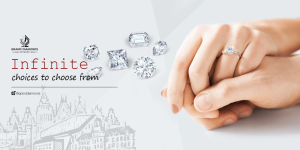 Infinite choices to choose from
Grand Diamonds takes part in the celebration of the moments of your life. From simple engagement rings to vintage and contemporary engagement rings, we have everything for you. We even tag along when you decide to design your diamond rings.
Natural or lab-grown diamonds? Well, you can choose it for yourselves. Even loose diamonds of supreme quality are here to make your collection unique.
Explore our website or visit our showroom today and make informed and informed decisions for your dream engagement rings.