The diamond, the ultimate symbol of everlasting love, strength, and endurance, is one of the world's most valuable jewels. Not to mention that they are the women's best friends. Although several mysteries are involved in purchasing diamonds, including which diamond to trust blindly, this article will cover everything one should know about Certified and Non Certified diamonds so that you can make a valuable investment.  
Let's together Discover everything about Certified and Non- Certified diamonds and which one to buy to set into your jewelry. 
Overview 
The term "certified diamonds" refers to refine diamonds that have been subjected to quality analysis by a well-known gemological laboratory such as GIA (Gemological Institute of America) and have received a lab report that people refer to as a "diamond certificate." On the other hand, Non-certified diamonds are very common in the market and are simply diamonds that a formal laboratory has not graded. In our guide, we learn more about these diamonds and in which to invest. 

What Are Certified Diamonds?
Certified diamonds are stones whose quality characteristics have been evaluated by a gemstone grading lab.

The assessment results are recorded in a " diamond certificate grading report."

So, when a diamond is certified, it simply means that its quality has been examined and verified by an expert third party (different from the vendor selling the stone).
According to a business that offers diamonds for sale, a typical certificate contains the following information about the gems:
Dimensions and shape,

Weight in carats,

Color and clarity ratings,

Finish standard (i.e., polish, symmetry, girdle width),
As well as in the case of Round Brilliant diamonds, cut grade.
When you purchase a certified diamond, you also purchase the certificate, which should be kept for the rest of its life. Keep it safe because you'll need it to appraise, insure, or sell the stone. 
Which Diamond Certificate to rely on? 
Although there are numerous best diamond certifications, GIA, IGI, and HRD are the most consistent lab grading entities. That means you can trust their grading in all areas, including color, clarity, and cut quality. These labs also grade more stringently than others. You can believe the report says when a diamond comes from one of these certificates. As a result, a business that offers certified diamonds for sale only recommends purchasing diamonds with these certificates.
You can rely on these top three diamond certifications:
GIA –

The GIA (Gemological Institute of America) is the most well-known and respected diamond grading organization. They are highly consistent and offer the most peace of mind when purchasing any diamond.

IGI –

The IGI's mission is to provide accurate, dependable expertise to industry professionals and consumers through education programs and diamond and fine jewelry certification.

HRD –

HRD places a high value on educating its customers about the diamonds they purchase. When you buy an HRD Antwerp-graded diamond, you can be confident that their experts have checked the characteristics described in the report.
What Exactly Are Uncertified Diamonds?
Non-certified diamonds are simply stones without a grading report from Third Party. In short, these diamonds have been cut and polished, but the seller does not want to have the diamond quality graded by a third party for some reason.
A diamond may not be certified for a variety of reasons. The following are the most important reasons:
The seller may not want to pay a fee to have the stone graded.

This can frequently be the case with low-quality diamonds whose obvious flaws – a certificate would not help such stones sell better.
Does it mean Investing in Non Certified diamonds is not worth it?
Non-Certified diamonds are not necessarily of lower quality than certified diamonds. The absence of a diamond certificate tells you nothing about the quality of a stone; it simply indicates that there is no verified information about the diamond's characteristics.

Uncertified diamonds are riskier to buy than certified stones because their quality is unknown. 

You don't know whether the price asked for a noncertified stone is fair relative to its quality.

The price tag may appear low, but diamonds of the same quality grade may have an even lower market price.

Whereas a business that offers certified diamonds for sale wants you to know the diamonds that have been certified are a much safer bet. While a certificate does not guarantee high quality, it does ensure that the item is what the seller claims.

A grading report from well-known Labs acts as a third-party expert's seal of approval, providing you with a more precise quality evaluation. 

According to a business that offers certified diamonds for sale, when you purchase a noncertified diamond, you are essentially trusting the diamond dealer, wholesaler, and jewelry retailer to determine the diamond's quality based on their knowledge and experience in the jewelry industry. This is not to say that there is no accountability regarding quality, and experts take meticulous care of these diamonds. However, it is always advisable for experts to purchase a noncertified diamond from a reputable jeweler with written guarantees about the quality of their jewelry. That doesn't mean you can't shop from a new company you've discovered, but make sure to check their credentials first.
To get on the concept quickly, do not forget to check the Summary of differences below from the business that offers certified diamonds for sale.
You should, by now, understand why the vast majority of ethical, reputable diamond retailers only sell certified diamonds. But, if you're still undecided (or you scroll), here's our Certified vs Uncertified Matchup:
Diamonds with Certification
Ascertains whether the diamond is entirely natural or has been enhanced: Yes

Provides an experienced, third-party quality rating: Yes 

Certified Diamonds Allows you to compare prices to find the best deal: Yes.

Increases the value of the diamond: Yes 
Uncertified diamonds
Ascertains whether the diamond is entirely natural or has been enhanced: No

Provides an experienced, third-party quality rating: No

Non-certified diamonds Allow you to compare prices to find the best deal: No.

Increases the value of the diamond: No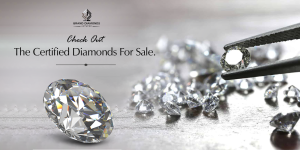 Check Out The Certified Diamonds For Sale.
You can check out certified diamonds for sale on Grand Diamond's website.
Here you can glimpse our certified diamonds online collection and how, by using them, you can design one-of-a-kind jewelry. Other than that, you can discover many Jewelry designs and styles to take inspiration from and bring your dream jewelry into reality. 
Also, you can buy certified diamonds from Grand Diamonds and use only ethical and conflict-free lab-grown diamonds in your engagement rings. We are reputable sellers of genuine lab-created diamonds identical to mined diamonds. We have been in the Jewelry business for many years, making it easy for you to trust us with the quality you require. Our lab-grown diamond rings are created entirely of eco-friendly precious metals such as White, Rose, Yellow Gold, and Platinum. The (GIA), the world's foremost diamond authority, grades every certified loose diamond we sell online. You can trust Grand Diamonds, as Every element of your stunning handmade artwork will be crafted with passion by our professional artisans.
Read Our Latest Blogs
Visit Our Website