Being a classic piece of jewelry, pendants look wonderful dressed up or down.
Go traditional with a straightforward basket arrangement on a cable chain for ageless elegance. You can alter the diamond's shape or add a pattern to the setting to add a little flair. There are numerous solutions to suit any spending limit. You have more selections than ever before with our huge range of pendants promising to fit all tastes and preferences. 
A solitaire design can be used on any pendant that features just one diamond. There is a style for everyone among these designs due to their wide variety. Buy diamond pendants that best define you. 
How To Buy Diamond Pendants That Will Make You Standout
Is there anything more lovely than a magnificent diamond pendant dangling from a basic chain around a long, elegant neck? In our opinion, no! But it is hard to choose the ideal pendant when there are so many lovely possibilities available. When customers visit Grand Diamonds Store, we frequently go over the points with them in order to determine which item would be ideal for them. So, use our advice to locate your ideal diamond pendant whether you purchase a diamond pendant for yourself or for someone else.
Keep in mind the below-mentioned points before you buy diamond pendants. 
Consider Face Shape While You Buy Diamond Pendants 
Face Cut is important to consider when selecting a new piece of jewelry, just like it is when purchasing other accessories like diamond earrings. Choosing the perfect piece of jewelry is essential since it should enhance your beauty and compliment your face rather than diminish it.
Heart
A heart-shaped face is distinguished by its remarkable bone structure, which includes a broad forehead and a pointed chin. We advise customers with heart-shaped faces to stay away from lengthy necklaces. Instead, for ultimate elegance, use a shorter chain that hangs by your throat and features a curved stone.
Oval
One of the simplest faces to style is an oval face. The best part is that any pendant, from a pear to an emerald, will look nice on someone with an oval-shaped face, albeit that doesn't really trim it down much.
Round
A round face is soft and has a chin and forehead that are slightly smaller. Avoid short collarettes when purchasing a necklace for a round face because they will simply make your face appear wider. The best necklace you can purchase is a long pendant that hangs below your collarbone and forms the renowned V shape. 
Square
A square face can be identified by its prominent cheekbones and jawlines. Your powerful bone structure should be softened by whichever diamond necklace you decide on. Avoid geometric cuts and concentrate on softer lines with a longer chain that falls close to your décolletage when shopping for someone with a square-shaped face.
Pendant Styles That You Can Choose 
Knowing the traditional four Cs provides you with an objective framework necessary to ensure that you acquire a high-quality diamond for your money. But those are not the only considerations when deciding on the ideal diamond pendant or occasion fine jewelry for you.
To buy a diamond pendant, you should think about your own sense of fashion and the occasion on which you plan to wear it. Consider whether you want a timeless design you can wear on a regular basis or whether you want something for special events.
The diamond solitaire pendant continually tops buyers' choices as the most popular option because of its adaptability. A solitary diamond is the only component of a diamond solitaire pendant, which you wear at the end of a chain. If you want something that you can wear almost every day, the solitaire pendant is a timeless choice because it is classic and understated. For a formal occasion, dressing up is simple, and for a casual outing, jeans and a t-shirt look just as stylish. Instead, you might want to think about different shapes or several stones if you want something more eye-catching.
Apart from the best-selling solitaire diamond pendant, you can also choose from a variety of setting styles that will help you pick your best go : 
Bezel
In a bezel setting, metal will completely encircle the diamond. A bezel setting has the benefit of keeping the stone safe and secure. The drawback is that since you can only see the diamond with its face up, you might see less shine.
Halo
The halo setting can increase the center stone's brightness while also keeping it safe by encircling it with a glittering rim of diamond melees.
Prong
A stone is held in place by prong settings, which commonly have four or six prongs. The performance of a diamond is very slightly hampered by prong settings, allowing it to interact with light from all directions. The brilliance and fire of a diamond are enhanced by this setting, making it sparkle exquisitely.
Put It At Prominence – So As To Highlight The Beauty
Making your necklace a prominent point is the first rule of wearing any necklace, not simply a diamond necklace. A large necklace might overpower a minimalistic style, while a modest one can make you appear cluttered. The necklace shouldn't clash with your jacket or shirt if you're wearing one, but rather, it should enhance them. Don't worry, everyone will notice when you do it correctly!
The majority of the time, jewelry is noticed before other items in a woman's outfit. It's best to get a diamond pendant that shines out if you want to be sure you're getting seen. This does not suggest that you dress garishly, but it does suggest that you avoid wearing the same kind of outfit every day. You can go through our jewelry influencers segment to pick your perfect.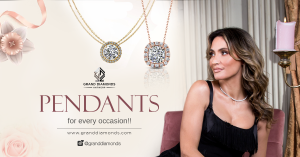 Pendants For Every Occasion 
If you are looking to get pendants that will compliment your look and go nicely with your attires, Visit Grand Diamonds. We are offering a collection of diamond jewelry that will go well with all personality types and complement your looks. Browse the collections and get hands-on with your favorites. 
If you need any assistance, our dedicated support team will guide you and help you get the perfect Antwerp Jewelry to stand out. Also, just to enhance the shopping experience we customize diamond pendants with natural diamonds, certified diamonds, and lab-grown diamonds. 
Read Our Latest Blogs
Visit Our Website