A glittering engagement ring can be pretty striking, yet a simple wedding band is lovely in its simplicity. What occurs when you combine the two, though? Dazzling Magic. The best wedding and engagement rings complement each other when they are both slightly out of the ordinary yet make sense aesthetically. These two are different, and their importance can't overlap. Therefore, you can express your everlasting Love through wedding rings and engagement rings.
The difference between Engagement Ring & Wedding Rings (Bands)
Despite the question's seeming simplicity, how do engagement rings and wedding bands differ from one another? Here are a few notable differences:
Sparkling Engagement Ring
The ring used to propose marriage is typically flashier with a sizable gemstone. Wearing this ring serves as a reminder that you are engaged to someone but have not yet tied the knot. The engagement ring is customarily only worn by women and is placed on the left hand's ring finger. When you hear of an engagement ring, you probably come across one with huge diamonds and gemstones, thicker bands adorned with more stones, and an enormous price tag.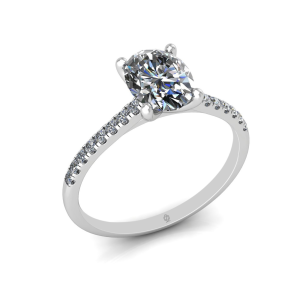 Dazzling Wedding Rings
Wedding rings are exchanged after the proposal and during the wedding ceremony. When possible, men and women wear their wedding bands every day as a symbol of their lifetime commitment to one another. Wedding bands typically have simpler designs and don't always include precious stones. Often, couples opt for identical wedding ring styles, possibly made of the same metal. Women wear wedding and engagement rings on the same finger. Therefore, they try to match it with the engagement ring.
Types of Wedding rings Materials
Nowadays, most wedding rings are made of precious metals, such as platinum, rose gold, yellow gold, or white gold. Each of the wedding band materials has its advantages.
Of all the different forms of gold, yellow gold is the purest and simplest to maintain. It is also the most allergy-friendly. Only Regular cleaning and polishing of yellow gold is required.
White Gold Wedding Rings:-
White gold is strong and resistant to scratches. Although it costs less than platinum, it must be re-dipped every few years to maintain its shine.
Rose gold is more durable and reasonably priced than other Wedding rings materials. It's not a metal that's hypoallergenic.
Compared to white gold, platinum is more robust and hypoallergenic. It costs much more than other wedding bands and becomes dull and damaged over time.
Wedding Rings Search Advice that every couple starting their journey should consider.
Using your engagement ring as a starting point for your wedding bands search is one of the easiest methods to get started. There will be times when you wear your wedding band alone; you want to be sure that, when worn together, it matches your engagement ring.
Visit your neighborhood jewelry stores and try everything on, including designs you would never have imagined wearing. When it comes time to purchase, go with a band you adore and can see yourself wearing forever. Make sure it fits your lifestyle, is comfortable, and looks fantastic both by itself and with your engagement ring. Last but not least, Check with your jeweler and ask them about warranty options and how they will look after your jewelry for you.
Didn't Find the Dream Wedding Rings? Here's what you can do.
The answer is Personalized Wedding Rings.
Why not ask a local jeweler to create the ring just for you if you have a particular style in mind? Or this is also a good option if you want something that is genuinely unique. You might be shocked to learn that getting a wedding band explicitly fashioned for you doesn't cost all that much more. It might even turn out to be economical.
You can customize a ring precisely to fit your personality when you have one made. The gemstone, ring material, and intricate design are all up to you. You can also personalize the band by adding something special like your fingerprint; you and your spouse can alternately put your prints on each other's bands.
Are wedding bands and engagement rings have to match?
When it comes to how closely your wedding band should resemble your engagement ring, there are no set guidelines. While some people would want a set that is precisely matched, others might wish to experiment with mixing various metal kinds, diamond shapes, textures, and bandwidths.
Here are some different options for styling
Combining a very broad wedding band with a thin engagement ring is a trend that is gaining popularity. The diamond in the middle of the engagement ring makes it stand out, so having a larger wedding band helps to bring some balance. The elegant yellow gold set is ideal for the bride who likes to avoid anything overly flashy.
Using rose gold with rose gold:-
It's undeniable that rose gold has experienced significant popularity lately. The Rose Gold Engagement and Wedding Ring set is particularly eye-catching because the dazzling center crystal highlights the rosy undertones in the rose gold band it is mounted on. Additionally, the massive-shaped diamond exactly matches the shining rose wedding bands.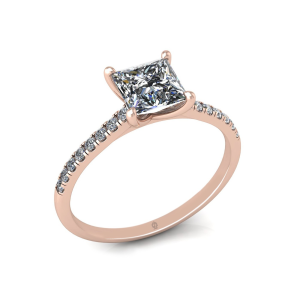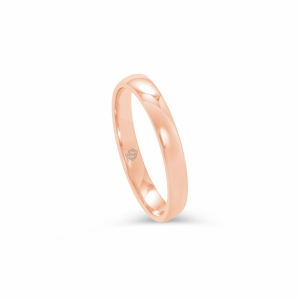 Stones are the New Normal:-
Many brides and grooms choose to customize their wedding rings by adding stones and diamonds. Tiny diamonds line the band, giving a lot of brightness and flair. However, it is necessary to choose solid stones like diamonds, sapphires, or rubies when choosing to go on the path of stones.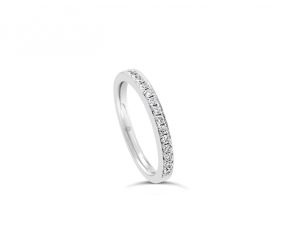 Wedding Rings To Cherish Forever.
In every couples life who is ready to start a new journey, an engagement ring is one of life's most special purchases and so do wedding bands. So take your time and choose well. Make sure you get a certified diamond from an accredited company when you finally find the ring of your dreams.
That's all from our end!! These are the suggestions and tips from the professionals of Grand diamonds who can also assist you when you are looking to buy wedding rings online.
We have an array of styles, metals, and fine jewelry available. Our professionals give a personal touch to every single design or style they are creating so that you have something unique sparkling in your hand. Our motto is to provide you with jewelry that stands the test of time, just like your Love. Hurry up, check out our Wedding rings online & pop up the question!! All the Best.
Read Our Latest Blogs
Visit Our Website