Every girl wishes to flaunt her ring. Make sure you give her a piece she can show the world and cherish for a lifetime. Apart from the proposal, you can also get something for your mother, daughter, or friend. Grand Diamond's astonishing collections of diamond rings online impress every girl. If you plan to leave an indelible mark, choose from the below products and nail it as you want.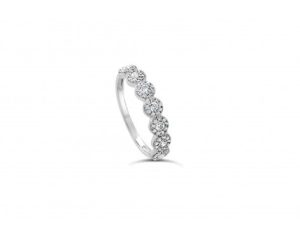 This gorgeous half-eternity diamond wedding band features pavé set diamonds on each of the 7 haloes, highlighting the round brilliant diamonds in the center, giving an additional appearance of glimmer and shine. 
The alluring design is sure to complement your attire. This a special model for those that look for maximum sparkle at a budget-friendly price.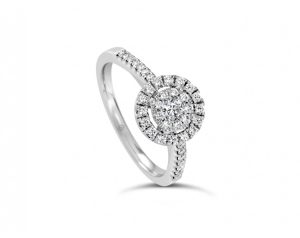 This elegant version of the center halo illusion-set center diamond engagement ring features an additional 14 pave-set round-shaped side diamonds mounted into the shank around the center diamond. 
The diamonds embedded all over a ring add more brilliance and charm to the appearance. You can choose it in your preferred metal to add a hint of A famous design for those that like extra sparkle with a simple design.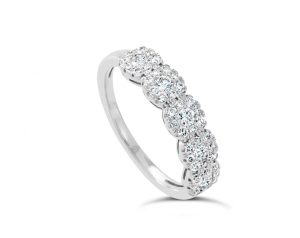 This Cushion-Shaped illusion set diamond wedding band creates the illusion of 5 big cushion-shaped diamonds, giving an additional appearance of glimmer and shine. Tiny diamonds encircling the center diamond add more charm and brilliance to the look. 
If you want more spark and glamor, this beauty is designed specifically for you. Make your lady deliver sophisticated and elegant statements with this designer diamond-embedded piece.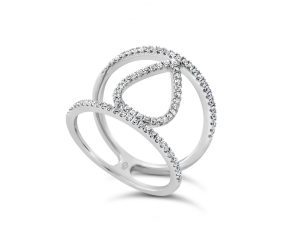 This paves set pear-shaped fashion ring is accompanied by diamond shanks on both sides, featuring only round brilliant diamonds for maximum brilliance. The stylish setting and diamonds all over add shine and glamor to the band. 
It's a special model for those that look for something stylish and trendy. If you are into fashion and wish to get something that goes well with attire and compliments your personality rightly, this piece is designed specifically for you.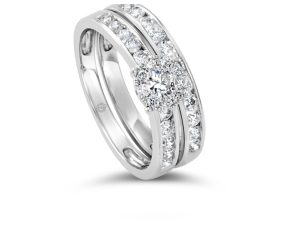 This amazing version of the center halo illusion-set center diamond engagement ring features 10 channel-set round-shaped side diamonds and comes together with its matching wedding band, which illustrates maximum brilliance and charm. 
If you want something that is filling when placed prominently and plays the protagonist – trusts us, this beauty is for you. Propose to your lady luck with this and get a "Hell Yes!" 
Also, if you are planning to get it for yourself, then as well, this beauty will make you stand out.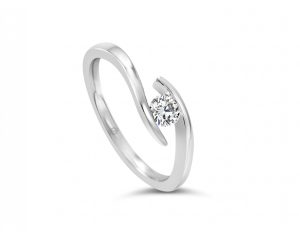 This amazing, spiraling tension-set engagement ring allows you to fully view the beautiful diamond from any perspective. Sleek and secure, it is a mind-blowing option for those that like an updated style without deviating too far from a classic feel.
The diamond placed in the center of a tense setting reflects more glamor and charm to the look. If you wish to let the diamond play the protagonist, then this piece is designed specifically for you.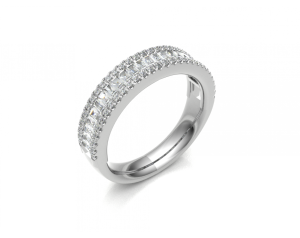 This multi-row round, baguette diamond ring can be perfectly worn as a wedding ring, anniversary ring, or push present. The extra diamonds give this ring a bolder look for the ones that are not afraid of some extra sparkle. 
The best part of this piece is that you can add diamonds of your choice – as many as you want. You can choose from the available metal options for a more personalized touch and get it your way.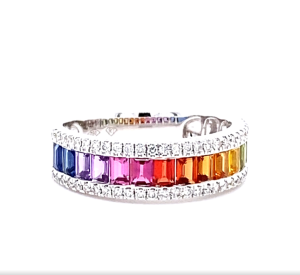 This mature rainbow-colored sapphire and diamond ring is a true eye-catcher; two rows of diamonds are beautifully outlining the center sapphire row, adding extra sparkle to the rainbow colors. 
Celebrate the LGBTQ community's love with this brilliant piece. If you have friends or other people that prefer to promote the same or are indulged in it, trust us; this piece is specifically designed for them. 
The charming multicolor sapphires are sure to complement your outfits and create a radiant expression in the minds of the viewers.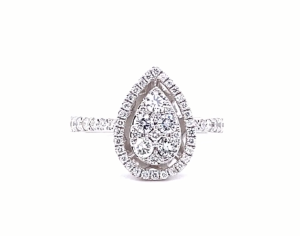 This beautifully made diamond ring has a cluster pear-shaped illusion set center surrounded by a halo of small diamonds, making it look larger and adding extra sparkle. A bold and, at the same time, elegant ring design for the ones that are not afraid to sparkle.
If you are looking to get something that is unique and outshines the regular style, then this piece is sure to satisfy your desires. Choose a beautiful place to propose and present your loved one with this amazing beauty that she can't resist.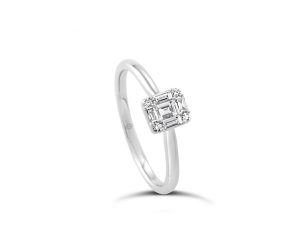 This classic emerald-shaped illusion set diamond engagement ring features 4 round & 5 emerald cut diamonds, giving it the appearance of wearing 1 big emerald cut on the finger. This a special model for those that look for maximum sparkle at pocket-friendly prices. 
The best part is it gives a reflection of one big emerald-cut diamond – while there are several. Also, this is the best pick for you if you wish to portray a unique yet stylish design.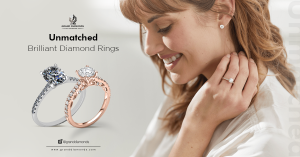 Unmatched Brilliant Diamond Rings 
Grand Diamonds are presenting you with an unmatched collection that you can choose from and buy diamond rings online that are sure to take your heart away. We have got something for everybody – from classic to designer sophisticated pieces, we've got options for almost everybody.
Choose from amazing engagement rings, wedding bands, and fine jewelry pieces like diamond rings, earrings, studs, pendants, and bracelets. Browse and pick your favorites. 
Read Our Latest Blogs
Visit Our Website