As the saying goes, diamonds are a girl's best friend. And when it comes to the most important piece of jewelry in a woman's life, there's nothing quite like a diamond wedding ring. But with so many different stunning styles and designs to choose from, how do you know which one is right for you? 
That's where we come in. In this blog post, we've compiled a list of the top 4 diamond wedding ring styles of all time. 
So sit back, breathe – a liitle relax, and get ready to be dazzled with some of the most beautiful diamond rings you've ever seen.
White Gold – Luxurious statement of your commitment to each other.
1) Looking for the perfect diamond wedding ring set that's unique and stunning? Look no further than this Brushed Wedding Ring Set with an Angular Inlay and a Round Diamond.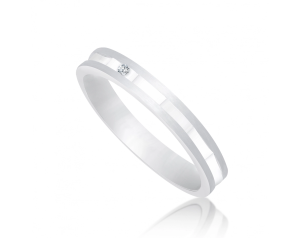 Crafted from high-quality materials, these rings feature a brushed finish that adds a touch of elegance and sophistication. The angular inlay design adds a modern and contemporary flair, while the round diamond at the center of the ring sparkles and shines with every move. Don't settle for anything less than extraordinary – choose this breathtaking ring set today.
2) This breathtaking White Gold Twisted Matt and Shiny Pave Set Wedding Ring is the perfect symbol of your undying love and commitment. The twisted design of the band represents the two of you coming together and intertwining your lives.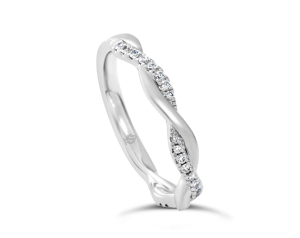 The combination of the matte and shiny finish adds a beautiful contrast that catches the eye, making this ring truly unique. The pave set diamonds add an extra touch of elegance and sparkle to this already stunning piece of jewelry. It is an amazing way to show your devotion to each other and start your journey together. This ring will be cherished forever as a reminder of your special day.
Yellow Gold – Testament to the enduring beauty and strength of your Love. 
3) Introducing you all the Yellow Gold 6mm Matte Wedding Ring with a Vertical Line of Four Diamonds! This stunning piece is perfect for couples seeking a timeless and elegant wedding band with a touch of sparkle.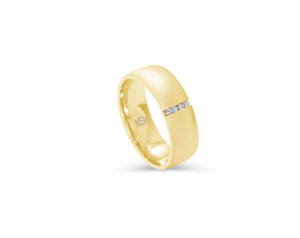 The matte finish creates a contemporary look, while the vertical line of four diamonds adds a classic touch.  The 6mm width offers a comfortable fit for daily wear, and the yellow gold metal adds a touch of luxury. This ring is sure to be a cherished keepsake for years to come.
Rose Gold – Nothing says 'Forever' quite like rose gold wedding rings – a perfect match for your lifetime commitment.
4) Make your big day extra special with this stunning Rose Gold 4mm Shiny Wedding Band adorned with nine dazzling diamonds. The perfect combination of classic elegance and modern sophistication, this ring exudes a timeless beauty that will leave you and your partner spellbound.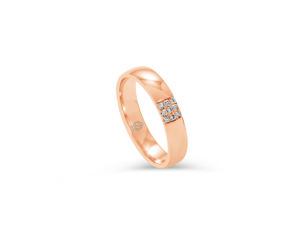 Made with high-quality and stunning materials and expert craftsmanship, this ring is sure to stand the test of time, just like your love. Whether you're saying "I do" or celebrating a special anniversary, this Rose Gold Wedding Band is a must-have for any romantic occasion.
What Makes Rose, Yellow and White Gold are the best choice for your Bridal Jewelry Set? 
These variations of gold are popular choices for bridal jewelry sets due to their durability, versatility, and elegance. These precious metals are widely used in the creation of engagement rings, wedding bands, necklaces, earrings, and other accessories.
Rose Gold

is a romantic and feminine choice, offering a warm and inviting hue that complements most skin tones. It is made by mixing gold with copper and a small amount of silver, giving it a distinct pinkish color
Yellow Gold

is a classic option, providing a traditional and timeless look that exudes luxury and sophistication. It is made by combining pure gold with alloys like copper and silver to achieve its signature yellow tone.
White Gold

is a modern and chic choice, with a silvery-white appearance that resembles platinum. It is made by adding palladium, nickel, or zinc to gold, resulting in a lustrous and durable metal that can be adorned with various gemstones.
Finally, it's always worth considering the type of metal you want for your jewelry. From classic gold to trendy rose gold and beyond, each metal has its own unique appeal that can help you achieve your dream wedding look.
At Last, When it comes to choosing the perfect bridal jewelry set, there are a few other key factors to consider- apart from Metal. 
First and foremost, it's important to think about personal taste and style. Whether you prefer something simple and elegant or bold and statement-making, there's a jewelry set out there to suit your unique preferences.  

Of course, budget is also a major consideration – luckily, there are plenty of beautiful options available at a range of price points. 
In Conclusion 
Looking for an exceptional gift for your loved one or a ring to exchange on your wedding day? Look no further than these striking wedding rings! Not only are they a stylish accessory, but they also complement any outfit, making you stand out from the crowd. These rings are the ultimate fashion statement and will undoubtedly impress anyone who lays eyes on them. So why wait? Choose one of these amazing rings and watch your style soar!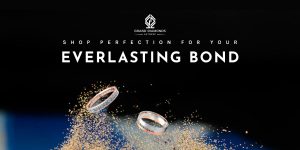 Shop perfection for your everlasting bond.
Shop perfection for your everlasting bond from Grand Diamonds and create memories that will last a lifetime. Our exquisite bridal jewelry sets and ring collections are crafted with utmost precision and care, ensuring that every piece is of the highest quality.
Our bridal jewelry sets include a variety of pieces such as pendants, earrings, bracelets, and loose diamonds. 
The designs are intricate and elegant, adding a touch of sophistication to your wedding ensemble. Our diamond wedding rings collection includes engagement rings, wedding bands, and eternity rings. We have a wide range of designs to suit every taste, from classic solitaires to contemporary styles.
At Grand Diamonds, we understand that choosing the perfect jewelry for your big day is essential. That's why we offer a personalized service to help you find the perfect piece that reflects your unique style and personality. We guarantee that our jewelry will be cherished for a lifetime, making your everlasting bond even more special.  Shop with us and create memories that will last forever!!