Traditionally, purchasing an engagement ring has been a significant and often nerve-wracking event. Many couples have spent countless hours searching for the perfect ring in a brick-and-mortar store, going from one jewelry shop to another to find the ideal one. However, with the rise of online shopping, more couples are now opting to buy their engagement rings online. 
In this blog, we'll explore some of the reasons why more couples are choosing to buy engagement rings online.
Save Time and Hassle
One of the most significant advantages of buying an engagement ring online is convenience. Shopping online eliminates the need to visit multiple stores physically, saving time and effort. Couples can browse through a wide range of engagement rings, compare prices, and read reviews from the comfort of their own homes. This allows couples to take their time to find the perfect ring without feeling pressured or rushed.
An Array of Options
When shopping online, couples have access to a much wider selection of engagement rings than they would have in a physical store. Online retailers can offer a more extensive range of styles, cuts, and designs due to the lack of physical space constraints. This means that couples can find the perfect ring that suits their taste and budget without having to compromise on style or quality.
Discover Some of the popular styles of engagement
 rings that you can find in an online store: 
Engagement rings are the purest symbol of undying love and commitment between two people. They come in a variety of stunning designs, each with its own unique features and characteristics. Online stores have made it easier for people to find and purchase engagement rings from the comfort of their own homes. Here are some of the popular styles of engagement rings that you can find in an online store.
Solitaire Rings:

This is the most classic and traditional style of engagement ring. It features a single diamond or gemstone in the center of the ring, which is usually held in place by a simple prong setting. Solitaire rings are elegant and timeless and are a popular choice for engagement rings. 
Halo Rings:

Halo engagement rings have a central precious diamond surrounded by a circle of smaller diamonds. The halo effect enhances the size and sparkle of the central stone, making it appear larger and more dazzling. Halo rings come in different styles, including round, cushion, and pear-shaped stones.
Three-Stone Rings:

As the name suggests, three-stone rings have three diamonds or gemstones in a row on the band. The center stone is usually larger than the side stones, creating a stunning visual effect. Three-stone rings are a popular choice for couples who want to represent their past, present, and future together.
Vintage Rings: Dazzling

Vintage engagement rings are inspired by designs from the past, typically from the 1920s to the 1950s. They feature intricate details, such as filigree, milgrain, and engraving, and are often set with diamonds in unique shapes and settings.
Colored Stone Rings:

Colored stone engagement rings are a popular choice for those who want something different than the traditional diamond. Gemstones such as sapphires are crafted in these designs, often surrounded by diamonds or smaller gemstones.
When buying Diamond Engagement Ring online, there are a variety of styles to choose from. Whether you prefer classic and traditional or unique and modern, there is a perfect ring for every couple.
Get More for Your Money
Online jewelry stores often have lower overhead costs than physical jewelry stores, allowing them to offer engagement rings at lower prices. This is because online retailers don't have to pay for rent, utilities, and other expenses associated with running a brick-and-mortar store. As a result, couples can get better deals on engagement rings online compared to in-store purchases.
Advance Options Available: 
Customization is the process of tailoring a product to meet the specific preferences and requirements of an individual customer. In the context of engagement rings, customization typically involves several steps. First, the customer selects the metal type, such as gold, silver, or platinum. Then, they choose the diamond or gemstone cut, including the shape and size of the stone. Finally, the customer selects the setting style, which determines how the stone is mounted on the ring. 
Engraving is another customization option that allows the customer to add a personal touch to the ring by inscribing a message or design. By offering customization and engraving options, online retailers can provide a more personalized and meaningful engagement ring shopping experience for their customers.
Many online retailers have a flexible return policy that allows customers to return their purchases if they are not satisfied. This is particularly useful when buying an engagement ring online because it's difficult to determine how the ring will look and feel without physically seeing it. With a flexible return policy, couples can order multiple rings, try them on at home, and return the ones they don't like without any hassle.
Buying an engagement ring is often a private affair, and some couples prefer to keep it that way. Online shopping allows couples to browse and purchase engagement rings in complete privacy without the need for face-to-face interaction with sales staff. This means that couples can take their time to make the right decision without feeling pressure from a salesperson.
In conclusion, 
More couples are choosing to buy engagement rings online due to the convenience, variety, lower prices, customization options, flexible return policy, and privacy that online shopping offers. However, it's essential to note that buying an engagement ring is a significant investment, and couples should do their research and choose a reputable online retailer to ensure that they get a high-quality ring that they'll cherish for a lifetime.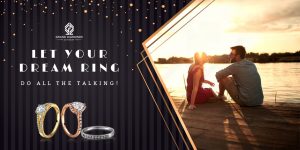 Let your DREAM ring do all the talking!
Let your DREAM ring do all the talking with Grand Diamonds' stunning collection of engagement rings and jewelry. As you browse through our online store, you will find a wide selection of high-quality diamonds and exquisite designs that are sure to make your heart skip a beat.
Grand Diamonds is committed to providing its customers with the very best in diamond jewelry. We understand that an engagement ring is not just a piece of jewelry but a symbol of love and commitment that will last a lifetime. That is why we love to take great care in selecting only the finest diamonds and crafting them into stunning designs that are sure to impress.
Whether you prefer classic solitaires, vintage-inspired designs, or modern creations, Grand Diamonds has something for everyone. Our experienced team of designers and craftsmen can also help you create a custom ring that perfectly reflects your personal style and tastes.
So, if you're ready to let your dream ring do all the talking, visit Grand Diamonds' online store today and discover the perfect engagement ring that will make your heart sing.