Let us Start with Ring Stacks: A stack of rings is a collection of various rings that are arranged or nestled together. This can refer to the wedding band, engagement ring, and other rings. To show their individual style or recognize particular occasions, the wearer can add or swap off bands.
Ring Stacking has become the modern fashion statement. Every woman is stacking their engagement rings with wedding bands so as to look fancy and deliver a sophisticated statement. 
Ring stacks are similar to the contemporary insert but allow for the exchange of several rings. In other words, "It's like the nesting and stacking bands to tree rings—it's kind of a thing where collecting them over time gives for a wonderful layered aesthetic that symbolizes crucial points in time. 
Diamond Wedding Rings To Make Your Perfect Ring Stacks 
While you are planning to stack diamond wedding rings with your engagement ring, there are some things that need to be kept in mind like the size and shape of your engagement ring as it is going to impact. 
For instance, if you have picked up a designer vintage engagement ring that has diamonds all around, it will go well with an eternity-style wedding band as it is diamond laced and complemented rightly. 
Also, Layering several rings around your engagement ring really helps to bring attention to that momentous item, whether it's by adding glitz or by conveying a narrative. 
How Many Rings Should Be There In Stacking? 
The simplest response is that the more, the merrier. Starting with three (including your engagement ring), Sofia Kaman advises building a carefully chosen stack. Until there is no more room between your palm and your knuckle. then on to the next finger! Three looks better than two, and five looks better than four. We are definitely partial to odd numbers. Eventually, it's the wearer's choice – how they like it. 
Dual Tones & Different Diamond Shapes Are Allowed Or Not? 
Mixing is what adds excitement to the stack. Play with different diamond shapes, metals, styles, and settings that are going to make it look more mesmerizing and eye-pleasing. More importantly, it reflects your personality and style which makes it different from everybody else. 
Kaman advises picking a focal point to maintain coherence. "Mix textures and stone colors while maintaining a matching metal color if you decide to use yellow gold as the unifying element. To tie everything together if you want various metals, stay with a single stone hue, like white or champagne, she advises. 
Pairing Suggestions for Ring Stacks
There isn't really a perfect or not-so-perfect choice when looking for the ideal wedding band and engagement ring combo. You have two choices: you can choose something more distinctive and contemporary, such as mixed metals or a band with embellishments, or you can stick with the conventional and classic styles of the same metals and basic bands.
Right Way To Layer Different Styles
Kaman stresses the need for a subject once more. According to her, "you might enjoy texture or wish to combine modern and vintage styles." Then choose only one metal and experiment with silhouettes. Observing what each person comes up with as she expresses her uniqueness is part of the enjoyment! Goldstein also appreciates a unifying component. You might overlay various designs in a single metal or keep with straightforward eternity bands and experiment with the polish to add interest.
What Modern Women Should Look For 
What works best among the various shapes and sizes of rings? Goldstein advises constructing from a traditional base-up. She lists her three preferred band silhouettes as the traditional pavé band, a bezel-set band, and a baguette band. Kaman adores the comparable profiles and softer edges of these rings. "Profile relates to how a band feels between your fingers, how chunky or thick it is."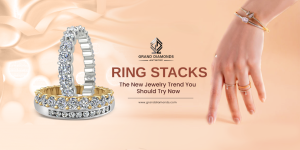 Ring Stacks: The New Jewelry Trend You Should Try Now
We are so sure that you like the stacking concept. Get rid of this traditional one-ring concept and do the stacking that makes it look cooler and interesting. Choose your favorites and stack them your way. We are so sure, At Grand Diamonds, you'll be blown away by the stunning beauties. Choose from the amazing engagement rings, wedding bands, fine jewelry collections, lab-grown collections, and certified loose diamonds.
Read Our Latest Blogs
Visit Our Website