An engagement ring is undoubtedly one of the most meaningful presents you will ever give your significant other. It serves as a symbol of your unwavering devotion and love. Therefore, you want it to be something exceptional that they will treasure until death apart from you both.
When planning something exceptional, you all will come across the word Engraving.
Many people these days wonder whether or not they should engrave the engagement ring with a message and whether they will even be unique. Here enter us to answer all your questions about the engraving engagement ring.
Ring Engraving; capture your special moment in a jewelry piece.
Simple messages carved into the surface of metal are engravings. Most of the time, jewelry is engraved, but other gifts can also be. Keep in mind that there is not that much room on the band for engraving, so any inscription you choose to include must fit.
Engraving won't harm an ring and might even increase its sentimental value. These days, engraving wedding bands or engagement rings are common. Your ring becomes a priceless treasure when you engrave a message. Your ring becomes both wholly unique and personalized.
Engraving your engagement ring is not daunting when you consider the following suggestions.
Size of a wedding engagement ring:-
Experts agree that a 3mm band is the minimum width needed for engraving; this is a universal reality. Although some jewelers might allow you to push it to 2mm, here, you might not be satisfied with the outcome. The writing on the inside can wind up being too small to be legible because it is harder to engrave thinner bands.
When engraving wedding bands, the basic rule is that the longer the words, the narrow the font. A plain typeface will therefore provide you with more area for characters. While handwritten or "script" type fonts are attractive, they take up more room and can be challenging to read in small print.
There is certainly no turning back, so think wisely:-
There is a chance that you or your significant other could need to have your ring resized for whatever reason. Regrettably, scaling can affect an already-written inscription. If the inscription on your wedding band is particularly long, you might need to rewrite it to have the ring adjusted. Outlets may charge a flat fee for engraving; the cost will vary depending on whether the inscription is done by hand or by machine. Getting a new inscription isn't expensive because most rings can carry between 15 and 30 characters, depending on the font, but removing the engraving to make room for a new one will take more metal out of the ring and might even compromise its structure.
Don't forget to ask the jeweler:-
Always consider words that you wish to engrave. Speak with your future spouse. They could desire a complementary inscription to get in on the action. Make a list of potential things you both want to engrave, then whittle it down. Show the shortlist to your jeweler to find out what will and won't fit within your ring.
Beautiful Things that you can engrave on your engagement ring.
Names and memorable dates:-
You can engrave your ring with a name and a date combination. The dates you met, the day you began dating, the wedding or proposal date, both of your names, your initials, your new married surname, and these particular details will always be a part of your memories as a couple. Have you been given a nickname or pet name? Alternative: Use just your initials with a plus sign in between.
There is no more fantastic way to honor your endless dedication to loving each other than by permanently etching the marriage vows into your bands if you are engraving a wedding band.
In specific circumstances, you may choose to have a symbol engraved onto your ring. It may be a cross, an infinity sign, or a heart—whatever is simple and meaningful to your connection. Your eternal love for your spouse should be reflected in the ring.
Inside Jokes and Funny Phrases:-
Some unions are based on a shared sense of humor. Inside jokes help people get along with one another! If that describes you and your partner, get a statement that will make them laugh and grin every time they read it engraved on the inside of the Engagement Ring!
A pledge to love and care for someone forever is expressed when you give them an engagement ring. So, you can engrave some promise like Always forever.
"Until death does us part" or "until death."
Or anything that speaks promises.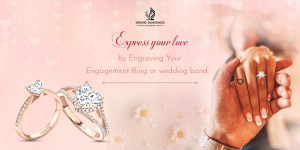 Express your love by Engraving Your Engagement Ring or wedding band.
We hope that all your doubts about engraving rings are clear. If not, you can discuss with us to find out what other things we can engrave on your wedding or engagement ring. Furthermore, you can also browse our collection of Engagement rings online.
When you buy an engagement ring online, you will be introduced to Grand Diamonds' mission to make people feel loved. We are enthusiastic about contributing to the success of your proposal. We offer high-quality Women diamond engagement rings at a reasonable price with excellent customer service. People are introduced to products and services in novel and surprising ways. Our diamond jewelry does its part to make your proposal memorable. So, do not wait long and check out our Diamond Engagement rings collection. Uniquely celebrate your love!!
Read Our Latest Blogs
Visit Our Website