Is there a more romantic way to pop the question to your special someone with their dream engagement diamond ring in your hands? In our opinion, no. But then, how exactly do you begin the design process, and is it even safe to go on the path of customization and to make your bespoke desires come true, breathtaking ring way do you have to spend lots and lots of penny? Well, you need not fret; today, we outline essential suggestions for creating a unique engagement ring without any stress. 
Excellent and incredible ways to design diamond rings online.
Know what inspires you:- 
Understanding your sources of inspiration is essential for achieving the result you desire. Is the design motivated by a particular experience or a general aesthetic you randomly came across when scrolling Pinterest? Never overlook her side of the story, which talks about why she started liking the style in the first place. Knowing the source of the design's inspiration will help you decide which elements are most important for your custom piece, keeping you on track as you design. 
Here's how you can find unique designs for your diamond ring online. 
Try looking through social media (like Pinterest or Instagram), 

Conduct style searches, and contract pricing, and keep an eye on a person's style. 

Later, Get in touch with a professional. 

You may see a video of a diamond engagement ring comparable to yours to see it in action.
Start planning before months:- 
Creating a unique engagement ring takes time, and you must wait for it to be made. Don't rush for such a significant purchase; allow yourself plenty of time to complete the process and account for any unanticipated delays. From the first time you visit with a jeweler until you have the ring in hand to propose, we advise allowing yourself at least eight weeks (possibly even longer for intricate designs, jewelers in high demand, busy season, etc.). Start the process of design diamond ring online as early as possible if you intend to pop the question on a specific day to ensure you have the finished item ready in time.
Research the diamonds:- 
Before you even start designing diamond rings online. Learn about all of your alternatives. Diamonds are thought to be the most beautiful, but amethyst, jade, sapphire, pearl, and peridot are just a few of the vibrant possibilities accessible to you.
Diamond is always a terrific option, but lab-grown diamond is an excellent substitute if your budget is tight. While diamonds usually cost thousands of dollars, it isn't quite as pricey.
Moreover, call a jewelry store and look around if you're unsure what kind of stone you want. To obtain a hands-on look at various stones, inquire with the person about the types of stones they have. The presence of stones in your ring is not essential. You can quickly start a unique wedding band if you like. Keep in mind that you are the creator as well as the customer. So, consider all your possibilities for an engagement ring before deciding.
Not to forget the metal:-  
Most engagement rings come in gold, a traditional choice, but depending on the wearer, it might not be the most excellent choice. Some individuals have found that silvery metals enhance their appearance and bring out a particular brilliance in diamonds & their personality. So, it's crucial to understand which metals complement your special person the best before you start designing diamond rings online.
What about taking one more beautiful step:- 
To give it a little more personality, go for engraving. A personalized ring can be given a new dimension with the addition of an engraved phrase, date, or name. Although inner engravings are more popular, especially if the message is private, you can engrave the ring's interior or external side. So if you choose a simple wedding band ring without any stones, think about engraving a special message on your ring.
Imagine and illustrate:- 
They say you can manifest only when you can visualize; similarly, to manifest the ring of your dream, visualize and put it on paper. Based on your ideas, sketch up some designs. Make a list of every individual component you decide on as you build your ring. Draw a picture of how you want your ring to look as you choose each component. Create several sketches from different perspectives to help the jeweler you work with visualize your idea. 
Say no to Copying:-  
This step in the process to design a diamond ring online is crucial. Don't ask a jeweler to duplicate a ring that belongs to someone else. You can use it to inspire them in style and appearance, but asking them to copy another designer's creations is unacceptable if you wish to surprise her with something spellbound. Work together with your designer to produce something original and wholly yours.
Examine Your Diamond Ring:- 
For each step, ask your jeweler to share the progress. This way, you can view your ring's appearance after selecting your setting and diamond and illustrating.
Make your Dream Come True By Designing Diamond Ring Your Way!!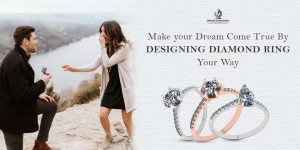 Grand Diamonds offers settings and diamonds that can be personalized for any special requirements. Our occasion fine jewelry experts can help you discover where you may cut costs without sacrificing the dazzling appearance of your one-of-the-kind jewelry piece. Our diamond engagement rings hold a simple promise of eternal love and represent the timeless bond between two people. You can buy diamond wedding rings online and discover an exquisite collection of diamond engagement rings, from statement rings to delicate solitaire diamond rings, and find a ring worthy of wearing forever. So, it's time to keep away all your fears and propose to her with the dream engagement ring.
Read Our Latest Blogs
Visit Our Website