The D- the day has arrived! You can't wait to propose to her and see her reaction when she sees the engagement ring you chose. The diamond rings are the very first of many decisions that nobody can afford to make mistakes with.
Worry Not!! We are here to help you in making that decision. Take some time to look through our collection and decide if this Rose Gold Diamond rings,
 a one-of-a-kind beauty, is right for you.
What makes Rose Gold So Desirable? 
Rose gold has recently gained popularity as a material for necklaces, bracelets, earrings, and rings, particularly wedding and engagement rings. Younger generations are drawn to the warm, feminine, pink glow of rose gold as their wedding ring metal of choice, seeking something unique, stylish, and personal to them.
Rose gold is a popular choice among people for wedding rings or jewelry because pink is a color strongly associated with love. Rose gold pieces are also appropriate for both modern and classic designs, displaying timeless beauty and a famous vintage charm, as well as a sleek, more present-day, contemporary feel.
The Rose has long been thought to be a delicate and gentle color with a calming demeanor that exudes effortless luxury and glamour. Rose gold has only recently gained popularity, and it is clear that its simplicity and timeless elegance will continue to grow in the coming years.  
The rising popularity of rose gold diamond rings is worth knowing.
Know why the Rose Gold Ring is the best choice you can make when proposing to the love of your life. 
A Rose Gold diamond ring represents a gorgeous sophistication that will remain classy and elegant despite changing trends.
It has a romantic feel to it:- 
While most metals on the market today are cool-toned, the warm hue of rose gold provides a romantic feel that is simply stunning.
Rose gold can be worn with any outfit, but it looks best with soft pastels and neutrals. Rose gold jewelry is an excellent choice for a casual summer day outfit as well as a girl's night out on the Christmas winter!
Its warm hue goes well with any skin tone:- 
It is one of the most delightful metal tones available for jewelry, with a calming, soothing effect. Its warm rose hue complements almost every skin tone by bringing out the blush tone.
It looks stunning when set with diamonds, gemstones, or pearls:- 
Rose gold complements more than just skin tones; it also looks stunning with diamonds, gems, or pearls, as seen above.
 

Rose golds complement any gold color:- 
Combining rose gold with a white gold diamond engagement ring and matching yellow gold eternity bands results in a stunning color combination. Tri-color metal blends have been used in various jewelry pieces, including engagement rings and diamond earrings. It is common for jewelry to incorporate two or three different precious metals into a single piece. You can even stack rings in all three colors to make a matching set.
It's also ideal for men's accessories:- 
Rose gold's warm tones are the ideal accent for men's jewelry, diamond ring, and watches. The beautiful rose color adds a unique touch to the personality of the wearer!
Thanks to the fashion industry, Rose gold has finally come into its own. This newly discovered classic enables the wearer to mix and match metals and provides an unrivaled look freely! Rose gold is the ideal addition to any jewelry collection for these and other reasons! 
How to know that she will love the Rose Gold Ring? 
This is the fastest way to know whether she would love the Rose Gold diamond ring. If you're a guy who isn't sure whether to get a rose gold engagement ring or not, the simplest way to tell is to look through your better half's jewelry box.
Stick with a rose gold diamond ring if that is the majority of the jewelry. However, if the majority of her jewelry is silver or yellow gold, it may be best to stick with one of those more secure colors. This is considered the best way even if you are someone who is looking for a ring for her handsome. Another way to determine whether they like Rose Gold is by communicating preferences. This can be done via family, or you can just sit along and have a conversation.
Rose Gold Rings that you are likely to encounter when browsing our Website. 
The popularity of rose gold rings is not hidden as they are not as timeless as yellow gold or platinum. As previously stated, it also flatters people with warm undertones.
A rose gold engagement ring in the form of a solitaire or halo ring in a minimalist style looks stunning. A simple rose gold engagement ring set with a simple, dazzling diamond exudes elegance. It can, however, be a little more noticeable. For example, a rose gold wedding ring is a good choice if you want a vintage-style engagement ring. The romantic color can be paired with frivolous milgrain details and a striking diamond.
Simple Rose Gold Engagement Rings:- 
Simple rose gold engagement rings are elegant yet understated. The solitaire diamond in a simple rose gold band will appeal to minimalist brides. Simple beauty exists, and rose gold is the ideal metal for it.
Give a Chance to Pave Set:- 
The classic solitaire engagement rings do an excellent job of drawing attention to the center diamond, but it must do all the impressing on its own. Adding supporting diamonds, such as the 'pavé' set diamonds on the band of your proposal ring, is an excellent way to enhance the ring's lavishness without incurring the cost of a larger diamond.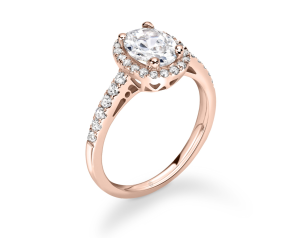 Halo Setting Rose Gold Engagement Ring:- 
Halo settings are another excellent way to enhance the appearance of a ring and can be used to make a ring with a small center stone look very impressive.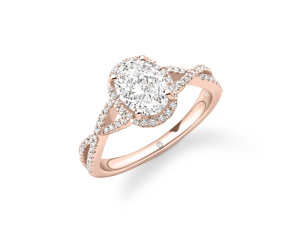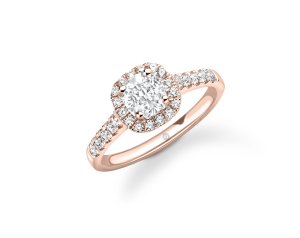 Halo set in rose gold diamond wedding engagement rings are quickly regaining popularity. Smaller stones surround a larger center stone in this style of ring. This formation provides a lot of sparkles. The additional diamonds will enhance and protect the beauty of the center stone, be more cost-effective without sacrificing quality, and be very glamorous.
Rose gold vintage rings – An Ultimate Class:- 
Modern brides love vintage rose or pink gold wedding rings. This vintage Engagement Ring has boundless potential for turning heads. The soft design and open split pavé shank are stunning.
These Vintage Rings will undoubtedly draw attention to the diamond or gemstone of your choice.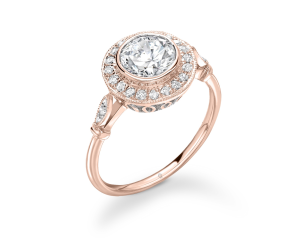 Another way to bring out the luster of rose gold is by shopping for this vintage ring halo engagement ring. We adore the rose gold floral motif that surrounds the center stone. The centerpiece is further adorned with diamonds that can style with the white gold band. A rose gold engagement ring combined with white gold adds a vintage touch.
Stackable Rose Gold Rings:- 
A stackable rose gold wedding diamond ring is a fun combination that can be worn separately for a more minimalistic look or together for a more elegant touch. They are available in a variety of designs, including basics and diamonds. Rose Gold Diamond Ring is tarnish and peel-resistant alternative to yellow gold that is ideal for people with sensitive skin.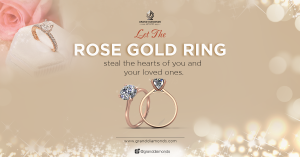 Let The Rose Gold Ring steal the hearts of you and your loved ones.
You don't have to anymore express your love with words…you can now enhance your proposal with a beautiful diamond ring from the Grand Diamond collection.
Say you love your loved one with one of our Rose Gold diamond rings or pop a proposal with one of our diamond rings. A circular diamond ring will delight your lady love. This is your time to express your forever love with our charming wedding rings.
With brilliant diamond rings, honor your love for your special someone. If you don't know which ring you should get for the proposal, then you can also design a diamond ring online. Our jewelry influencers will never let you down and keep you updated about the process.
Grand Diamonds invites you to visit their website to see our entire rose gold jewelry and diamond ring Antwerp collection.
 Or follow our blogs. To know more about how to buy diamond rings online, reach out to Grand Diamonds. 
Read Our Latest Blogs
Visit Our Website