Moms deserve the world, isn't it?
Mother's Day is just around the corner, and treating her right that day would be unfair because mothers deserve all year's appreciation! Now, if we talk about gifts that you can give your mothers this Mother's Day, there are undoubtedly countless options available for you to choose from. Flowers, chocolates, and decor items top the list when we look for traditional options to gift our lovely mothers. 
But if you want to *really* surprise your mother, you can get her something sparkling and extravagant. Yes, you got us right. You can go for a splendid piece of diamond jewelry. To be specific with you, consider getting her a diamond necklace. 
Necklace for Mum will steal the show for sure. It will be worn, cherished, and flaunted by her for years. 
In this blog, you will get into the qualities that make a Mother's Day necklace such a special and unique present, and we will also share some options you can explore that will help you pick a necklace for your lovely mum!
Five qualities in a diamond necklace that would make it the perfect Mother's Day present:
Timeless Elegance:

A diamond necklace is a classic piece of jewelry that always goes in style. It can be worn with any outfit and occasion, making it a versatile and timeless accessory that your mother can treasure for years.
Exceptional Quality:

The quality of the diamonds used in the necklace is paramount. Look for diamonds with a high grade of clarity and color and a good cut and carat weight. This will ensure that the necklace sparkles and shines brilliantly, catching the eye of anyone who sees it.
Personalized Touch:

Adding a personalized touch to the diamond necklace can make it even more special for your mother. Consider engraving her initials or a special message onto the pendant or the clasp. You could also choose a necklace that incorporates her birthstone or a symbol that holds special meaning for her.
Comfortable Fit:

A diamond necklace should be comfortable and not heavy. Look for a necklace with an adjustable length or a clasp that allows for flexibility in sizing, ensuring that your mother can wear it comfortably and confidently.
Sentimental Value: The sentimental value of a diamond necklace can make it the perfect Mother's Day present. If it's your mother's first diamond necklace, it will hold a special place in her heart and remind her of your love and appreciation for her. Even if it's not her first, the thought and effort you put into selecting the perfect necklace will make it a cherished gift.
Now that you are acquainted with what qualities to look for when buying a necklace for your mother, we are here to provide you with some attractive options of necklaces that you can choose from:
ROSE GOLD CUSHION-SHAPED ILLUSION SET ROUND BRILLIANT DIAMOND NECKLACE:
The Rose Gold Cushion-Shaped Illusion Set Round Brilliant Diamond Necklace is a stunning piece of jewelry that will light up any Mother's Day. The delicate rose gold color of the necklace adds a touch of elegance to this beautiful piece. The central cushion-shaped diamond surrounded by smaller round diamonds adds to the necklace's beauty. The illusion setting is a clever technique that makes the diamonds appear more prominent, giving the necklace a more opulent look. Overall, this diamond necklace is a timeless piece that is perfect for Mother's Day and will surely be treasured for years to come.
WHITE GOLD HALO ILLUSION SET ROUND BRILLIANT DIAMOND NECKLACE
The White Gold Halo Illusion Set Round Brilliant Diamond Necklace is a gorgeous piece of jewelry that would make any mother feel special. The halo setting is a popular trend in jewelry design that has been around for centuries. It adds an extra layer of sparkle and brilliance to the round diamond in the center, making it stand out even more. The illusion setting also enhances the diamond's beauty by making it appear larger and more prominent, creating a dazzling effect.
The necklace's white gold color is timeless and elegant, making it perfect for any occasion. White gold is a popular choice for jewelry because of its versatility and ability to complement any outfit. Whether a formal event or a casual day out, this necklace will add a touch of sophistication and glamor to any outfit.
Overall, the White Gold Halo Illusion Set Round Brilliant Diamond Necklace is a stunning piece of jewelry that any mother would be proud to wear. Its classic design, halo, and illusion settings make it a timeless piece that will be treasured for years. It has a 'perfect mother necklace' written all over it. 
YELLOW GOLD HALO ILLUSION SET DIAMOND COLIER:
Well, if it isn't the yellow gold halo illusion set diamond collier, here to steal the show and make all other Mother's Day gifts look like amateur hour. This piece is like a warm hug from a long-lost friend, except it's made of diamonds and yellow gold instead of arms. The halo setting is like a crown, making the center diamond the queen of the show. The illusion setting is like the magician, making the diamonds appear larger and more prominent – "Abracadabra, behold the beauty!" This collier is the perfect gift for the mom who wants to make a statement and be the talk of the town (or at least the Zoom call). It's like a ray of sunshine on a cloudy day, a burst of energy in a sea of monotony. So, go ahead, and make your mom feel like a diamond-studded queen with this stunning piece of jewelry.
WHITE GOLD RAINBOW DIAMOND CUT SAPPHIRE CIRCLE ETERNITY PENDANT SET 
Look no further than the White Gold Rainbow Diamond Cut Sapphire Circle Eternity Pendant Set! This stunning piece of jewelry is a true masterpiece, combining white gold's elegance and timeless allure with the eye-catching beauty of rainbow diamond cut sapphires. With its circle eternity pendant design, this piece symbolizes the eternal bond between a mother and her child, making it the perfect way to show your love and appreciation this Mother's Day; so if you want to give your mom a gift that she will treasure forever, choose the White Gold Rainbow Diamond Cut Sapphire Circle Eternity Pendant Set and watch her eyes light up with joy!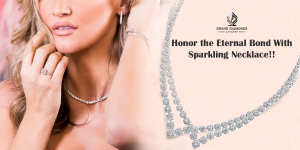 Honor the Eternal Bond With Sparkling Necklace!
Grand Diamonds is all for celebrating motherhood with an incredible collection of diamond necklaces perfect for Mother's Day gifts. Our collection features various styles, from classic pendants to more elaborate pieces.
What sets Grand Diamonds apart is their commitment to customer service. We offer personalized consultations to help you find the perfect piece for your mother, and our knowledgeable staff is always on hand to answer any questions. 
With Grand Diamonds, you can be confident that your Mother's Day gift will be stunning and meaningful. So look no further and celebrate this Mother's Day with the perfect Mother's Day Necklace.