Still, getting butterflies reminiscing the moment when she said yes?
It was magical, wasn't it? It is one of the moments that will stay etched in your mind for a lifetime. Everything is surreal about proposals. 
You hopping on this blog means that you already have proposed. We are hoping that it went exactly how you dreamt it to be. Wink! Wink! 
Engagement rings are unique. They are wrapped with promises and aspirations for your future together. It's your stepping stone. On the other hand, Wedding rings are forever. It symbolizes your commitment to each other, and deciding upon a wedding ring is an exciting yet tedious task. It should be done with considerations in mind. 
Here are some reasons why wedding rings are so unique:
Wedding bands are used as status symbols in society to show others that you are committed to someone- legally as well as religiously. Following are some reasons which make them unique to couples:
 

Commitment:

Wedding Rings act as a symbol of your commitment to your partner. Wedding rings have been used as symbols of devotion ever since the middle ages when the groom would present the bride and her family with an expensive ring to show his commitment to the union and that he would never walk away from this relationship. The ring is a sign that you are open about being in a committed relationship and that you are not ashamed to wear it out in public.

Attachment:

When you are missing your spouse the most, the ring can act as a remembrance by reminding you to relive all the beautiful times you have shared with them in the past. The ring conveys terrific memories of the times you and your spouse have shared and represents holy matrimony.

Mutual respect: You might be inspired by your wedding ring to consider the decisions you make with your partner in mind. You have an additional responsibility to take your partner's respect into account when you have your wedding ring on. 
The emotions associated with wedding rings should be given priority. In case you are planning to start hunting for your wedding ring, here are a few mistakes that should be avoided:
It's easy to make a hasty selection out of concern that someone else will take your chosen wedding ring if you wait too long if you don't give yourself enough time to hunt for your partner's ideal wedding ring. You
should place your order at least three weeks before you want to pop the question.
One of the biggest mistakes individuals make is failing to do the necessary research before going to the jeweler. To assure quality, it's worth your time to, at the very least, become familiar with diamond reports.
One of the most common errors people make when selecting their wedding ring is failing to set a budget in advance. Although the cost of a wedding ring might range widely, it's essential to establish a budget before you begin looking for the ideal ring. You don't need to spend three months' salary on your wedding ring; you must budget well. 
Missing out on the reviews:
While there are many different wedding rings available, there are also many different opinions about them, so it would be better to take the time to investigate the store you're buying from to understand their collections, service, reputation, and quality. To better comprehend how they've benefited clients in the past, we always advise reading reviews and feedback. 
Now that we are aware of the mistakes to avoid, here are a few tips to help you pick your perfect diamond wedding ring:
The first factor to take into account when choosing a wedding ring is design. Do the two of you like traditional or modern styles? Do you prefer any particular metals over others? Choose a ring that will best represent your union after taking into account both of your preferences.
It's crucial to pick a ring that is well-made and will last the test of time, even though you don't have to spend a lot of money. Make sure to check for rings made from premium materials, such as diamond and gold, when you shop. Before making your final purchase, make sure to have your ring professionally sized. It's a brilliant idea to ring shopping with your significant other. By involving them in the process, you can ensure that they will like their new ring just as much as you do.
Have fun with your wedding rings! Instead of getting a conventional band, search for one-of-a-kind designs that have exceptional value for you both. Engrave personalized words, or go with a ring that has been handed down through the generations. All of these characteristics will give your wedding rings a unique design that accurately captures the sweetness of your union.
Go for professional Jewelers:
Jewelry professionals can offer guidance and solutions that may be ideal for your relationship as you go through the process. They may also respond to any queries or worries you may have regarding choosing the best ring for your special day. Finding the ideal wedding ring with careful consideration will result in a great sign of your shared commitment.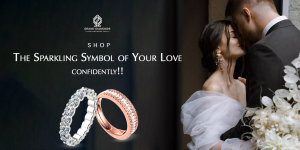 Shop the Sparkling Symbol of Your Love confidently!
 The diamond wedding ring represents a lifetime commitment to one another as well as enduring love. It is a timeless item of jewelry that will be treasured for many years. Each diamond wedding ring from Grand Diamonds is expertly crafted and uniquely created to fit your style and preferences. From traditional wedding bands to more sophisticated, contemporary designs, Grand Diamonds has something to suit every bride and groom. To ensure maximum brilliance and fire, each diamond is hand-selected and beautifully cut. The best materials, including 18K white, yellow, rose, and platinum, are used to create the rings.
The ideal diamond wedding ring is available from Grand Diamonds, whether you like a conventional or unusual style. Their accomplished artisans will collaborate with them.