It's that amazing time of year again – the countdown to the brand new year has begun, and with it comes the excitement of new beginnings and fresh starts. If you're getting married in the new year, chances are you're starting to think about the perfect diamond wedding ring to symbolize your love and commitment. But with so many options available out there, it can be overwhelming for couples to know where to start the search. That's why we've put together this ultimate guide to shopping for diamond wedding rings on New Year's Eve.
The Ultimate Guide to Shopping for Diamond Wedding Rings.
Why Only Diamonds? 
As the clock strikes twelve on the 31st, couples around the world will exchange vows and celebrate the start of their new lives together. For many, the most important symbol of their commitment is the diamond wedding ring. Diamonds have long been associated with love and commitment, and a diamond wedding ring is the ultimate expression of these sentiments. The tradition of exchanging diamond rings dates back to ancient Rome, where they were given as symbols of eternal love and devotion. Today, wedding rings remain famous for couples looking to celebrate their love in a meaningful and enduring way.
One of the most appealing and dazzling aspects of diamond wedding rings is their versatility. Whether you prefer a traditional, classic style or something more modern and contemporary, you can find a diamond ring that perfectly reflects your taste and style. From simple and elegant tiny diamond rings to more elaborate, multi-diamond designs, there is a wedding ring to suit every couple's unique preferences.

As you start your search for the perfect diamond wedding ring, keep in mind that the most critical factor is finding a ring that represents your love and commitment to each other. Whether you opt for a simple, elegant band or a more elaborate, multi-diamond design, the most important thing is that the ring is a reflection of your love and partnership. No money and advice should affect your decision. It will be your jewelry piece, and the reminder of the love you will share for each other, so pressurizing yourself and being stressed won't help. 
As you exchange vows and rings on New Year's Eve, make sure you'll start your new life with the most beautiful symbol of your chosen love and commitment. 

Don't miss the Technicalities of the purchase:  
Not getting a proper appraisal: 
When buying a diamond wedding band, getting a proper appraisal is crucial to ensure a fair price. A professional appraiser can evaluate the diamond and give you an accurate estimate of its value. This is especially essential if you're buying a used or antique diamond wedding band, as you'll want to ensure you're not overpaying for it.
Not getting a warranty or insurance: 
Finally, you'll want to avoid not getting a warranty or insurance when buying a diamond wedding band. A warranty will protect you if something goes wrong with the band, while insurance will protect it if it gets lost or stolen. Both options are essential, especially if you buy an expensive diamond wedding band. Make sure to ask about these options when shopping and consider adding them to your purchase.
Wedding Rings and engagement rings are similar in that they often feature diamonds as the main gemstone. An engagement ring is a ring that is given to a partner as a symbol of their intention to marry. It is typically given when someone proposes marriage.
On the other hand, a diamond wedding band is a ring that is exchanged between partners during a wedding ceremony. It is a symbol of their marriage and commitment to each other.
While an engagement ring is often more ornate and typically has a larger center diamond, a wedding band is usually more simple and understated. However, this is only sometimes the case, and some people choose to have more elaborate wedding bands or to match their engagement and wedding rings. While diamond wedding rings and engagement rings may be similar in some ways, they are distinct and serve different purposes in a relationship.
Engraved Wedding Bands: A Lasting Memory of Your Special Day: 
Engraving a Wedding Rings is a good idea if you wish to have something Unique for the New Year Wedding. It adds a personal touch to the ring and makes it unique to the couple. Engraving can include the couple's names, wedding dates, or a meaningful phrase or quote. This can be a special way to commemorate the occasion and create a symbol of their love and commitment to each other. Additionally, engraving can help to prevent misplacement or loss of the ring. If the ring is engraved with the couple's names or a unique identifier, it may be easier to track down if lost or stolen. This can give you and your partner the peace of mind and ensure that the ring remains a special symbol of their relationship.
Furthermore, engraving can add to the sentimental value of the ring. Over time, the ring may become a treasured family heirloom passed down through generations. The engraving can serve as a reminder of the couple's love and the special memories they shared.
Overall, engraving a wedding band is a good idea because it adds a personal touch, helps prevent loss or misplacement, and adds sentimental value. It is a simple but meaningful way to make the ring even more special and meaningful to the couple.
It is just the beginning: 
When shopping for a diamond wedding rings on New Year's Eve, it's essential to research and shop around. Don't be afraid to visit multiple jewelry stores and compare prices, quality, and options. You can also consider shopping online, where you may find great deals and a wider selection of rings. Just do your due diligence and research the company before purchasing.
One final tip for shopping for a diamond wedding ring on New Year's Eve is to consider customizing your ring. Many jewelers offer custom design options, allowing you to create a unique and special ring that reflects your style and preferences. This can be a great option if you have specific ideas for your ring or want to incorporate heirloom diamonds or other sentimental elements into the design.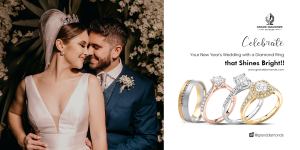 Celebrate Your New Year's Wedding with a Diamond Ring that Shines Bright!!
There's no better way to celebrate your new year's wedding than with a sparkling diamond ring from Grand Diamonds. Whether you opt for a classic yet simple or a more dazzling diamond design, a wedding ring from Grand Diamonds is sure to shine bright and symbolize your love and commitment to each other. Choose from a wide selection of cuts, sizes, and settings to find the perfect ring that speaks to your style. And with Grand Diamonds' expert craftsmanship and attention to detail, you can rest assured that your ring will be of the highest quality and stand the test of time. Not only wedding rings, but Grand Diamonds also offers a wide selection of stunning diamond rings, earrings, bracelets, and more. All of our diamonds are carefully selected and of the highest quality. Buy Diamond Jewelry Online with confidence, knowing that you are getting the best value for your money. Plus, with our convenient online shopping experience, you can easily browse and purchase your dream diamond piece from the comfort of your home—Trust Grand Diamonds for all your diamond jewelry needs. So start the new year with Grand Diamonds that celebrate your love and shine bright for all to see.