The idea of the engagement rings as a promise of love and commitment can be traced back to the ancient Egyptians, who believed the circle symbolizes eternity. They would exchange rings made of woven reeds and wear them on the fourth finger of the left hand, which they believed had a vein that led directly to the heart.
The tradition of giving diamond engagement rings, now commonplace in many Western cultures, was popularized by the diamond company De Beers in the early 20th century. Their advertising campaigns promoted the idea that a diamond was a symbol of love and commitment and that the size of the diamond reflected the depth of a man's love.
Today, engagement rings come in many different styles, shapes, and materials, but the symbolism remains the same. Giving an engagement ring is a powerful expression of love and commitment. It represents a promise to be faithful, to stand by each other through thick and thin, and to build a life together.
Now that we have reflected on the symbolism and importance of engagement rings, let's discuss the factors that should be considered while looking for an engagement ring online or offline.
Budget: Determining your budget before searching for an engagement ring is essential. Knowing your budget can help narrow your options and simplify selection.
Ring Style: There are various styles of engagement rings available, including solitaire, halo, three-stone, vintage, and many more. Choose a style that suits your partner's personality and taste.
Metal Type: The most popular metal types for engagement rings are platinum, white gold, yellow gold, and rose gold. Each metal has unique properties and characteristics, so choose the type that best fits your partner's style and preferences.
Carat Weight: The size of the diamond is an essential factor to consider. The carat weight can affect the ring's price, so consider your budget while selecting the carat weight.
Cut and Quality: The cut and quality of the diamond or the stone can affect its overall appearance and sparkle. Choose a high-quality cut and clarity for maximum brilliance.
Ring Size: Make sure you know your partner's ring size before purchasing the ring. You can ask your partner or secretly borrow a ring they currently wear to get the correct size!
Customization option: Customization options for engagement rings are numerous, ranging from the choice of the ring's metal to the cut and size of the stone. Some customization options include selecting the color of the diamond, choosing a specific band design, or adding personal engravings. Customization allows couples to create a ring that reflects their style, personality, and love story, making it even more meaningful and memorable. Many jewelers offer customization services, enabling couples to create the perfect engagement ring that represents their unique bond.
Trends are changing every day. Couples worldwide look for ways to try something that reflects and compliments their unique relationship. Engagement rings are not just a piece of jewelry but a stepping stone to the new journey they are about to embark upon together with their soulmate.
So, here are some engagement rings that have been couple's top picks for quite some time now:
6 Prongs Solitaire Round cut Diamond Engagement ring: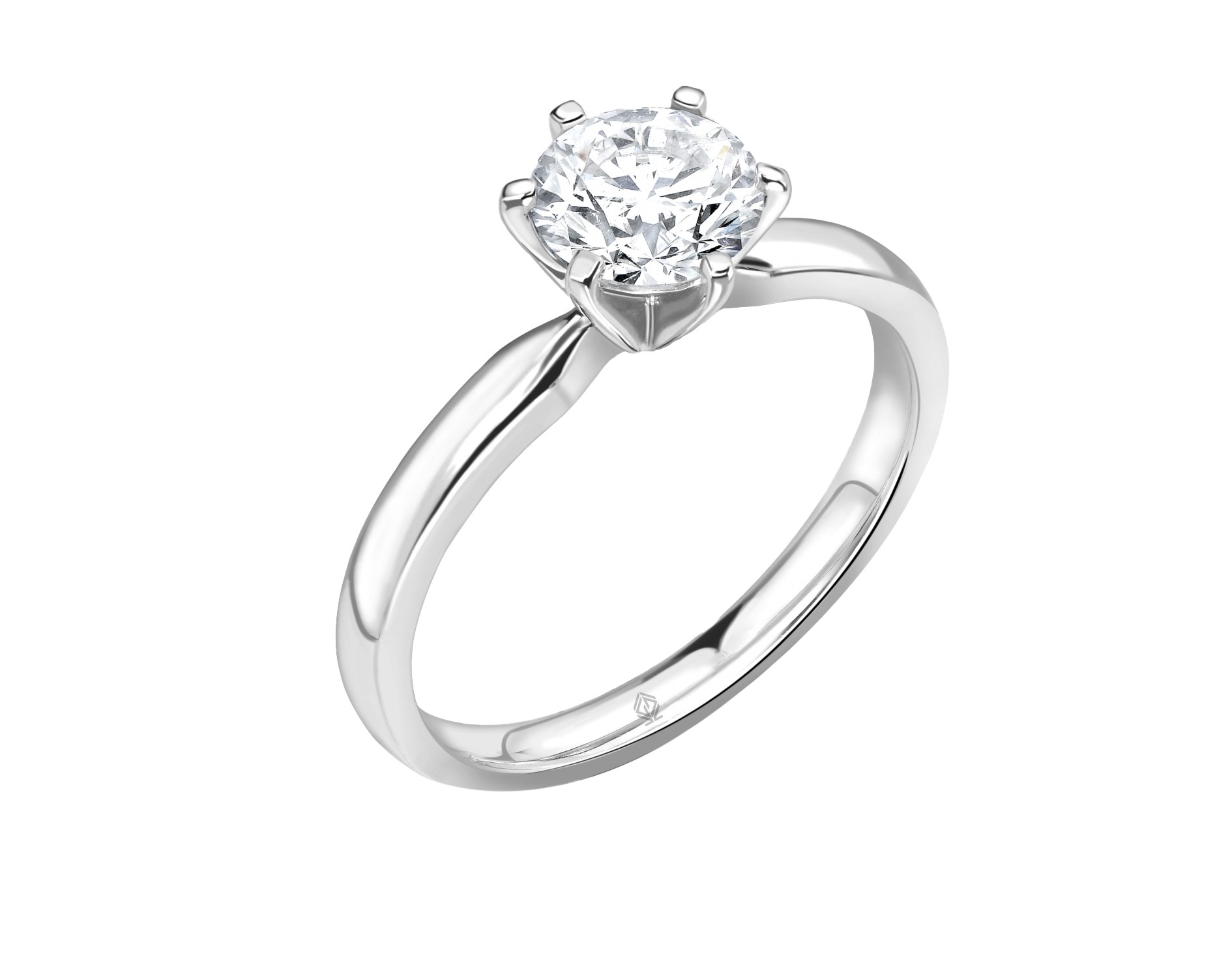 The 6-prong solitaire round-cut diamond engagement ring is an iconic symbol of love and commitment that has captured the hearts of millions of people worldwide. Its popularity lies in its timeless design and simplicity, which highlights the brilliance of the center diamond. The six prongs provide excellent security and stability for the diamond, making it an ideal choice for everyday wear. Additionally, the round-cut diamond uniquely reflects light beautifully, creating a stunning sparkle that will surely catch the eye.
4 Prongs Solitaire Radiant cut Diamond Engagement ring: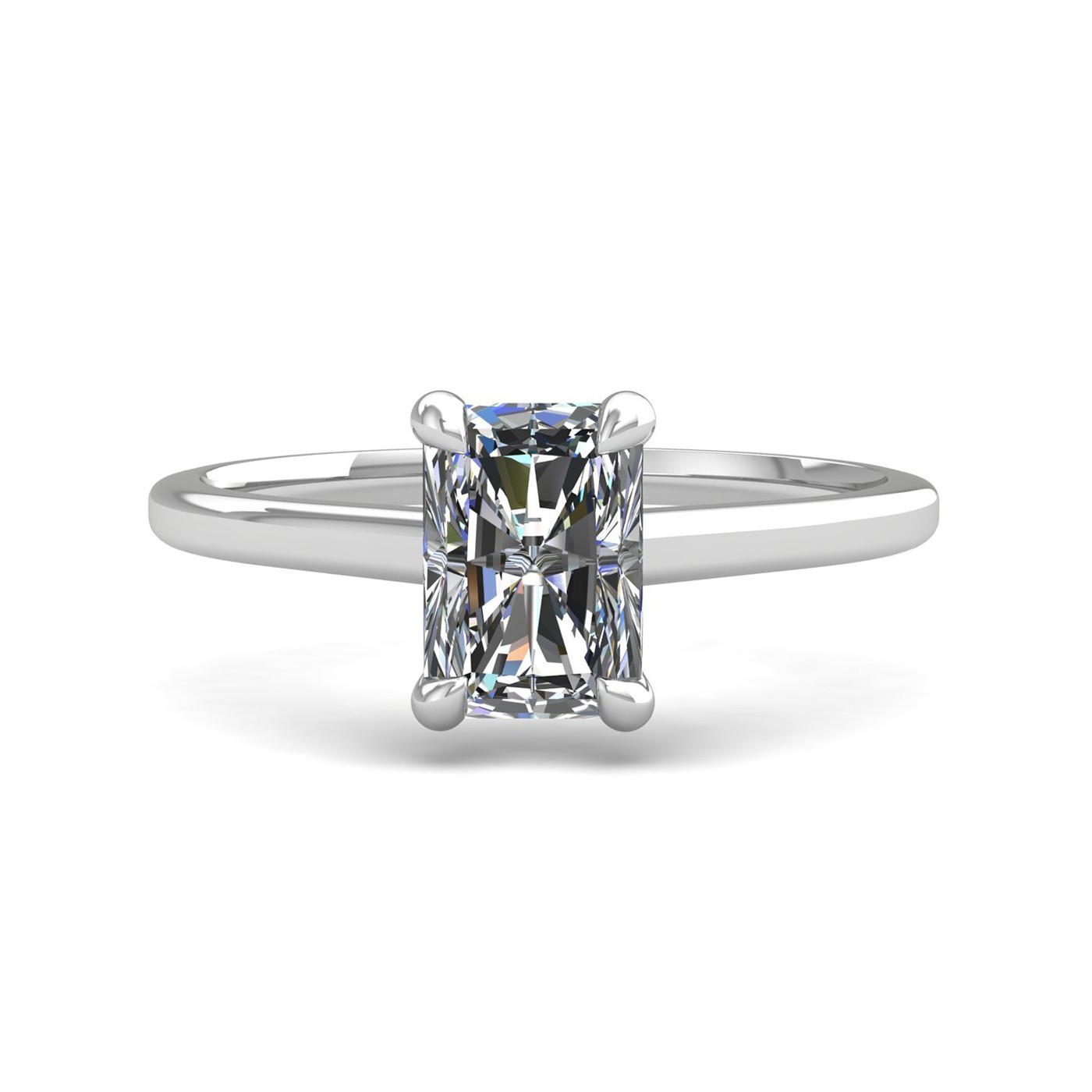 A 4 prongs solitaire radiant cut diamond engagement ring is a stunning piece of jewelry that exudes elegance and sophistication. The radiant cut diamond is known for its brilliant sparkle and unique faceting, while the 4 prongs setting provides a secure and classic design. The simplicity of this ring highlights the diamond's natural beauty, making it the perfect choice for those who want a timeless and romantic engagement ring. This ring is sure to make any bride-to-be feel memorable and cherished
3 Prongs Solitaire Pear Cut Diamond Engagement ring: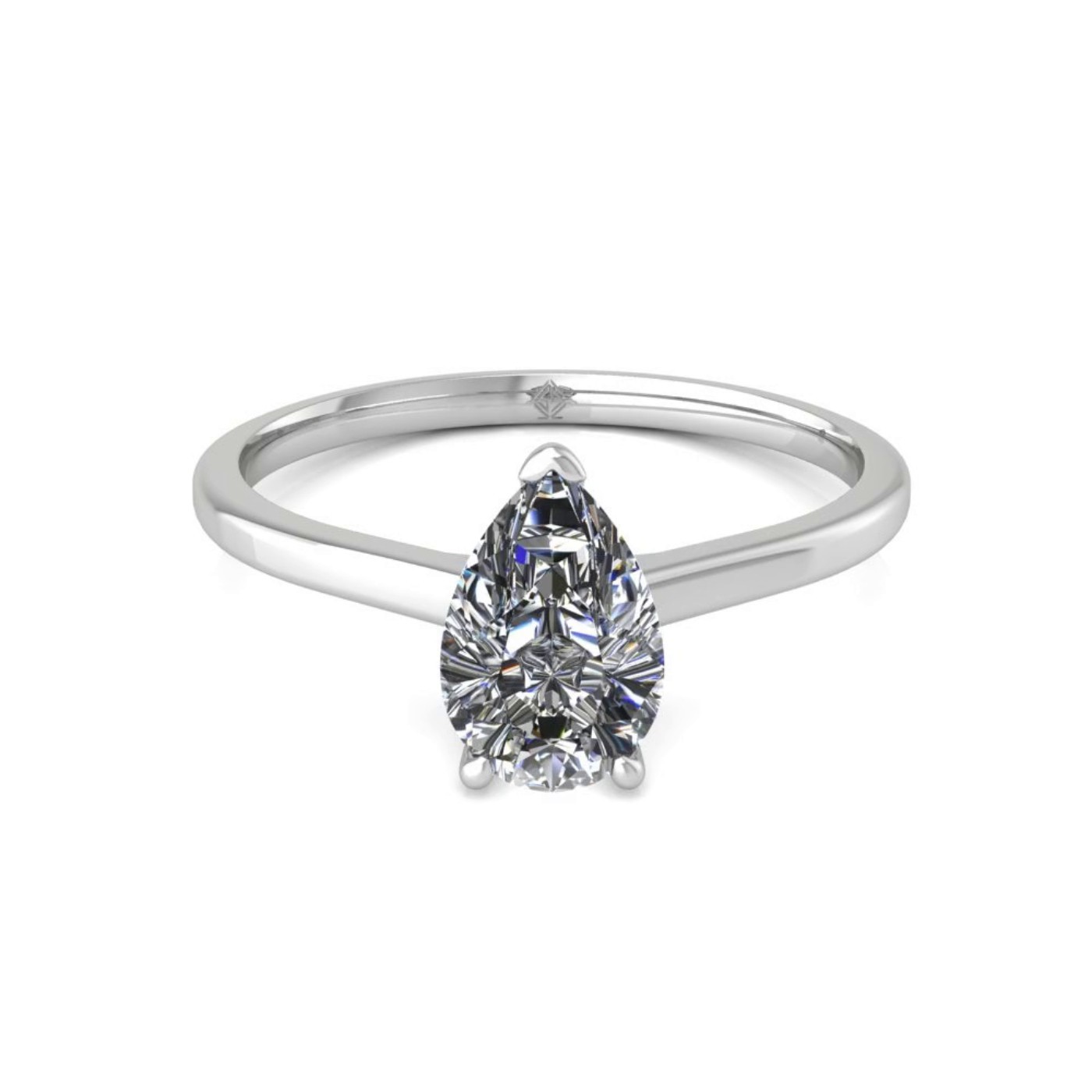 A 3 prongs solitaire pear-cut diamond engagement ring is a breathtaking piece of jewelry that exudes timeless elegance and sophistication. The pear-shaped diamond is a unique and rare cut that adds a touch of individuality and charm to the ring. The diamond's sharp and elongated point makes the ring appear longer and more slender, adding to its allure. The simple design of the 3 prongs setting allows the diamond to shine in all its brilliance, creating a stunning display of light and sparkle. The ring's classic and understated style ensures it will remain a cherished symbol of love and commitment for years.
Rose gold Oval Cut Halo Diamond Engagement Ring With Twisted Shank: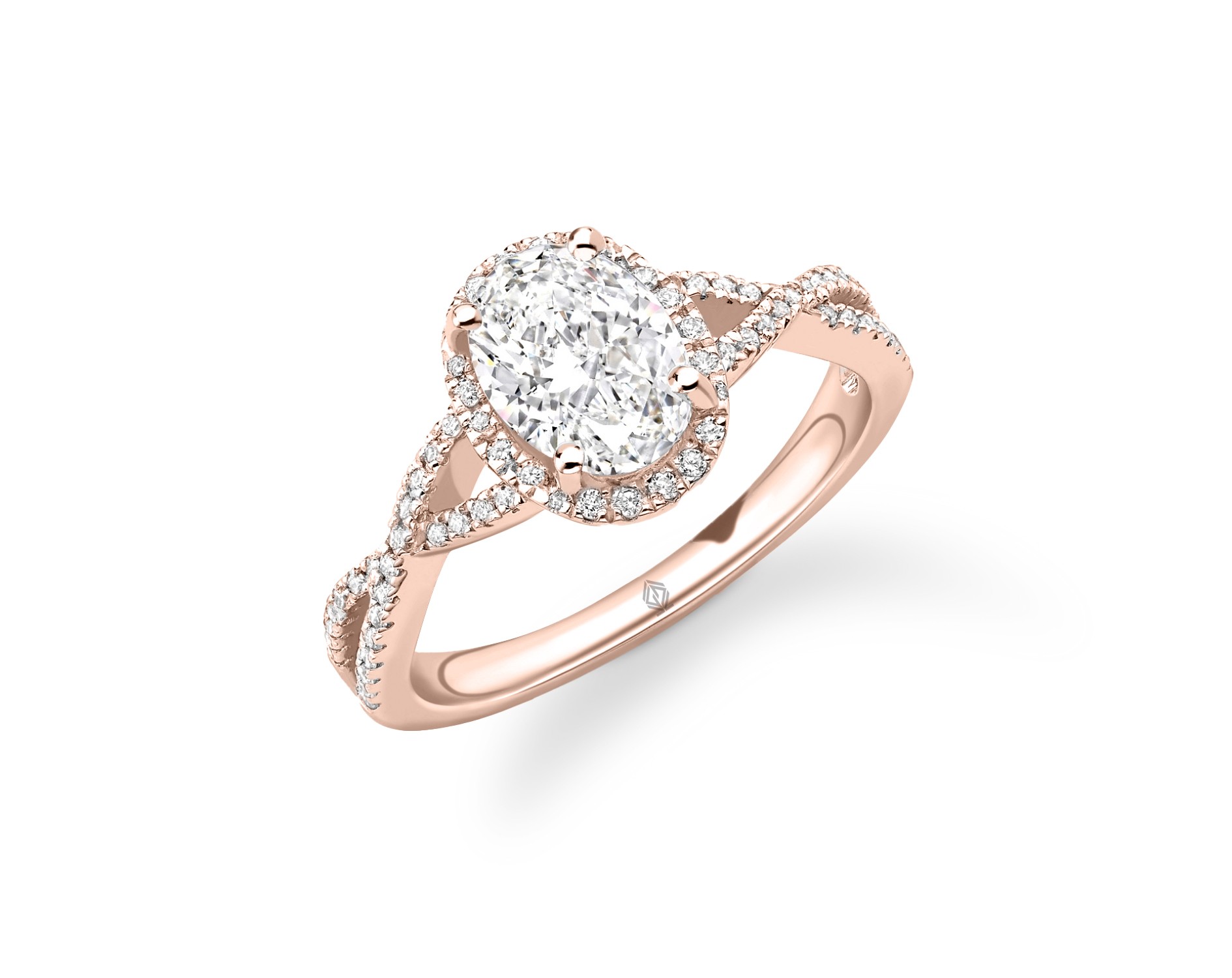 The Rose gold Oval Cut Halo Diamond Engagement Ring with Twisted Shank is a genuine jewelry design masterpiece. The rose gold band has a unique pinkish hue that exudes warmth and femininity, making it a perfect choice for a romantic occasion like an engagement. The oval-cut diamond centerpiece is surrounded by a halo of smaller diamonds, adding a touch of sophistication and glamor to the overall look. The twisted shank design adds whimsy and playfulness, making this ring stand out. This ring is truly a work of art, combining classic elegance with modern style, and is sure to capture the heart of any bride-to-be
White Gold Oval Cut Trilogy Diamond Engagement ring: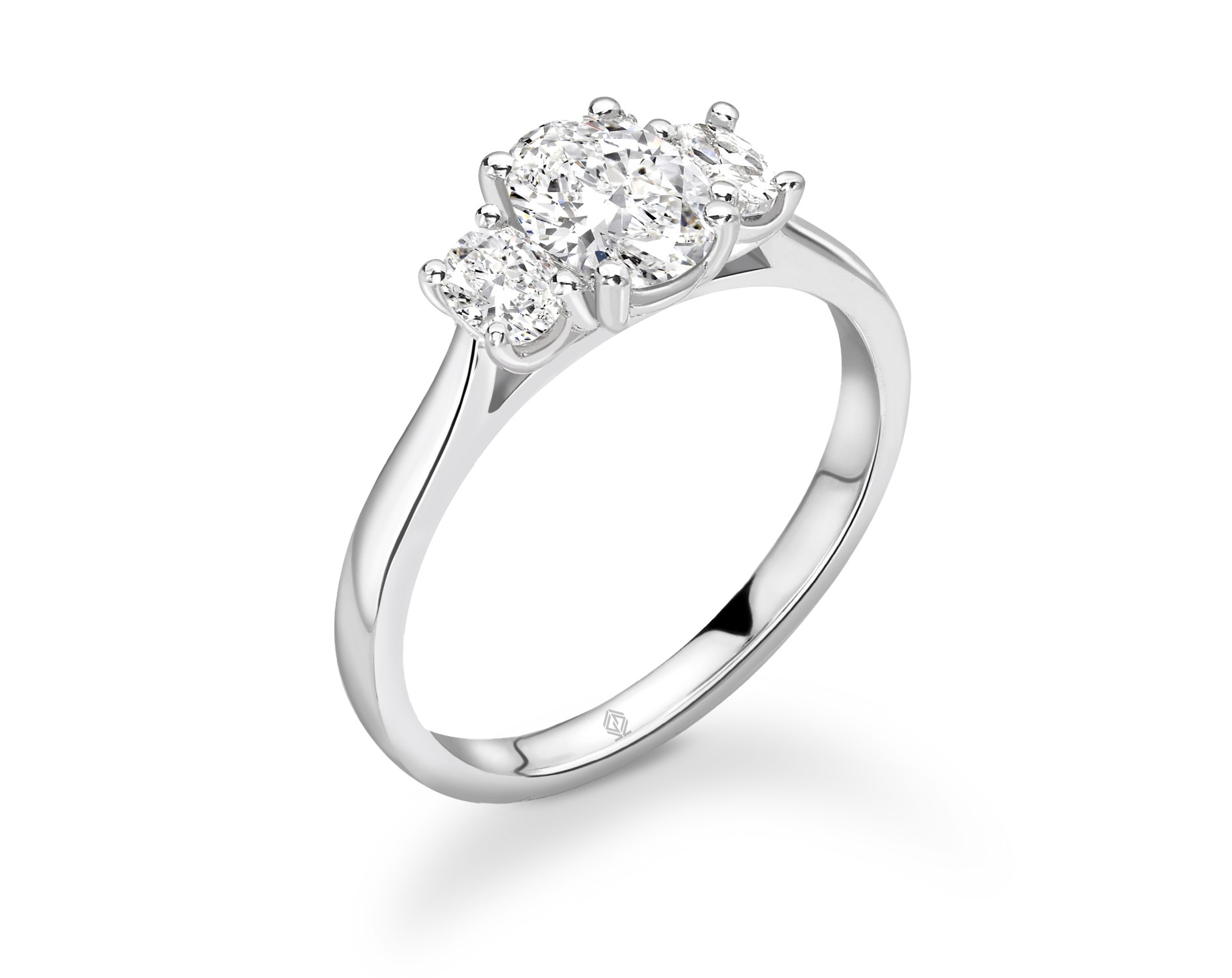 The White Gold Oval Cut Trilogy Diamond Engagement ring exudes beauty in its elegant design and sparkling diamonds. The oval-cut center stone is complemented by two smaller diamonds, creating a stunning trilogy effect. The white gold band adds a modern touch while highlighting the brilliance of the diamonds. This ring symbolizes everlasting love and commitment, capturing the essence of a lifetime of happiness. Its timeless and unforgettable beauty makes it a cherished piece for generations to come.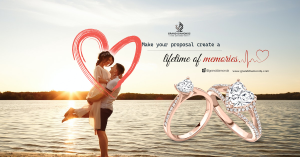 Make your proposal create a lifetime of memories
As a renowned jewelry brand offering online and offline engagement rings, Grand Diamonds stands out for its exceptional quality and customer service. With a wide range of elegant and unique designs, Grand Diamonds caters to different tastes and budgets, making it a top choice for those searching for the perfect engagement ring.
One of the most notable features of Grand Diamonds' engagement rings is our selection of unique designs. Our collection includes traditional diamond solitaire rings, vintage-inspired rings, and contemporary designs with bold and intricate patterns. We offer a variety of stone shapes, including round, princess, cushion, and emerald cuts, as well as fancy shapes like pear and oval.
Grand Diamonds also offers a free engraving option that adds an extra layer of sentimentality to the ring. Customers can personalize their rings with a message or date of significance, making them cherished keepsakes for years to come. Additionally, the brand provides customization options that allow customers to choose the metal type and quality, diamond size and shape, and even design their ring from scratch.
Grand Diamonds offers free shipping on all orders, ensuring customers enjoy their beautiful and unique engagement rings without worrying about additional costs.
Overall, Grand Diamonds provides an exceptional shopping experience for those searching for the perfect engagement ring.