If you are one of those who are not sure about what to *exactly* look for when choosing a diamond wedding ring, then we have got you covered!
Wedding preparations are already overwhelming, and if you need more clarification about the crucial details about the process of buying a woman's diamond wedding ring, then it can get even more overwhelming.
In this blog, we will enlighten you about some of the most common mistakes
that couples usually make when choosing diamond wedding rings.
Mistake #1: Matching Rings are not necessary
Even though some couples prefer matching rings, choosing alternative styles is acceptable. Consider complimentary rings to provide a sense of coherence between the rings (such as comparable styles in opposite metals or vice versa). There are other mixed-metal bands to consider. To honor their spouse's ring, if only one partner likes rose gold, the other can just have a rose gold interior on their band. The rings can be linked in many different ways without being identical.
Don't be scared to be daring if that's your thing; statement wedding bands are a prominent jewelry trend. Find wedding bands that align with your personality by working with a jewelry consultant or specialist.
Mistake #2: Mixing of metal densities:
Make sure the carat weight of all your metals is the same because various metals wear differently over time. Consider sticking with a platinum wedding band, for instance, if your engagement ring is platinum. Choose a band made of white gold, yellow gold, or rose gold if your ring is made of gold. By doing this, you can ensure that both rings will look comparable over time.
Mistake #3: Don't wait for the last minute:
Although choosing your diamond wedding bands may seem unimportant compared to other pre-wedding tasks, it should be a thoughtful process that involves everyone. What fashions are your shared favorites? Are you going to get them engraved with your name on them? Do you anticipate having to have them resized? The earlier you order your rings, the more time you have to ensure they're ideal before the wedding.
Mistake #4: Do not simply guess the sizes:
Speaking of resizing, it will be an unneeded hassle if you have to do it right before your wedding. You can avoid that tension by knowing your ring sizes up front. Even though it's simple to check your ring size at a store, some online sellers will send a sizing tool to you before you place your order. Here, we also review all you need to know about determining your ring size.
Mistake#5: Avoiding contrast designs:
It's okay for your wedding band to be as understated and conventional as your engagement ring is. If that's your style, take advantage of the chance to combine a solitaire engagement ring with an elaborate band. The same rule applies if your engagement ring is stunning—go for a simple, classic band for a stylish, contrasting effect. This is another fantastic option if you cannot find an exact match for your engagement ring. Consider following engagement ring accounts on Instagram for ideas if you're unsure how to combine styles.
Mistake #6: Thinking that there are only limited options available:
Don't think your options are restricted to classic or traditional wedding bands. For some alternative engagement rings with specific settings, a custom band is necessary to ensure that the rings sit snugly together. Consider a contoured band if you value a snug fit. Another thing to consider is whether you'd prefer the versatility of having a straight band that may be worn by itself (for example, when working or traveling). A ring with a natural curvature that can be worn alone can also win your heart.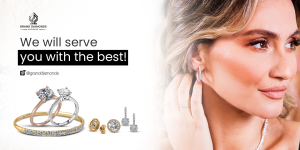 We will serve you with the best!
With us at Grand Diamonds, ensure all your wishes come true when you hunt for women's diamond engagement rings.
At Grand Diamonds, we are dedicated to transforming your dreams into reality as you journey to find the perfect diamond engagement ring for women. Our commitment to excellence shines through our meticulously curated collection of diamond wedding rings, tailored to match every unique taste and preference.
Our mission goes beyond providing exquisite jewelry; we aim to create cherished memories that last a lifetime. With a blend of artistry and expertise, we guide you through every step, helping you select a diamond engagement ring that reflects your commitment and devotion.
At Grand Diamonds, your journey to finding the perfect symbol of love is not just a purchase—it's a celebration of your unique bond.