Wohooo! It's the time of year again to light up your lives with our occasion fine jewelry collections that will leave you stunned with their brilliant looks and cuts. From gifting your special ones to your loved ones, we've got it all. Are you planning to buy different presents for every eight nights? Don't you worry, our mesmerizing collection of occasion fine jewelry is all you need. Have a look and pick your favorite.
This Hanukkah Make Your Loved Ones Say "WOW" With Our Occasion Fine Jewelry Collections
Jewelry is something that'll end up your every confusion and chaos with their charming looks. So, Don't just think twice, just go for its elegance. Moreover, we have got wonderful collections that you can't stop drooling over. Explore our diamond occasion fine jewelry collections featuring Diamond Pendants, Diamond Earrings, Diamond Rings, and Diamond Bracelets.
Waste no time, Grab your personal favorites today. Also, Pop up the big question and choose from our wonderful engagement rings and wedding bands collection.
Breath-taking Diamond Rings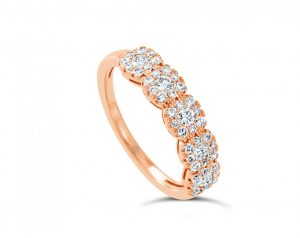 Festival season brings with them the most sentimental spot to snap the most awaited question of your life, So don't just do it ordinarily. Instead, have a romantic candlelight dinner and present her with our eye-pleasing diamond rings that she can't resist. Get to know her choice and pick the piece that'll best fit her personality. Choose from our versatile and timeless styles that come in different metals.
Some popular ring styles from our occasion fine jewelry collections
Three Stone Ring
Halo Illusion Set Ring
Side Stone Ring
Bezel Set Ring
Cathedral Illusion Set Ring
Spiral Tension Set Ring
Captivating Diamond Pendants
Considering thousands of existing styles and patterns, every girl has a separate taste and choice. That is why it is very important to choose the piece that she likes, as it is such a jewelry piece that is worn at a prominent position and captures everybody's attention. Subtle and elegant – This is one of the best gifts that you can offer to your loved ones. Whether you are planning for your mother, sister, girlfriend, or wife – Trust me, it is the first choice for every lady.
We've got mesmerizing collections that you can choose from :
Double Circle Pendant
Halo Illusion Set Pendant
Rainbow Sapphire Pendant
Round Cut Pendan
Emerald-Cut Pendant
Pear-Shaped Pendant
Stunning Diamond Earrings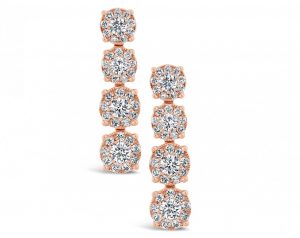 Quite possibly, diamond earrings are the most versatile jewelry piece in the market. Combine the diamond shape of your choice with the complementing style and get the perfect elegance and brilliance that you are looking for. Emanating a classic style that can be endured for a lifetime, the diamond earrings are never meant to go out of style. You can get from our enormous range of diamond earrings featuring various mentioned styles as follows:
Halo Earrings
Milgrain Hoop Earrings
Illusion Set Earrings
Pave Earrings
Diamond Studs
Bar Set Earrings
Sun Diamond Earrings
Huggies Set Earrrings
Enduring Diamond Bracelets
Diamond bracelets are considered to be the cornerstore of any jewelry collection. So don't forget to add staple bracelet that'll help complementing your look and outfits. Get from our vast collection of glittery pieces and get your favorite. Investment in the bracelet is probably the wisest decision as these are the go-to accessories that'll add a steak of elegance and sophistication to even the basic outfits.
The following are the diamond bracelets styles that you can choose from:
Tennis Bracelet
Heart Bracelet
Sapphire Bracelet
Pave Set Bracelet
Triple Row Set Bracelet
Glorify Your Holidays With Our Stunning Occasion Fine Jewelry Collections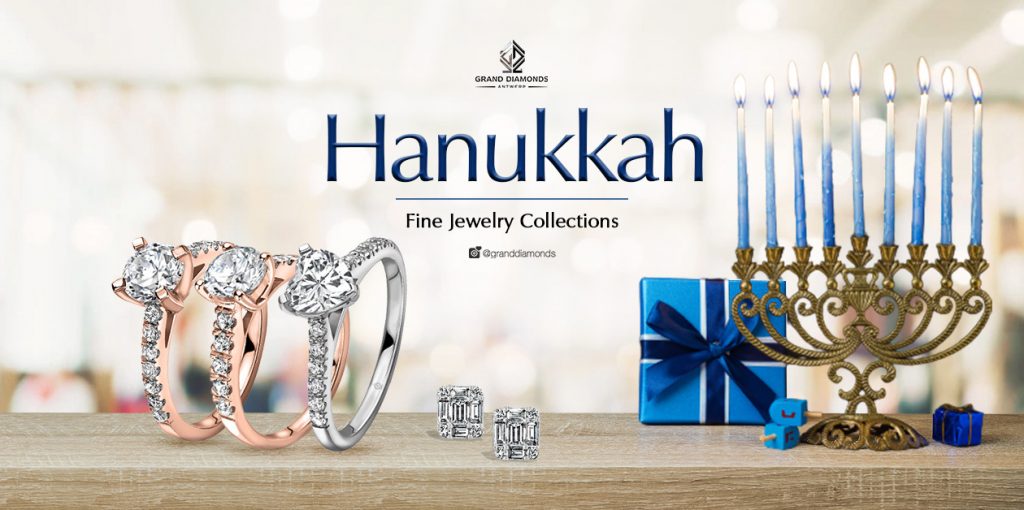 Light up your holiday season with our breathtaking collections of fine jewelry pieces that will make you fall in love all over again. Jewelry is the heart and soul of women, so this Hanukkah, gift them something that she can't say no to. Browse through our collections of Diamond Earrings, Diamond Pendants, Diamond Rings, and Diamond Bracelets.
Hurry up, choose the perfect gift and spread love all around..