Do you remember when our school teacher gave us homework, and we all came up with different answers? That's because each of us is unique. We have different thoughts, appearances, and personalities. Just like how you wouldn't expect the same wedding ring for your book-loving girlfriend as you would for someone who's always curious. The world is full of diverse personalities, and it wouldn't be fair to have just one ring for everyone. So, we're here to help you find the perfect diamond wedding ring for every personality. Let's together dive in!
Tips on buying the wedding ring that suits your personality type.
Getting a special wedding ring that really suits your personality is not as hard as it may seem. The trick is to start by understanding your personality better. Think about what makes you, well, you! Are you a free spirit who loves nature? Or maybe you're more of a classic, elegant type. Understanding your personality helps you figure out what kind of ring will match your style. Next, think about what you like in jewelry. Is it the sparkle and bling or the simplicity and elegance? Once you've got a handle on these things, you're on your way to finding that one-of-a-kind ring that's a perfect fit for you.
So, take some time to reflect on yourself and your jewelry preferences – it's the first step on your unique ring journey!
THE PERSONALITY TYPE AND THE TYPE OF RING THAT GOES ALONG WITH IT.
Romantic Personality type – Full diamond eternity rings
If you're a romantic at heart, consider full eternity rings. These rings feature a continuous loop of sparkling diamonds, adding a touch of elegance to your delicate fingers. Remember, the beauty of a romantic ring lies in how it complements you, enhancing your natural radiance without overshadowing it.
Extrovert Personality type – Rose Gold Half Eternity Rings
For the social butterfly who thrives on connections and loves helping others, a rose gold half eternity rings could be your perfect match. It adds a stylish twist to traditional gold or silver options, reflecting your warm and caring nature.
Intelligent Personality type – Classic Gold Wedding Ring
If you're proposing to someone with a Higher IQ, a classic gold thin wedding ring is an excellent choice. It symbolizes honor and romance, aligning with their thirst for knowledge and appreciation of the world's learning.
Active Personality Type – Bezel Setting Ring
For the active individual who's always on the move or working with their hands, consider a bezel-set ring or channel-set ring. Its design ensures durability and practicality, eliminating worries about snagging prongs or catching on things.
Tomboy Personality Type – Three Metal Ring
If your person identifies as a tomboy and prefers a more unconventional approach to life, don't worry; there's a ring for her, too. A classic band with a modern twist featuring three different metals offers a unique and stylish option that suits your personality.
Vintage Personality Type – Vintage Wedding Ring
For lovers of all things vintage, rings with intricate details reminiscent of bygone eras are a wonderful choice. Whether you're a history buff, a fan of vintage fashion and architecture, or simply have a soft spot for classic movies, a vintage-style wedding ring with milgrain borders can capture the essence of your unique tastes.
When it comes to picking out precious gems for jewelry, diamonds are usually the first choice for many. They sparkle and shine, just like your special one does! But if your budget is a bit tight, and you want to stand out from the crowd, consider gemstones like sapphires. These beautiful gems come in a variety of colors, and they can be as unique as her vibrant personality. Their colors represent your person's joyful character. So, don't be afraid to explore gemstone collections that speak to you and your person personally.
Are you the kind of person who's always evolving and changing? Your wedding ring can reflect that, too! Look for rings that come with removable or interchangeable parts, or you can change easily make changes in the near future. This way, you can adjust the ring's appearance as your style and personality grow over time. It's like having a diamond wedding ring that grows with you, just like your journey through life. So, when you see a wedding ring that can adapt to your changing tastes, it might just be the perfect fit for you.
Seek Input from Your Partner:
If you're buying a wedding ring for yourself, consider discussing your options with your partner. They may have valuable insights or preferences that can help guide your decision. After all, it's a symbol of your commitment to each other.
Getting matching wedding bands when you and your partner have different personalities may seem challenging, but it's definitely doable. Here's how you can go about it:
Communication is Key: The first step is to have an open and honest conversation with your partner. Discuss your individual preferences when it comes to jewelry and personal style. This will help you understand each other better.
Find Common Ground: While you may have different tastes, there may still be some common ground. Identify aspects of wedding rings that both of you can agree on. It could be a particular metal type, a specific diamond shape, or even a certain design element.
Compromise: In cases where you can't find a perfect match, try to compromise a little. Maybe one of you likes a classic, traditional design, while the other prefers something more modern. Look for rings that blend both styles to create a unique and meaningful combination.
Personalize: Consider personalizing your rings with engravings if you haven't got the matching ring. You could engrave your initials, a special date, or a meaningful message on the inside of the rings. This adds a personal touch to the wedding bands.
Celebrate Your Differences: Remember that differences can be beautiful, too. Embrace the fact that you are unique individuals coming together in love. Your wedding rings can symbolize the harmony that arises from your differences.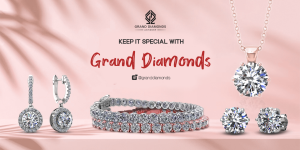 Keep it special with Grand Diamonds.
When it comes to finding something as special as you are, Grand Diamonds is the perfect choice.
Grand Diamonds is all about making your moments unforgettable. They offer a wide range of stunning diamond wedding rings that are perfect for celebrating your love story.
What sets Grand Diamonds apart is their commitment to quality and craftsmanship. Each ring is carefully designed and made with precision, ensuring that you receive a piece that's as unique as your love. These wedding rings are not just pieces of jewelry; they are symbols of your love and commitment. Grand Diamonds understands the importance of this, and they pour their heart into every piece they create.
So, if you're looking for a wedding ring that's as special as your love story, look no further than Grand Diamonds. They'll help you celebrate your special moments in a way that's truly worth remembering.