Make your Halloween spooky and shiny with Grand Diamonds GIA, IGI & HRD Antwerp certified diamonds up to 50% for sale. Grand Diamonds is a renowned brand in Europe, having worldwide insured shipping. Not only for everyday people, but it is also the first choice for influencers. We have some stunning collections up to 50% off; avail of the offer to make the best purchase now.
Grab Certified Diamonds For Sale Collections Up to 50% Off
Choose from our incredible collection of engagement rings, wedding rings, and fine jewelry items like pendants, studs, earrings, and bracelets & get heavy discounts. Here are some pieces that you'll not stop drooling over.
Certified Engagement Diamond Ring For Sale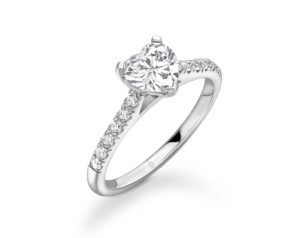 Glorify your Halloween with this beautiful heart-shaped pave settings white gold engagement ring. Its heart-shaped center diamond is held by four prongs along with a beautiful shank. Are you looking for the best place to buy diamonds online? Grand diamonds are offering you certified diamonds for sale up to 50%. Get this beautiful crafted 18K white gold heart ring at an amazing discount of up to 50%. Waiting for what? Grab the offer today. Get GIA Certified Diamond Wedding Ring.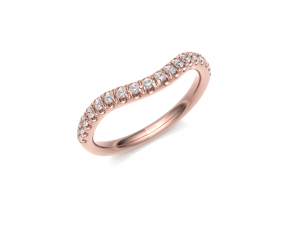 A wedding is a prominent day in everyone's life. Let the ring be as promising as your promise to her. Get GIA-certified diamond wedding rings that speak for themselves. 
This stunning rose gold v-shaped ring comes with half eternity settings that look absolutely stylish on fingers. It is polish and perfect mounting of diamonds makes it even more appealing. It will compliment your everyday and party outfits outstandingly. Grab this creative certified diamond wedding ring for sale for up to a 50% discount. 
Diamond Earrings For Sale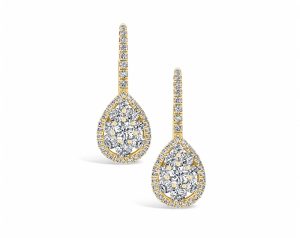 Are you looking for something fancy and stylish? Here's our perfect pick for you. These elegant pear-shaped illusion set diamond earrings to feature 28 pave-set round side diamonds with 9 illusion set center diamonds, giving it an elegant yet classy look. Yellow gold, along with shiny diamonds, makes a wonderful match that will compliment your party looks. You can wear it to a party. It will leave an impression even after you are gone. Get this appealing beauty at a mind-blowing discount of up to 50%. You can get GIA-certified diamonds for sale at Grand Diamonds near you.
Authentic and Elegant Diamond Bangle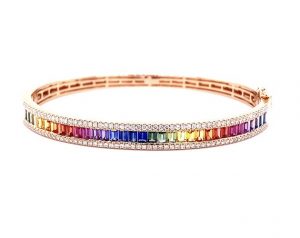 Look at this breathtaking piece; This diamond bangle is a genuine eye-catcher with two rows of finely placed diamonds along with a center sapphire layer. Center rainbow colors add seven charms to the established appealing beauty. Its rose gold color and multirow design make it even more eye-catching. Grace your wrist with this stunning collection and get up to 50% off.
Grand diamonds are the best place to buy diamonds online; the Halloween sale is the cherry on top. Shop now and get certified diamonds for sale for up to a 50% discount.
Classy Diamond Studs For Sale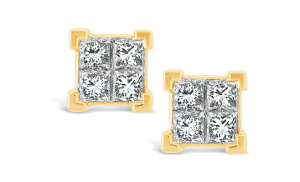 If you have classy and elegant taste, then these studs are the perfect fit for you. These four-prong yellow gold round brilliant diamond studs are excellent to go for everyday wear and light parties. These will compliment every outfit with a pinch of elegance. We are giving certified diamonds for the Halloween sale. Buy these beautiful diamond studs at a discount of up to 50%. 
Not only that, but you can also get loose diamonds on sale. Don't just sit and wait; grab these incredible offers today as we are the best place to buy loose certified diamonds.
Certified Rainbow Diamond Pendant Set for Sale
Grace every occasion with this beautiful, glittery, and shiny eternity pendant set. This beautiful multi-row eternity circle pendant has a center sapphire layer outlined by a diamond layer on both sides. These are beautifully hung on a gold chain which is adjustable from 45cms to 42 cm. If you are looking for something exciting and beautiful, then you are making a wise choice by buying this. Get this eye-pleasing piece of elegance on sale up to 50% off. 
Diamonds are eternal, no matter what the occasion is, and what's better than having them at a great Halloween sale of up to 50%. We are offering certified diamonds for sale, including categories of engagement rings, wedding rings, bracelets, studs, earrings, and pendants. You will not get only the available ones, but also you can customize them according to your taste. Take big advantage of this huge Halloween sale and make your loved ones droll over it. 
Read Our Latest Blogs