When it comes to symbolizing eternal love and commitment, few things can rival the timeless elegance of a diamond wedding ring. Diamonds have long been associated with romance, luxury, and durability, making them the perfect choice for couples embarking on a lifelong journey together. In this article, we will explore five exquisite diamond wedding ring designs, each offering its own unique charm and allure.
Factors to consider when buying diamond wedding rings:
When buying diamond wedding rings, there are several factors to consider to ensure you make an informed decision. Here are some important factors to keep in mind:
Budget: Determine your budget for the diamond wedding ring. This will help you narrow down your options and focus on rings within your price range.
Diamond quality: Pay attention to the 4Cs of diamonds: cut, color, clarity, and carat weight. The cut determines how well the diamond reflects light, color refers to the presence of any color in the diamond, clarity measures the presence of any flaws or inclusions, and carat weight indicates the size of the diamond. Each of these factors contributes to the overall quality and value of the diamond.
Diamond shape: Consider the shape of the diamond you prefer. Popular options include round, princess, cushion, emerald, and oval. Choose a shape that appeals to you and matches your partner's taste.
Metal choice: Decide on the metal for the ring band. Common choices include gold (yellow, white, or rose), platinum, and silver. Consider your personal preference, durability, and budget when selecting the metal.
Ring style: Determine the overall style and design of the ring. Consider whether you prefer a classic, vintage, or modern style. Think about any additional features such as diamond accents or intricate details that you might want.
Ring size: Ensure you know the correct ring size for your partner. You can either discreetly find out their size or opt for resizable rings.
Certification: Look for diamonds that come with a reputable diamond grading certificate from organizations like the Gemological Institute of America (GIA) or IGI. This certification provides assurance of the diamond's quality and authenticity.
Personalization: Consider adding personal touches to the ring, such as engraving a special message or adding birthstones or other gemstones that hold significance to you and your partner.
Reputable jeweler: Purchase the diamond wedding ring from a trusted and reputable jeweler who offers reliable customer service, warranties, and a return policy.
Here are some exquisite diamond wedding rings that you can consider buying:
1. WHITE GOLD 5MM MATTE WEDDING BAND WITH DIAGONAL LINE AND A DIAMOND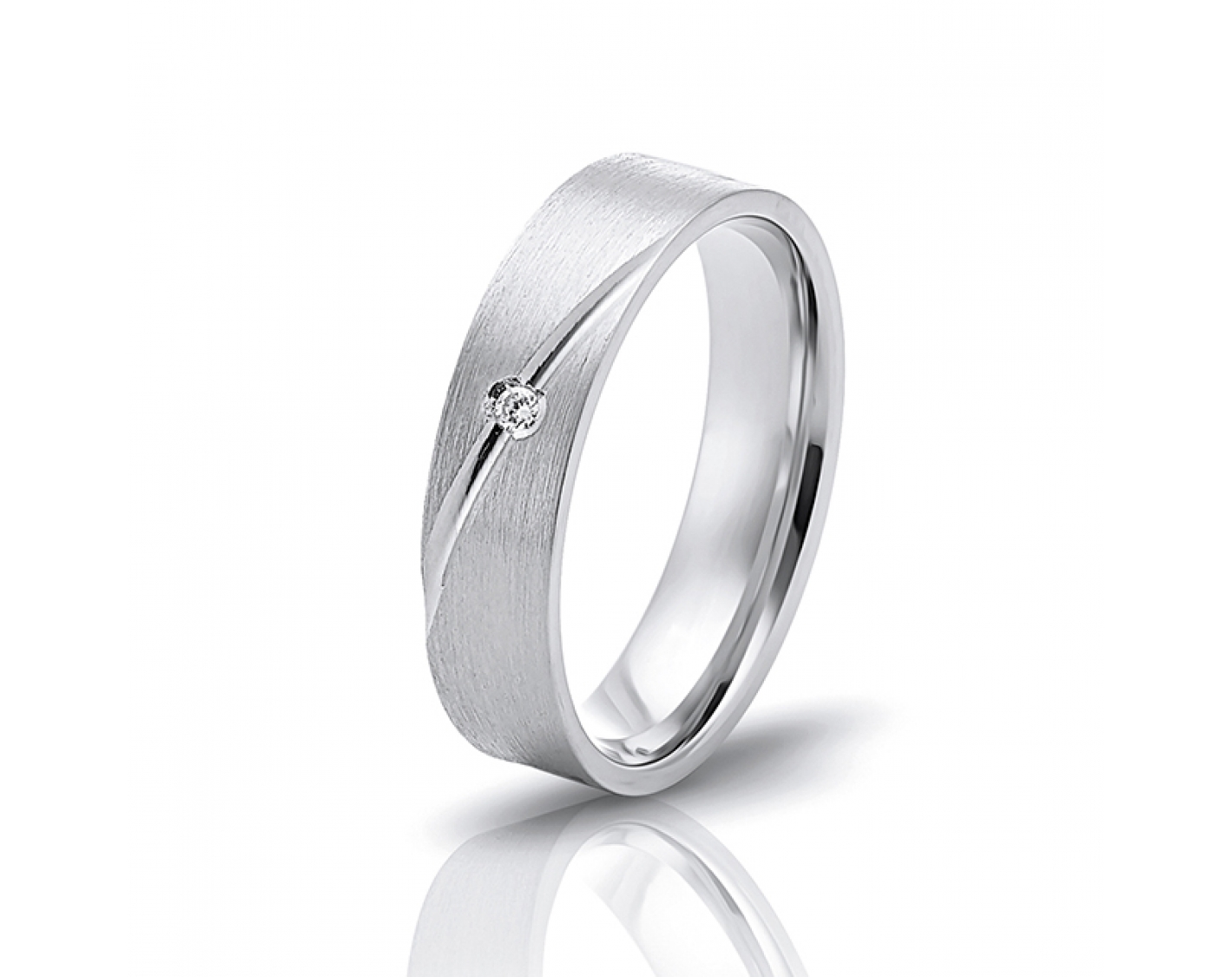 The first ring on our list exudes modern sophistication with its sleek design. Crafted from white gold, this 5mm matte wedding band showcases a subtle diagonal line that adds an intriguing touch to the overall aesthetic. Nestled within this line is a dazzling diamond, serving as a sparkling reminder of the unbreakable bond shared between two individuals. The combination of the matte finish and the diamond's brilliance creates a stunning contrast, making this ring a truly eye-catching piece.
2. DUAL-TONE 6MM TWO-TONED* MATTE WEDDING BAND WITH A DIAMOND LINE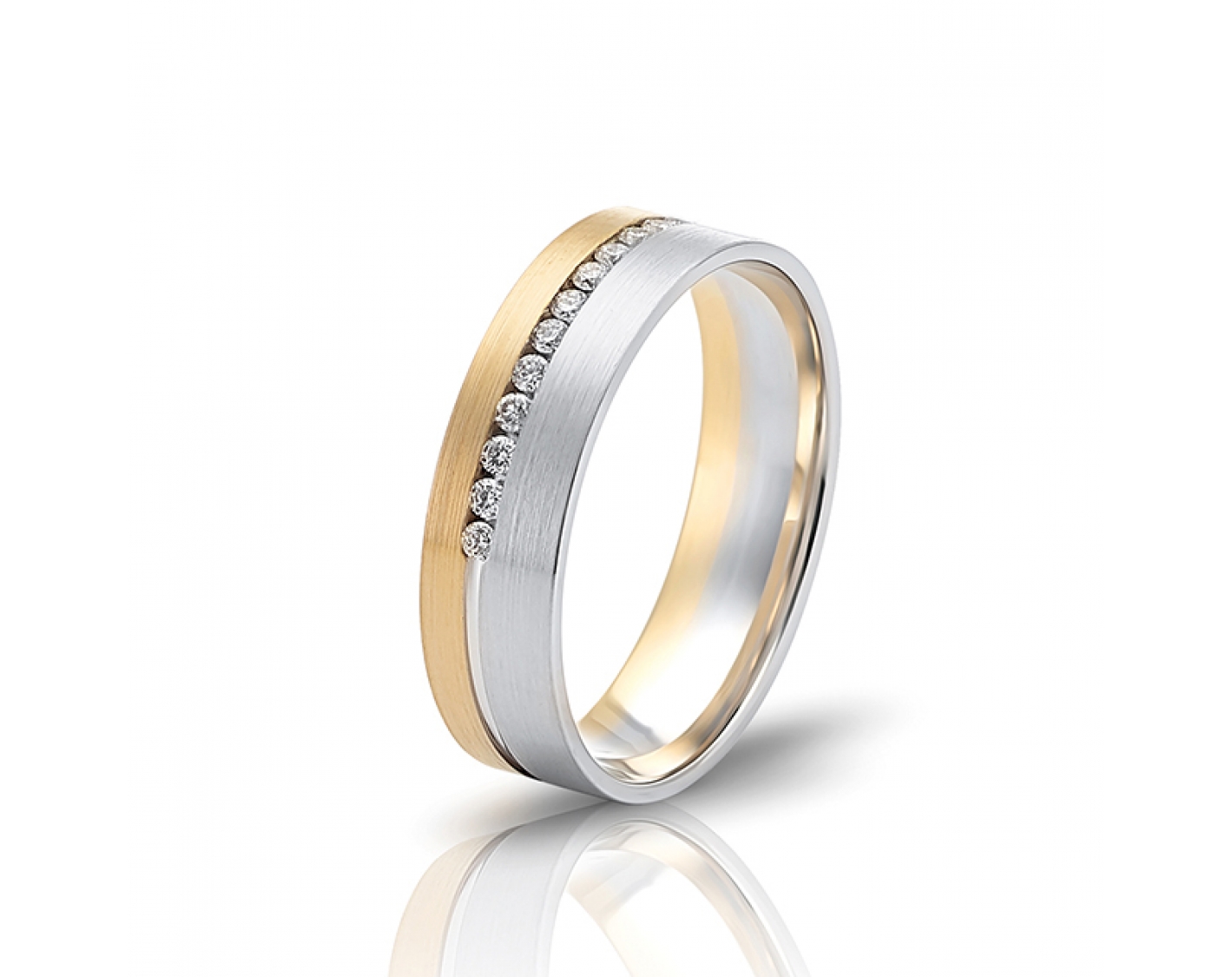 For those seeking a wedding ring that blends contemporary style with a touch of uniqueness, the dual-tone matte wedding band is an excellent choice. With its 6mm width and two-toned design, this ring effortlessly captures attention. The matte finish creates a smooth and sophisticated look, while a line of diamonds adds a hint of glamor. The contrasting tones of the ring symbolize the unity of two individuals coming together, making it a meaningful choice for any couple.
3. ROSE GOLD 5MM MATTE WEDDING BAND WITH WAVED SHINY LINE AND DIAMONDS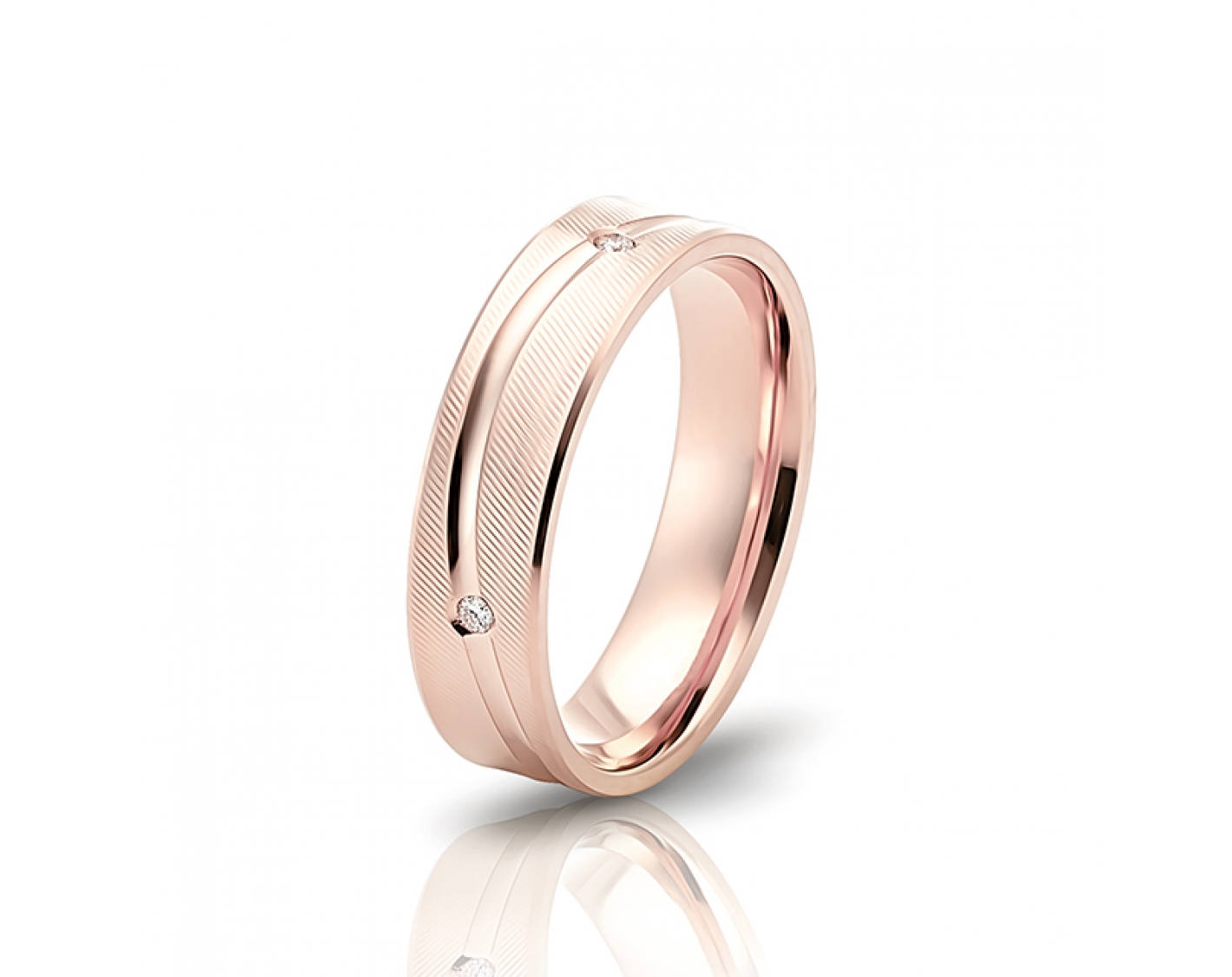 If you prefer a wedding ring that exudes warmth and romanticism, the rose gold matte band with a waved shiny line is an exquisite option. Crafted from lustrous rose gold, this 5mm ring features a matte finish that lends it a contemporary edge. The addition of a waved shiny line and carefully placed diamonds adds a touch of opulence and femininity. The interplay of the matte and shiny surfaces creates a mesmerizing visual effect, making this ring a true work of art.
4. WHITE GOLD 5MM FLAT WEDDING BAND WITH DIAMONDS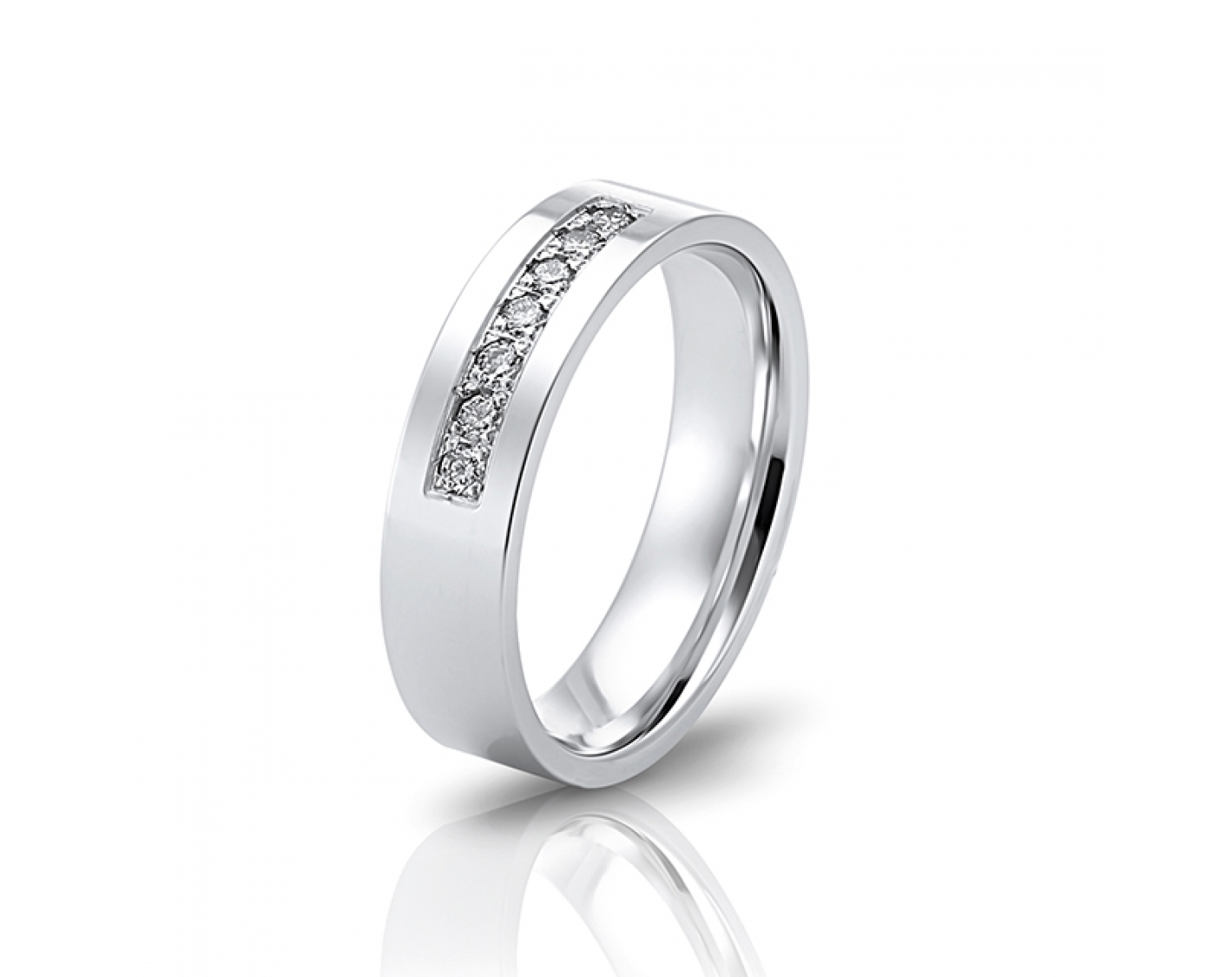 For those who appreciate classic elegance, the white gold flat wedding band with diamonds is a timeless choice. The 5mm width provides a substantial presence on the finger, while the white gold offers a clean and sophisticated backdrop. The diamonds are set along the band, creating a delicate and refined sparkle that catches the light with every movement. This ring exemplifies understated beauty, making it a perfect symbol of enduring love.
5. YELLOW GOLD 4.5MM TWO-TONED* MATTE HALF ETERNITY WEDDING BAND WITH A SHINY EDGE
Rounding out our list is the yellow gold matte half eternity wedding band with a shiny edge. This ring strikes a harmonious balance between classic and contemporary design elements. The 4.5mm width offers a comfortable fit, while the combination of matte and shiny surfaces adds visual interest. The half eternity design, adorned with diamonds, symbolizes an everlasting commitment. The warm glow of the yellow gold enhances the allure of this ring, making it a captivating choice for those seeking a touch of sophistication.
Diamond wedding rings and even engagement rings that you can buy online, embody the everlasting beauty and commitment shared between two individuals. The five designs highlighted here each possess their own unique charm, from sleek and modern to timeless and classic. Whether you prefer the simplicity of a single diamond or the intricate detailing of multiple stones, these rings offer a stunning representation of love and devotion. As you embark on your journey together, let the infinite sparkle of a diamond wedding ring symbolize the eternal nature of your union.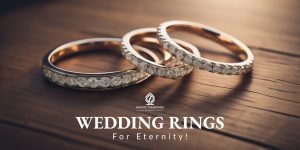 Wedding rings for eternity!
Grand Diamonds offers an exceptional range of diamond wedding rings, making us a go-to destination for couples seeking timeless elegance. With our exclusive selection, Grand Diamonds provides a variety of exquisite designs crafted with precision and meticulous attention to detail. Our collection includes stunning loose diamonds, allowing customers to customize their rings to perfection. Moreover, Grand Diamonds goes beyond wedding rings, offering an extensive array of diamond earrings, ensuring that customers can find the perfect complement to their special occasion. With our commitment to quality and exceptional craftsmanship, Grand Diamonds is the ideal choice for those looking to buy diamond wedding rings or diamond earrings that truly make a statement.