Buying wedding rings is a significant and exciting moment for couples preparing to get married. It symbolizes love and commitment, representing the bond between two people as they embark on a lifetime journey together. Couples go for traditional bands or something more unique and personal, such as custom-designed rings. 
Trying on different styles and making a final decision can be exhilarating, as couples anticipate the moment they will exchange their rings on their wedding day.
Another source of excitement is the sentimental value of owning a wedding ring. They are also often passed down from generation to generation, becoming family heirlooms that are treasured for years to come. 
Overall, buying wedding rings is a unique and exciting time for couples. Whether selecting a classic or unique design, the excitement of purchasing wedding rings is an unforgettable experience.
Before we begin to talk about how buying diamond wedding rings online can be a hassle-free and smooth experience, we need to look into some myths associated with the online buying of wedding rings:
Myth #1: You have to spend a LOT!!
One of the most widespread misconceptions of the day is that men must pay two months' worth of wages for a wedding ring. This idea was developed decades ago to boost consumer spending and spur expansion in the diamond sector.
While in the past, this may have been the "rule," things have changed. Finding the ideal ring that she will adore and that is within your spending limit is additionally crucial.
Myth #2:Customized rings are always EXPENSIVE!
Custom-made wedding rings are relatively inexpensive. With more customized features and greater control over the style and design of your wedding ring, you may create a unique ring based on your specific budget. You have complete control over the budget, design, stone, metal, and setting. You get EXACTLY what you want at your convenience. 
    Myth #3:It should be a surprise:
 Couples are purchasing wedding rings together more often than ever. Although it's traditional for guys to go shopping alone and surprise their fiancée, it's more convenient to go shopping with a companion. Couples can work together to create a unique wedding ring when looking for diamond rings. You won't have to worry about her being dissatisfied with the ring when you propose because she can choose exactly what she wants.
Myth #4: Get the BIGGER diamond:
People tend to think that bigger is better in most situations in life. The same holds when selecting a diamond. In reality, there are a lot of factors to take into account while buying a diamond. A diamond's quality, cut, and clarity significantly impact whether it dazzles or grabs people's attention.
Myth #5: Your wedding ring should look a certain way:
Without a doubt! Wedding rings can be made in any style you like. Any custom design you desire can be made. You get to pick the kind of metal, diamond cut, ring type, and style you like. All that matters is that your future spouse finds it attractive.
Following are some tips to have a smooth experience while buying a wedding ring online:
Discuss the budget with your partner: 
What works best for you is the most crucial factor. Making essential selections on your behalf in advance is positively impacted by having a realistic financial range. Additionally, if you're buying a wedding ring, consider what design, dimension, or cut your partner would like. Having these discussions early is essential to enhance your chances of getting precisely what you want because there are various costs and styles.
The good news is that everyone can understand this; you don't need to be a gemologist. In the end, you purchase a piece of history and the most significant ring you will ever own. Therefore your feelings are just as essential as anything else. Your decision is as distinctive as you are. As much as anything else, this is an emotional choice. 
Check out the online reviews:

 
Thank goodness for the era of online reviews. A quick Google search and internet reviews can frequently provide more information about a company's history, customer service, and track record than anything they will admit. Use your best judgment in this situation because a single unfavorable internet review can unfairly portray a firm negatively, just as a single, dazzlingly great review can do the same. In general, patterns start to appear. Take a look at several retailers and exercise caution. In most cases, the majority is suitable. Observe the responses on their social media pages (Facebook, Instagram, etc.).
Reach out to customer service:
Feel free to ask them about the potential vendor if you have any queries. No inquiry is pointless or a waste of time because you are a valued customer. If, for any reason, you feel rushed or devalued or that the responses you receive do not satisfy you, please find another employer. Ultimately, you want to buy something that will make you happy for many years. It would help if you accepted all assistance available to help you choose wisely.
Go for certified diamonds:
When buying diamonds online, ensure they are certified and carefully analyzed. The certificate proves that the diamonds are either 100% natural, lab-grown, or enhanced or that their quality (color, clarity, and frequently cut) fits a predetermined level.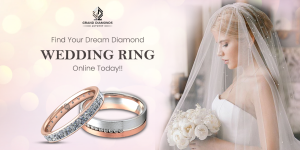 Find Your Dream Diamond Wedding Ring Online Today!!
 With a trusted Jeweler like Grand Diamonds, every decision seems straightforward. If you're still looking for a place to get wedding rings, You've come to the correct location if you still need to find the perfect ring. Grand Diamonds offers many different wedding band designs, ranging from minimal to elaborate. Not only wedding bands but also fantastic discounts on various jewelry items, including earrings and engagement rings. We also offer free engraving, resizing, lifetime warranties, and free delivery wherever in the world to ensure that you are completely covered. Therefore, don't hesitate to contact our experts to receive the most incredible jewelry prices.