Mother's Day is just around the corner, and what better way to show your love and appreciation for the most important woman in your life than with a one-of-a-kind ring designed by you? Imagine the joy and happiness on your mom's face when she sees the beautiful ring you have created just for her. It's a feeling that will warm her heart and make her feel incredibly special.
Designing a ring online for your mom may seem daunting, but with the proper guidance, you can turn your sketch into a stunning piece of jewelry she'll treasure forever. In this step-by-step guide, we'll take you through the process of online ring design and show you how to bring your ideas to life. From selecting the perfect gemstone to customizing the band, we'll cover everything you need to know to create a ring that sparkles with love.
So get ready to channel your inner designer and make your mom feel like the queen she is. This Mother's Day, give her a gift that's as unique and special as she is.
Let's get started
Step 1: Choose a reliable jeweler ( with terrific reviews):
Designing a ring for your mom on Mother's Day is a special moment, and you want to ensure it's perfect. That's why choosing a reliable jeweler online is crucial! Don't go with just any old site that promises you the world. Instead, find a trustworthy jeweler with high-rated reviews who will work with you to design a ring as unique as your mom's. With the right jeweler, you can rest assured that your ring will be crafted with care and precision. So, make your mom's day with a ring that will show her how much she means to you!
Step 2: Choose your ring setting:
When selecting a ring setting for your mother's unique Mother's Day ring, there are a few essential things to keep in mind. Firstly, consider your mother's style and taste. Does she prefer simple and classic designs or bold and statement pieces? This will help you choose the right setting for her.
Next, consider the type of stone you want to use and how it will be secured in the setting. Will it be a prong setting or a bezel setting? Each has its advantages, so do your research.
Also, keep in mind the durability of the setting. If your mom is active or uses her hands a lot, you'll want to choose a strong and secure setting.
Finally, make sure the setting complements the stone and fits within your budget. With these factors in mind, you can design a beautiful and meaningful ring that your mom will treasure forever.
Step 3: Choose a diamond shape:
When selecting a diamond shape for your mother's unique Mother's Day ring, there are a few essential things to keep in mind. Firstly, consider your mother's style and taste. Does she prefer a classic round diamond or a unique shape such as a pear or marquise? Then think about the size and cut of the diamond. A larger diamond may have a higher carat weight, but choosing a diamond with a good cut is essential for optimal sparkle and brilliance.
Also, consider the setting and how it will complement the diamond shape. Some shapes, such as princess or cushion cuts, may look better in specific settings, such as a halo or solitaire. Also, make sure the diamond fits within your budget. While diamonds can be expensive, there are ways to find a beautiful diamond that fits your price range.
By keeping these factors in mind, you can select a diamond shape that will make your mother's unique Mother's Day ring truly shine.
Step 4: Choose a metal for the ring:
The metal type you choose for a ring designed for your mother on Mother's Day can significantly impact the overall look and feel of the piece, particularly if your mother has a specific style preference. Beyond aesthetics, different metals have varying levels of durability and maintenance requirements, making it essential to choose a metal that can withstand everyday use and is easy for your mother to care for. Ultimately, selecting the suitable metal ensures that your Mother's Day gift is visually appealing and practical for your mother's everyday life, providing her with a lasting reminder of your love and appreciation.
Step 5: Review the overall look of the ring:
When designing a ring for your mother, it is essential to review the overall look of the design to ensure it is both elegant and meaningful. Consider the style and personality of your mother to determine the appropriate design elements. Review the size and shape of the stone, the type of metal, and any additional embellishments or engravings that may enhance the ring's beauty. It is also essential to consider the practicality and comfort of the ring. Ensure it is proportionate to your mother's finger size and will not snag on clothing or other objects. Considering these factors will ensure a beautiful and meaningful design for your mother.
Step 6: Place your order:
Finally, place your order for the designed ring. This whole process need not be very long if you have a clear picture of what you seek for your mother. Knowing her style and comfort will save you a good deal of time.
Start planning early so you have time for all sorts of reconsiderations and changes.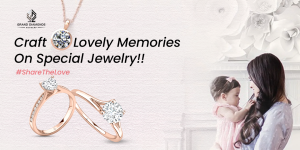 Craft lovely Memories On Special Jewelry!!
Grand Diamonds is an excellent choice when designing the perfect diamond ring for your mother this Mother's Day. Their online diamond ring design platform allows you to select the diamond shape, cut, clarity, and color, as well as the setting style and metal type, to create a unique and personalized ring that your mother will cherish for years.
In addition to diamond rings, Grand Diamonds also offers a wide range of diamond jewelry pieces that make unique Mother's Day gifts in addition to diamond rings. From diamond pendants and earrings to tennis bracelets and stackable bands, there is something for every mother's style and taste. With their commitment to quality and exceptional customer service, Grand Diamonds is the perfect choice for all your diamond gifting needs.