All set to purpose your lady love on Valentine's Day? There's no doubt that the 14th of February is a magical day for every couple. The sweet boyfriends give their sweethearts some flowers, chocolate, and beautiful diamond jewelry to present their devotion.
Why Should You Choose To Propose On Valentine's Day?
14th February is the time for lovers, and everything will work in your favor, creating a romantic atmosphere.
Every year this day represents the renewal of a promise, and it will never go unnoticed. Giving a ring on Valentine's Day is one of the most romantic gestures you can ever do. It is the right time to get engaged with your lady love, so buy a diamond engagement ring from Grand Diamonds.
Getting engaged on Valentine's Day is like giving yourself positive energy. Proposing your lady love is like a choral song in which you are the soloist.
So, take advantage of this magical time and run to choose a ring that is best for your love.
Grand Diamond's engagement diamond rings beautifully represent your unique and remarkable love for each other. Explore our timeless diamond engagement rings at up to 50% off making a perfect Valentine's Day proposal.
We are rounding up the prettiest, most romantic, unique women's diamond engagement rings to propose with this Valentine's Day.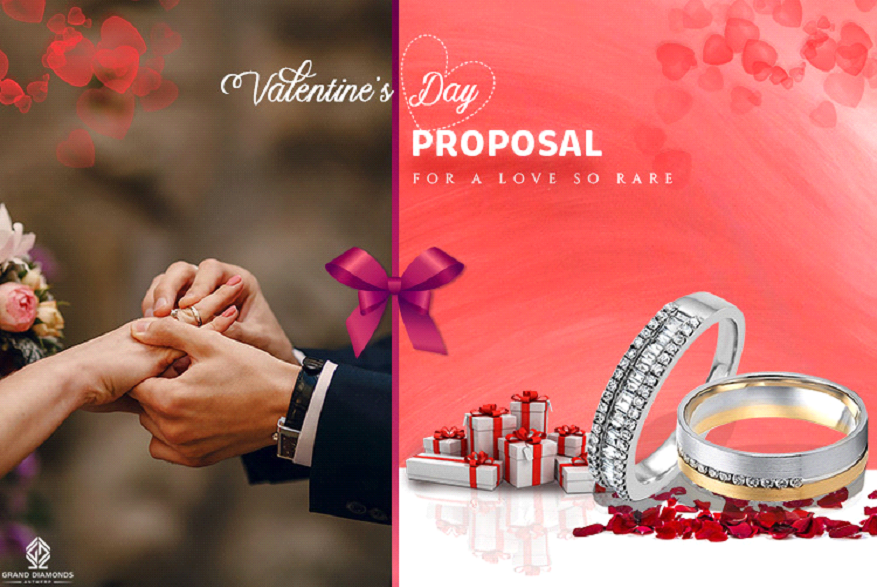 Here are seven diamond engagement rings settings for a perfect valentine's day proposal:
Solitaire  Rings 
A solitaire engagement ring encompasses a single diamond and it enhances the natural beauty and brilliance.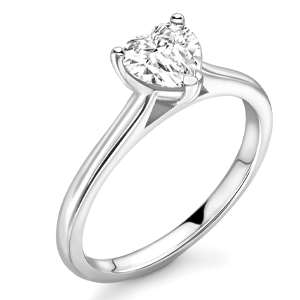 Our collection of iconic solitaire rings will give sparkles at every angle.
Explore our versatile solitaire ring style featuring from Emerald Cut to Marquise-Cut diamonds, and unique white metal solitaire diamond rings to rose gold solitaire diamond rings. If you want to give her a simple and elegant ring, then the solitaire ring is simply perfect.
Are you confused about the ring size? Grand Diamonds will help you to find the perfect ring size that reflects your style and personality.
Pave Rings 
Pave engagement ring features tiny diamonds around the band, giving the appearance of a solid diamond surface.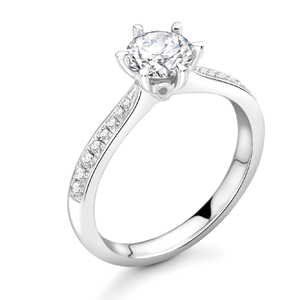 Grand Diamond pave engagement rings are specifically designed to highlight the center stone.
We carefully place the diamonds into the holes to form tiny beads or mini-prongs around each diamond. Pave engagement rings highlight the center stones and magnify the ring's overall brilliance with side stones.
Our collection of Pave engagement rings can be designed in various ways from modern to vintage style.
Pave Ring is glamorous and luxurious, but also so sweet and pretty, we couldn't see ourselves saying no to this one! Get Pave Rings from Grand Diamonds this Valentine's Day at exclusive offers.
Channel  Rings 
We're kicking things off with our beautiful and stunning Channel rings that would be perfect for a romantic Valentine's Day proposal.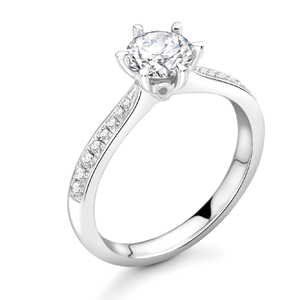 The row of small stones is set in a channel within the band. The channel rings add extra sparkle in a chic and contemporary way.
Grand Diamond's channel rings securely hold the diamonds and protect them from outside forces. Our channel rings also enhance the ring's sparkle with side stones along with the band.
Such perfection is destined for great emotions. Propose your lady love on Valentine's Day with our Channel Engagement Rings.
Side Stone Rings 
Oh! Our Side Stone Rings are so glamorous, and we have an elegant and stunning collection.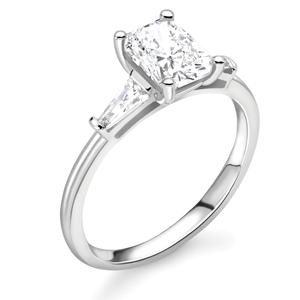 Our Side Stone engagement rings feature complementing diamonds and gemstones that bring out the excellence of the center stone.
Glamorous side stone diamond rings can never go out of style and trend. Our Side Stone Engagement Ring is extremely simple, yet it can make her look sensational.
Grand Diamonds use their creativity to craft designs that provide uniqueness. Our side-stone ring collection is so modern yet so classic.
Baguette Cuts are perhaps one of the biggest trends in engagement rings right now. Surprise your girlfriend with a side stone engagement ring from Grand Diamonds. She will definitely say YES!
Three Stone Rings 
There's something so romantic about Three Stone Engagement Rings with beautiful, carefully-chosen diamonds.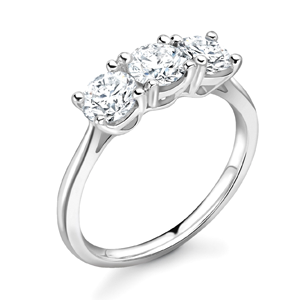 Our three-stone rings are set closely together to symbolize the couple's past, present, and future.
Our carefully chosen diamonds maximize the sparkle and brilliance of three stone rings. We carefully craft it to enhance the appearance of the center stone when paired properly with side stones.
Grand Diamonds also lets you customize your rings according to your girlfriend's choices and preferences. Simplicity fused with so much meaning.
Halo Engagement Rings 
If you're planning to propose to someone on Valentine's Day who has contemporary taste, then a Halo ring is the one.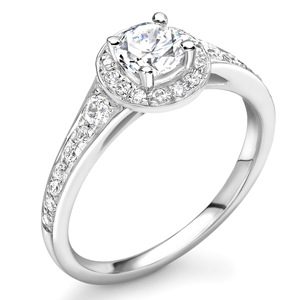 Halo rings are a great option to boost the appearance of a small diamond as it also increases the overall sparkles. Halo rings strike a unique and stylish balance between modern and contemporary looks.
Our collection of Halo Rings enhances the overall sparkles due to the surrounding stones.
Get our Halo Rings with up to 50% off and plan a perfect proposal on Valentine's Day.
Vintage Engagement Rings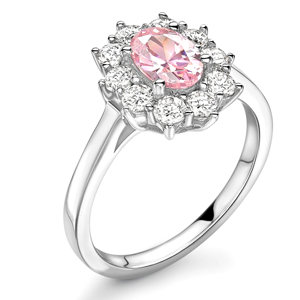 Vintage rings reflect the beauty and passion of antique styles. Grand Diamond's vintage rings collection is inspired by an unforgettable fashion from history.
As timeless, unique, and pure as your love is, our collection of vintage rings is inspired by romantic eras of the past. Our one-of-a-kind vintage rings are a classy choice that she'll treasure forever.
We have vintage engagement rings that are designed with inspiration from the Victorian, Edwardian, or Art Deco time periods.
Conclusion
Love is in the air and so is our platform. We would love to enthrall you with our striking and beautiful engagement ring collection which is timeless and absolutely elegant. Our collection is a mixture of glamour, and opulence, and is designed for exactly how your partner would want to have it.
Grand Diamonds offers you different kinds of metal like Rose Gold, Yellow Gold, White Gold, and Platinum. Each diamond design has a different element to it as our collection is enchanting and will mesmerize your partner for sure.
For all those who think Valentine's Day could be the right day to kneel in front of your lady love, Grand Diamonds has prepared a selection of the most stylish and unique rings which are perfect for the proposal.
Read our latest blogs