Proposing to your significant other is one of your life's most significant and memorable moments, and finding the perfect engagement ring is crucial. It's essential to take time and effort to select the perfect ring that will symbolize your love and commitment to each other. And what better way to propose than on Easter, a day that represents new beginnings and fresh starts? This guide will discuss everything you need to know about choosing the perfect diamond engagement ring for your Easter proposal.
Easter proposals are special. It's your declaration of your love to your beloved and the world. It's pretty intimate and sentimental, but people nowadays have made everything about a status symbol and a prestige mark. Hence there are a series of general misconceptions about women's diamond engagement rings. 
Let's dive into some of the popular ones: 
#1. It has to be a surprise!
While a surprise engagement is a wonderfully romantic gesture, whether planned or not, giving her a ring purchased without much thought about what she would like in rings is asking for trouble. Undoubtedly, in a perfect world, a woman receives the engagement ring of her dreams along with a fairytale proposal that leaves her speechless. He buys her a round diamond when she wants a princess cut, and so on. The setting is yellow gold when she likes platinum. The truth is, give up on the element of surprise and learn what she likes before you make your big surprise. 
#2. It HAS to be extremely expensive:
There is no need to save the notional amount of "three months' gross salary," which is what a typical engagement ring costs, even though there is no getting past the fact that diamonds are relatively expensive. There is no predetermined amount one needs to or should spend on a ring. A man may opt to save a tiny sum each month for a long time until he meets "the one," or a couple may voluntarily decide to spend a reasonable sum on a "starter" engagement ring in the hopes of upgrading in the future. Stones come in various forms and sizes, not to mention prices, and these days everything goes. It's crucial to always be in love with your engagement ring.
#3. The stone has to be enormous:
At an early age, a child seeks the most considerable presents, toys, and portions, as though bigger is always better. We were taught that the bigger the stone, the better, even if this is untrue in the field of diamonds. While a stone's clarity, cut, and color are among its other characteristics, as was previously said, a diamond's size only accounts for about 25% of its entire appeal. Instead of choosing the largest stone simply because it is the largest, go for the most excellent quality stone closest to your preferred size and price range.
#4. Round is the best shape of all.
Even if you don't know much about diamonds, you probably already know that the round diamond is one of the most common diamond shapes. Many possibilities might be better for you, even though the round brilliant diamond may be the most well-known in terms of brilliance. Also, round diamond shapes are typically more expensive if you're considering buying a colored diamond because it's harder for a diamond polisher to optimize the color in that shape. 
Emerald, oval, heart, pear, asscher, marquise, princess, radiant, and cushion are distinctive forms with unique flavors and personalities. 
#5. Online engagement rings are not good enough:
One common misconception about buying engagement rings online is that the quality of the ring will be inferior compared to buying it from a brick-and-mortar jewelry store. However, this is only sometimes true. Many reputable online jewelers offer high-quality diamonds and settings; some even provide more detailed information about the diamond's characteristics than physical stores. Additionally, buying online often offers a broader selection of styles and sizes and competitive pricing. Another misconception is that buying online is risky and unreliable. Still, with proper research and due diligence, it is possible to find a trustworthy online jeweler with positive customer reviews and secure payment options.
Now that we are thorough with the most common misconceptions regarding engagement rings, let's talk about the pointers that, if you factor in, you'll probably land the engagement ring of your dream:
Budget wisely:

Set a budget for the ring before you start shopping, and stick to it. You don't want to overspend and have buyer's remorse later. Consider the 4 Cs (cut, color, clarity, and carat weight) and prioritize what matters most to you.
Do your research:

Before shopping, research different styles and designs to determine what you like and what fits your partner's taste. Look for inspiration on social media, online jewelry stores, and magazines.
Know your partner's preferences:

Consider your partner's style and lifestyle when choosing the ring. Do they prefer classic or trendy designs? Do they work with their hands or have an active lifestyle that might require a more durable ring? Please take note of any subtle hints they might have dropped about their dream ring.
Choose a reputable jeweler:

Select a jeweler with a good reputation, who can provide a certificate of authenticity, and who has a good return policy in case you need to make changes. Read reviews from past customers to ensure they provide quality products and services.
Plan a unique proposal:

Once you have the ring, plan a proposal that suits your partner's personality and preferences. This can be as simple or elaborate as you like, but make sure it's memorable and unique for your partner. Consider enlisting the help of friends or family to create a unique and meaningful proposal.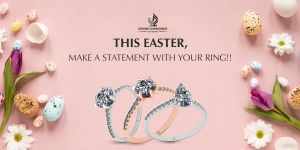 This Easter, Make a Statement with Your Ring!!
Grand Diamonds is a jewelry brand with a reputation for crafting exquisite jewelry, especially women's engagement rings. With an impressive selection of engagement rings, this brand can make your Easter proposal a memory for a lifetime. The rings are meticulously designed, using the finest materials and expert craftsmanship to create stunning pieces that will last forever.
One of the unique features of Grand Diamonds is that we offer certified loose diamonds, allowing you to create a genuinely bespoke engagement ring. The diamonds come with certification from the Gemological Institute of America (GIA), ensuring their authenticity and quality. This means you can choose the perfect diamond for your partner and create a unique ring as unique as your love.
Grand Diamonds is committed to providing our customers with exceptional service. We offer a range of facilities to make buying an engagement ring as easy and stress-free as possible. We have an online store where you can browse their rings and loose diamonds collection and a team of expert consultants who can guide you through selecting the perfect ring.
In addition to engagement rings, Grand Diamonds also offers a range of other jewelry, including necklaces, bracelets, and earrings, all crafted with the same attention to detail and quality materials.
 With Grand Diamonds, you can be sure that you are getting a piece of jewelry that is truly exceptional and will be treasured for years to come.