Spring is in the air, and with it comes the celebration of Easter. For many, this time of year marks a time of renewal and new beginnings, making it the perfect time to celebrate your love with a beautiful diamond ring. Whether you're looking for something classic and traditional or something more unique and modern, there are plenty of options.  
Diamond rings are a timeless and classic gift for any occasion, including Easter. They symbolize strength, resilience, and beauty, making them a perfect representation of the Easter story. Diamond rings are also high-quality and durable, ensuring they last a lifetime. Giving a diamond ring as an Easter gift shows how much you care and creates a lasting memory for the recipient. It's the perfect way to celebrate this particular time of year.
If you are still wondering if Diamond rings will be suitable Easter gifts, here are some reasons why Diamond rings will make the perfect Easter gift:
Symbolism:

Easter is a time of new beginnings, renewal, and hope. The same could be said of a diamond ring. Diamonds are formed deep within the earth, under immense pressure and heat, and they emerge from the earth as sparkling, brilliant gems. Like the Easter story, they represent strength, resilience, and beauty. A diamond ring symbolizes your love and commitment and is the perfect way to celebrate this time of year.
Exceptional quality:

Diamonds are the highest quality stones, often seen as a symbol of luxury and refinement. Giving a diamond ring as an Easter gift shows that you value the recipient and are willing to invest in a gift that will last a lifetime. Diamonds are incredibly durable and timeless and never go out of style. Giving a diamond ring gives you a gift that will be treasured for generations
 Versatility:

Diamond rings come in various styles, from classic solitaires to elaborate designs. There's a diamond ring for everyone, whether the recipient prefers a simple and elegant look or something more extravagant. You can choose a ring that reflects the receiver's personality and style, making it a truly unique and meaningful gift.
Sentimental Value:

Jewelry is often given as a gift to mark a special occasion or moment, and Easter is no exception. By giving a diamond ring, you're creating a lasting memory for the recipient. Every time they wear the ring, they'll be reminded of the love and affection that you share. A diamond ring is a gift meant to be cherished and passed down through the generations.
Now that you are accustomed to the symbolism of diamond rings and the sentimental values it holds, here is a list of diamond rings that will make excellent and thoughtful Easter Gifts:
There's nothing more classic than a solitaire diamond ring. This style has been a favorite of brides for generations, and for a good reason. The simple, elegant design allows the beauty of the diamond to shine genuinely. This timeless style is perfect for those who want a ring that will never go out of fashion. WHITE GOLD 4 PRONGS SOLITAIRE ROUND CUT DIAMOND Ring will make an exceptional Easter gift. The ring is stunningly beautiful, with its classic design and high-quality materials. The sparkling round-cut diamond is sure to catch the eye of anyone who sees it, and the white gold band adds a touch of elegance and sophistication.
A three-stone diamond ring is an excellent option for those wanting something more unique. This style features a center diamond flanked by two smaller diamonds on either side. This design is often used to symbolize a relationship's past, present, and future. With its classic elegance and symbolic meaning, this style will surely be a hit with anyone looking for a stand-out ring. ROSE GOLD OVAL CUT TRILOGY DIAMOND Ring is a beautiful and meaningful Easter gift that will be cherished forever. Its timeless design, the symbolic trilogy of diamonds, and the romantic rose gold color make it the perfect choice for someone who deserves a beautiful and thoughtful gift.
If you want a ring that makes a statement, the halo diamond ring is the way to go. This style features a center diamond surrounded by a ring of smaller diamonds. This creates a stunning, sparkling effect that will catch the eye. The halo design is also a great way to make a smaller center diamond appear more prominent, making it a popular choice for those on a budget. 
YELLOW GOLD HALO DIAMOND RING is an excellent choice for someone who appreciates elegance, meaning, and symbolism in their jewelry. The yellow gold band is associated with warmth, joy, and happiness, all key themes of the Easter holiday. The color is bright and vibrant, making it a perfect representation of springtime and the renewal that comes with it. The hue of yellow gold will remind the recipient of the new beginnings associated with Easter and the beauty and joy that comes with it.
For those who love the look of vintage jewelry, a vintage diamond ring is a perfect choice. These rings often feature intricate designs and unique details reminiscent of a bygone era. A vintage diamond ring is sure to make a statement. WHITE GOLD VINTAGE HALO OVAL CUT DIAMOND RING is a timeless and elegant choice, exuding both beauty and sophistication. This design is classic and is perfect for someone who loves vintage style, making it a perfect representation of the history and tradition of Easter. The halo design of the ring adds to its elegance, making it a piece that will be cherished for years to come.
Moreover, the vintage style of the ring is perfect for the Easter holiday, as it represents tradition, family, and heritage. The antique-looking ring is ideal for someone who values history and tradition, and it will serve as a beautiful reminder of the beauty of the past.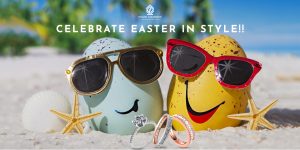 Celebrate Easter in Style!!
Grand Diamonds is a well-known jewelry brand with an impressive diamond ring collection that makes perfect Easter gifts. The brand's exquisite diamond rings are designed with precision and feature stunning diamonds that will surprise you. Grand Diamonds understands the importance of giving the perfect gift, and their diamond rings are guaranteed to make your loved one feel special.
In addition to their diamond rings, Grand Diamonds offers an impressive collection of certified loose diamonds. These loose diamonds are of the highest quality and are certified by industry experts. Customers love the brand's online store for its quality and prompt delivery. The user-friendly interface of their website makes it easy to browse their vast jewelry collection, select the perfect piece, and have it delivered to your doorstep.
The certified loose diamonds offered by Grand Diamonds are available for purchase online. Customers can choose from various carats, clarity, and color grades, ensuring they find the perfect diamond. The brand offers a variety of shapes, including round, princess, emerald, and oval, giving customers the flexibility to choose the perfect diamond for their jewelry piece.
Grand Diamonds is a jewelry brand that understands the importance of quality and customer satisfaction. Their impressive collection of diamond rings and certified loose diamonds online will leave a lasting impression on anyone who receives them. Their online store provides customers a hassle-free shopping experience, making it easy to find and purchase the perfect piece of jewelry.