Diamond Earrings are Women's best friend (after diamonds); they style them daily. However, finding the ideal set of earrings is challenging, and it becomes more difficult when face shape comes into play.
So, discover some helpful advice on how to Buy diamond earrings online according to your beautiful face cut for daily wear in this article.
Your Face Shape and Earrings have a strong connection.
How? Let's discover together. Are you someone who is fascinated with earrings?
Start by knowing your Face Shape first.
The right earrings may instantly transform your appearance and make you feel fabulous. When worn correctly, earrings may highlight your most fantastic features and provide an ensemble color and individuality.
A quick tip when you visit stores to Buy diamond earrings online is to select earrings that go well with the features of your face. Learning which styles are ideal for your face shape is the best approach to choosing earrings.
Consider how to balance it while considering which earrings will best suit your facial shape. One easy method to identify your face shape is by using soap or lipstick to draw the contours of your face to identify its natural shape(this is merely a suggestion; there are no set rules! If you're starting to fall in love with earrings, this is a great place to start).
The five primary facial forms are Rectangle, Oval, Round, Diamond, and Heart.
There are countless styles of earrings available, each with a particular personality. The most widely shopped are these:
Hoop earrings
Stud earrings
Ear threaders
Pendant earrings
Ear cuffs
Therefore, whether you select earrings for daily use or a formal occasion, you must ensure that the earring style is suitable for your face cut.
DIAMOND EARRINGS THAT A PERSON WITH FOLLOWING FACE CUTS SHOULD CHOOSE
As the name implies, round faces are narrow at the forehead and jawline and broader at the cheekbones. Your entire face assumes a circular shape. Long earrings with dangling or teardrop shapes look best on this face type. They help in lengthening the face. Your best option is to wear long, slender earrings.
The facial silhouette is usually the primary goal for people with round faces. Avoiding rounder earrings when buying diamond earrings online will help you achieve a stunning look and concentrate on long, dangling shapes to give the appearance of extra length.
For rectangle faces, practically anything small is appropriate. If you wish to get a set of earrings that will visually enhance your jawlines and make your face lines appear more prominent, try to avoid anything too lengthy or broad. By bringing attention to the cheekbones, these earrings prevent the face from seeming overly lengthy. There are many options to consider in terms of stud earrings and short earrings. When buying diamond earrings online for a Rectangular face, choose a set of stunning halo studs studded with gems or a pair of outrageous diamond halos. Even cluster studs, such as periwinkle and primrose, look fantastic on rectangular faces.
You are fortunate to have an oval face shape because almost every style of earrings looks beautiful on an oval face.    One won't have to pay attention to the cuts of diamonds and other gems because they all look fantastic on an oval face. Feel free to browse the long and short, delicate and garish, basic and complicated earrings. Your face can style everything perfectly well. So, don't limit yourself to studs or drops; try different medium-sized styles, such as hoops.
When you Buy diamond earrings online, you will come across a plethora of earrings for oval faces. Marquis cut studs are an excellent choice and are in a unique trend these days. Other than that, medium-sized cushion-cut drop dangler earrings also look amazing to Oval Face. If you wish for something more elegant, you can go with halo-shaped danglers. Pear-shaped diamond earrings look more appealing on an oval face than most other jewelry.
You require earrings with heart faces to balance out the heart shape of your face. If you are not careful when choosing earrings, you could select a set that makes your face look disproportionate. This is easily possible if the style and shape are off. On a face with a heart shape, triangle diamond cuts look best. Due to their likeness to the contour of the face, they somewhat balance the shape. An additional excellent suggestion is pear-shaped diamonds.
When you decide to Buy diamond earrings online, you can also consider wearing earrings with a broad bottom if you are someone who has a Heart-shaped face. The flat bottom highlights your delicate jawline rather than detracting from it. Pear-shaped studs, short drops, triangle-shaped semi-studs, halo drops, and linear drops are all highly recommended for faces with a heart-shaped face shape.
What earrings should someone wear if they wear glasses?
If you wear spectacles, either tiny earrings or gold studs with diamonds are the best options for earrings. Long pendants could be problematic. However, tiny earrings are far from ordinary.
Should a person who plans to gift earrings also consider Face Bone Shape?
Another important factor to consider when purchasing a woman's earrings(especially studs) is her bone shape. It is advisable to wear earrings with a smaller carat size and a simpler, flatter shape if you have a particularly delicate bone structure. Something small would disappear when she smiles, especially if you have a more obvious bone structure.
At last, if you're shopping for someone with a broader bone structure, you should choose earrings that are heavier and greater in carat size. When purchasing earrings, remember that earrings should be proportionate to the wearer's earlobe(this is applicable even when choosing the right stone size).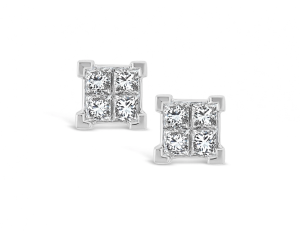 Also, consider Earlobes.
The difference between connected and detached ears, despite their seeming insignificance, dramatically affects the kind of stud earrings that best suit a person's face.
For instance, connected earlobes may be thinner and offer less space for earring placement. As a result, you should buy smaller, simpler earrings. Since detached earlobes are frequently larger, you can experiment with different styles and designs. Ensure the earring isn't so big that it hangs below her earlobe.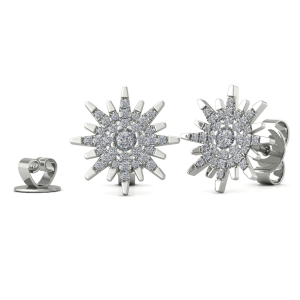 Never Limit yourself
Do not feel limited by these choices when deciding to buy diamond earrings. Go out and look at the various forms and styles to find your perfect option. At last, choose carefully since the perfect earrings will enhance the shape of your face! Generally speaking, you want to have an oval-shaped face. Therefore, choose lengthy, dangling earrings if your face is round. Look for hoops, round, or teardrop earrings if your face is square or heart-shaped. Finally, choose studs or Huggies if you're seeking everyday earrings for any face shape! But again, there are no limitations.
Go with whatever feels comfortable to you!
Gift your close ones the everlasting dazzling diamond earrings from Grand Diamonds!!
We provide stunning diamond earrings that are the perfect gift for your loved ones. Whether you're someone trying to find a present for your wedding anniversary or want to express your love on Valentine's Day, you can present your wife with a set of diamond earrings. You can also offer them to the females in your family on birthdays or other special occasions.
Here are some dazzling earrings to present to the Special Females of your life.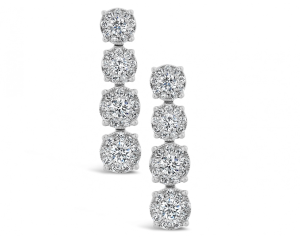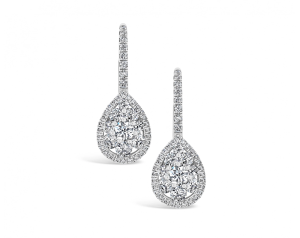 Buy Earrings Online That Maximize The Charm
Not only Earrings, but you can also look through the most beautiful occasion fine jewelry from Grand Diamonds Online Store, and reach out to us if you have any thoughts concerning our collection in your mind. You can choose from a dazzling wide collection of fine diamond jewelry online, from pendants to gleaming bracelets. All you have to visit our website; we have every piece of jewelry you need. So hurry up!! Feel free to browse our collection.
Read Our Latest Blogs
Visit Our Website