Idiosyncrasies are peculiar behaviors that people have and are unique to them as humans. Determine what kind of designer fine jewelry is your hallmark style by choosing items that complement your aesthetic and your personality.
Kind Of Occasion Fine Jewelry That Goes With Different Personality Types 
The sort of activity you engage in is one of the basic variables to consider when deciding what kind of fine jewelry best suits you. Do you frequently engage in hand hobbies like painting or rock climbing? If so, choosing earrings instead of rings may be a better choice for you in terms of designer jewelry. Designer rings are more appropriate for people working in white-collar jobs, such as executive or managerial roles, running a gallery, or any other job that involves interacting with people but not manual labor.
Earrings or necklaces are the perfect accessories for people who are physically active or whose everyday lives demand a lot of manual labor. Designer jewelry products like necklaces or earrings enable the incorporation of adornment without detracting from the job at hand. Active lives frequently call for minimum interference from external variables, such as hair or jewels.
Why Choose Occasion Fine Jewelry As a Gift 
Jewelry is almost always the best gift to give to a woman. Are you contemplating what to get that specific person? She will cherish her Beautiful Diamond jewelry forever, I can assure you of that. If you try to search "purchase jewelry nearby," you'll be inundated with results.
The point is that you must get her a complementary piece of jewelry that matches her style and personality. You may find a variety of jewelry online, from traditional to diamond-encrusted; you just need to choose the one that best suits her.
Impress her and make your special day more glamorous, opulent, and glitzy by investing in magnificent diamond jewelry in Antwerp. Jewelry may seem conventional, but we have something that makes our exquisite diamond jewelry stand out from the crowd. Consider that you are displaying the things we have selected that are eye-catching and sure to impress her. Do it like a protagonist by nailing whatever scenario you are in.
Occasion Fine Jewelry That You Can Choose From, To Light Up Your Style
Jewelry is an emotional statement that may stand on its own and demonstrate its worth to the wearer. Grand Diamonds, the renowned jewelry store in Antwerp, has you covered with its distinctive selection of fine jewelry, which includes diamond bracelets, earrings, rings, pendants, and earrings. Visit our amazing selections today to make your love life better.
Alluring Diamond Bracelets
There are numerous different bracelet types that go nicely with jeans, skirts, and other attire with a western feel. Our exquisite selection of bracelets will put an end to your plain appearance. Buy this convenient wardrobe necessity to improve your appearance. Choose from our selections, which offer designer items to ensure optimum appeal and brightness with the majority of your outfits.
Choose in accordance with your companion. By consistently monitoring the type of jewelry they wear, you can learn more about her preferences. Rest, by gifting her the elevating item to complement her appearance and personality, you can convey a glimpse of your romantic life.
Pro Tip: Choose the trending tennis bracelets for gleaming and sophisticated statements. 
Close To Heart – Diamond Pendants 
One of the diamond accessories that can make you look better is a pendant. They are thought of as the most romantic gifts because they are worn close to the heart. From our extensive range, you can choose the clothes that most closely match your personality. A solitaire pendant is a classic and lovely option, or you can go for designer pendants that will stand out. We have eccentric and abstract designs for the fashionistas who love their clothing to be especially glittering and magnificent.
We have a lovely selection of pendants in our lab-grown section with exquisite designs that are sure to catch everyone's attention.
Diamond Rings – To Express Love 
Every relationship has a great beginning, thanks to rings. Rings – whether engagement or wedding, rings are a must-have. Rings determine the start of your beautiful relationship. 
Every girl wishes to get a piece that she can show to the world as proof of her everlasting bonding. 
You can't stop cooing over the vast selection of diamond rings we have. We have everything, including exquisite traditional pieces and dazzling designs. Browse and explore our selection to find the item that best fits your style.
Solitaire Ring 

Open Circle Ring 

Wedding Band 

Two-tone Ring 

Split Shank Ring 

Tension Set Ring 

Halo Ring
Apart from that, you can also hover over our occasion fine jewelry collections featuring rainbow jewelry sections featuring breathtaking colorful gemstones embedded rings that are sure to please every eye. You can also select from the best-selling pieces portrayed by amazing jewelry influencers of your type. 
Diamond Earrings To Add Extra Sparkle
Diamond earrings are the ideal jewelry piece since they complement every outfit and are stylish, alluring, and classic. A priceless piece of jewelry to have in your collection that will improve your appearance is earrings. Everyone can find the perfect pair of earrings thanks to the wide variety of styles offered, which range from simple to sophisticated designer items.
Occasion fine jewelry such as Earrings are exciting since you can choose the sort of diamond and length that best suits your taste.
Halo Stud Earrings 

Pearl Stud Earrings

Swirl Diamond Stud Earrings 

Cluster Earrings 

Hoop Earrings 

Garnet Stud Earrings 

Dangles and Drop Earrings 

Single Stone Stud Earrings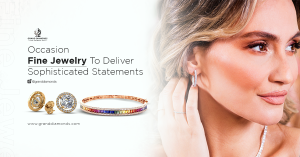 Occasion Fine Jewelry To Deliver Sophisticated Statements
Everybody on this planet has a different sense of style and taste that needs to be complimented with the right piece, so as to deliver sophisticated and stylish statements. 
Consider Us, if you're seeking sparkling Antwerp Jewelry Pieces to match your taste. We promise to meet all of your demands, from the most basic to the most fashionable. Select from elegant diamond bracelets, rings, pendants, earrings, and studs. Choose an item that will suit her style and enhance her personality.
When it comes to magnificent rings, you can either select from the alternatives offered or have them personalized in order to give them a little bit of your own flair.
Read Our Latest Blogs
Visit Our Website